The total value of cryptocurrencies dropped below $1 trillion on Monday, as bitcoin and other crypto assets plunged in price. The fall marked a new low that has seen more than $2 trillion wiped off the value of cryptocurrencies since the peak in November 2021.
According to crypto data website Coinmarketcap, the market capitalization (total value) of cryptocurrencies reached a peak of $2,977 billion on November 10, just $23 billion short of $3 trillion. Since then, the value of cryptocurrencies has fallen in steps, with small recoveries, to less than $977 billion, a fall of over $2 trillion since the peak.
The last trillion in value has been lost in just 60 days. Overall cryptocurrency market cap was over $2 trillion on April 13.
The recent decline has been dramatic. Bitcoin—the largest crypto currency—has lost more than 10 percent in the last 24 hours, and is now trading at below $24,000. It was as high as $67,000 in November.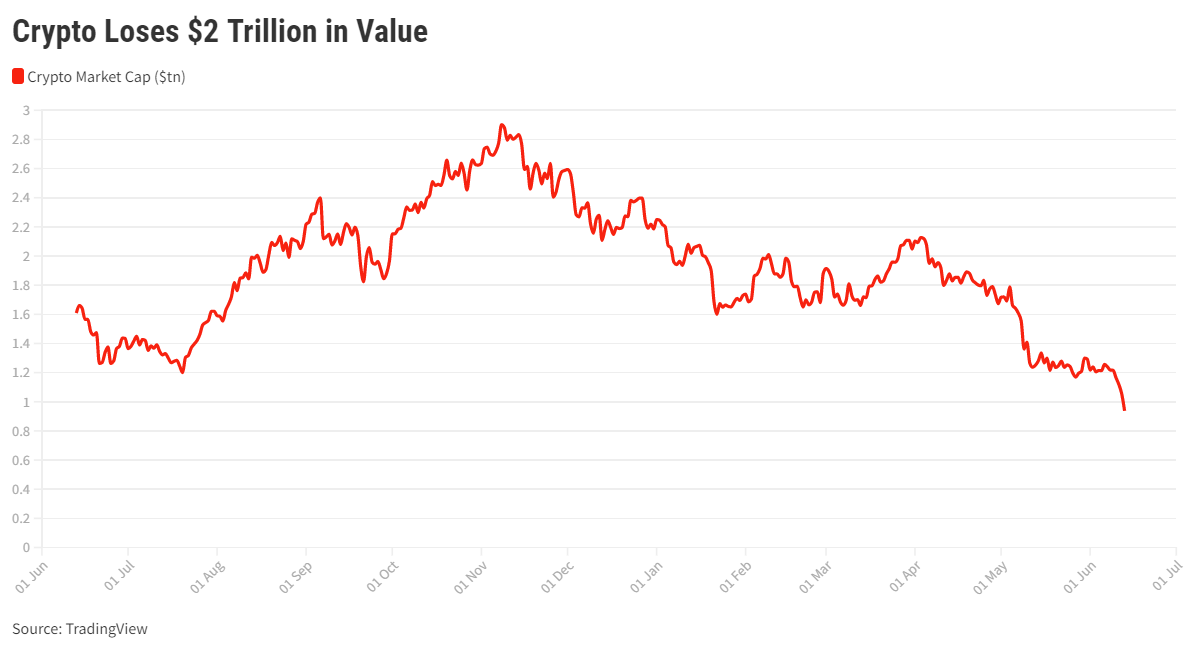 Investors in cryptocurrencies are facing several drivers of negative sentiment. Increasingly, cryptocurrencies have become correlated with traditional stock markets—the NASDAQ in particular—rather than being an alternative asset or hedge.
The interest rate rises from the U.S. Federal Reserve to try to curb inflation have pushed prices down in markets generally. Combine that with the Russian invasion of Ukraine which has made investors more risk-averse, and 2022 has been a tough year for crypto.
Antoni Trenchev, co-founder and managing partner of crypto lender Nexo told Bloomberg: "Cryptos remain at the mercy of the Fed and stuck in a merry dance with the Nasdaq and other risk assets."
He added: "We're hearing Bitcoin forecasts in the mid-teen and single-digit thousands which tells you the type of macro environment crypto is facing for the first time—and the levels of fear."
The effect has been dramatic. One coin, Luna, has effectively become worthless in recent weeks, crashing from $87 to zero in May. Coinbase, the crypto exchange, reported a $430 million net loss in the first quarter and a decline of over two million active users.
On Monday Celsius, a cryptocurrency lending platform, said it was pausing all withdrawals and transfers.
The company said in a memo: "Due to extreme market conditions, today we are announcing that Celsius is pausing all withdrawals, Swap, and transfers between accounts. We are taking this action today to put Celsius in a better position to honor, over time, its withdrawal obligations."
Celsius has emerged to become one of the leaders in crypto lending, with the company stating in a recent post that it has over 1.5 million users holding over $17 billion in total assets.