Crystal-Clear Russian Drone Footage Shows Damascus Battlefield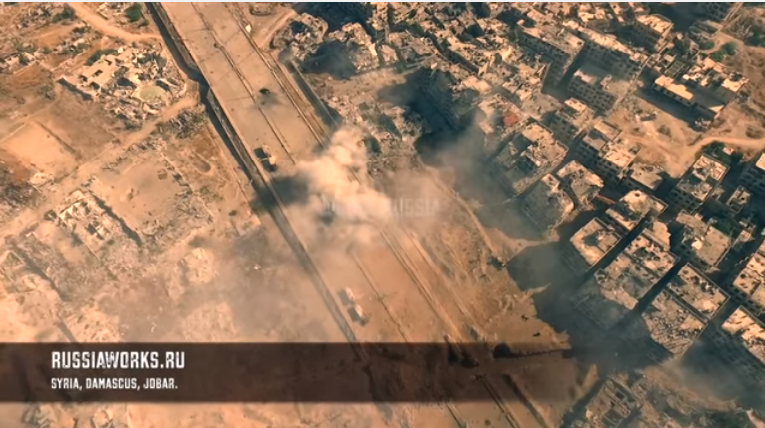 Remarkably clear drone footage released by a Russian media outlet on Monday shows a stunning view of battles between Syrian regime forces and opposition groups in Damascus.
The four-minute long video, slickly produced and complete with a pounding electronic soundtrack, appears more like a video game trailer than a real-life attack in Jobar, a rebel-held suburb of the western Syrian city. The footage, published on the website Russiaworks.ru, which is affiliated with Russian state broadcaster VGTRK, purportedly shows regime forces closing in on Jobar, The Telegraph reports. Newsweek cannot independently verify the video.
The devastation in Jobar, the site of numerous uprisings against the Syrian regime over the past few years, is clear, with buildings reduced to smoking rubble and tanks firing on multiple targets. The Syrian government, with Russian assistance, is now focused on recapturing the city. Syria's civil war, which entered its fifth year in March, has caused more than 4 million refugees to flee and has left millions more within the country injured, displaced and in dire need of assistance.
The video is believed to be part of a propaganda drive by the Kremlin to increase domestic support for military involvement in Syria, Business Insider reported. The majority of Russians polled late last month said they oppose their military supporting Assad, but there is evidence that public opinion is shifting in favor of the airstrikes.
Russia stepped up its military involvement in Syria in September. While the Kremlin claims to be supporting the government of Syrian President Bashar al-Assad by strictly targeting Islamic State militant group (ISIS) locations, Russia has been criticized by the U.S. and U.K. for launching airstrikes on rebel-held areas and reportedly killing civilians. The Syrian Observatory for Human Rights, a U.K.-based monitoring group, reported that Russian airstrikes in Latakia killed 45 civilians on Monday and that 127 civilians have been killed by Russian airstrikes over the past 20 days.
In its latest update on Monday, the Russian Defense Ministry said 33 airstrikes destroyed 49 ISIS locations within 24 hours, including two command centers, three arms depots and dozens of firing positions, all believed to be used by the militant group.