Police Seize More Than $200 Million Worth of Meth Hidden in Sriracha Sauce Bottles
Police seized more than $200 million worth of meth after it was shipped to Australia from the U.S. hidden inside bottles of sriracha sauce.
Australian Border Force (ABF) officers targeted an air cargo consignment which had recently arrived at a freight depot in Sydney on October 15, NSW Police said.
The shipment, which was declared to contain hot chilli sauce, was examined by ABF officers who found inconsistencies.
Authorities found the shipment contained 768 bottles of sriracha sauce and testing indicated that the bottles contained methylamphetamine, a drug known colloquially in Australia as "ice."
Police said preliminary forensic analysis determined the bottles contained about 400 kilograms of the drug, with an estimated potential street value of around $200 million (300 million Australian dollars.)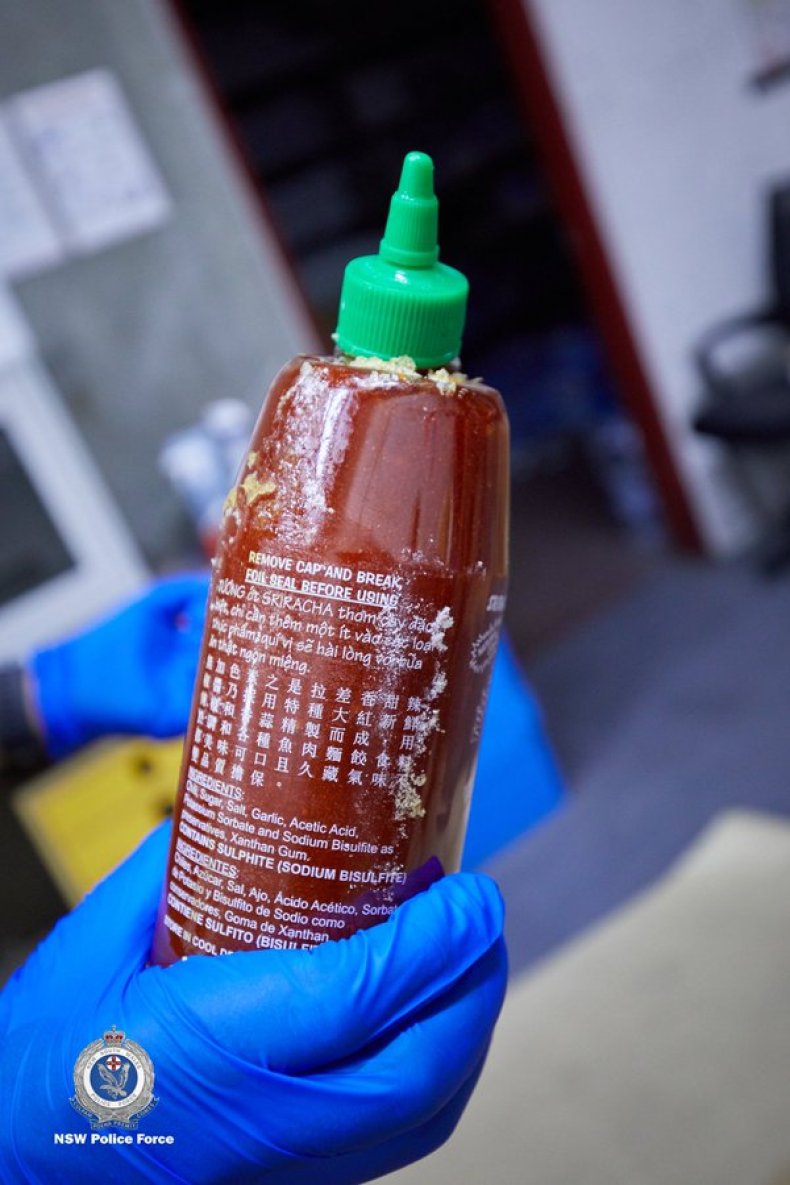 Investigators with NSW Police's Strike Force Diffey seized the shipment and carried out a controlled delivery with help from Australian Federal Police and the ABF. Four men have since been charged over the importation of the drugs.
A 36-year-old man was arrested outside a home in Plumpton, New South Wales, on October 20.
The following day, two men, aged 30 and 34, were arrested in the parking lot of a hotel in Sydney's central business district. Shortly afterwards, police seized eight boxes containing bottles of sriracha, box cutters, moving bags and gardening gloves from a vehicle in the parking lot.
Police seized 26 boxes of sriracha sauce and four phones while executing a search warrant at a hotel suite.
The three men were all charged with attempt to possess a commercial quality of an unlawful import—a border-controlled drug and a large commercial drug supply.
The 36-year-old man allegedly accessed the consignment before transporting it to a storage facility in Minchinbury, a suburb of western Sydney, authorities said. He was denied bail during a court appearance on October 21 and will appear in court on December 16.
The other two men, from the state of Victoria, allegedly accessed it at the storage facility before taking it to a hotel on Kent Street in Sydney's central business district. They were both refused bail on October 22 and will reappear in court on December 17.
After further investigation, detectives executed a search warrant at Edensor Park, a suburb of Sydney, on October 31. A fourth man, aged 45, was arrested outside a home and taken to a police station. He has been charged with possessing identity information to commit indictable offense.
He was granted conditional bail to appear at Fairfield Local Court on November 28. Kirsty Schofield, AFP Commander Organized Crime, said authorities are working with their U.S. counterparts to determine where the drugs originated.
"Police know too well the human cost of methylamphetamine and the illicit drug trade," Commander Schofield said, according to a post on NSW Police's Facebook page.
"This outcome, which has come about through the expertise and hard work of multiple domestic agencies, has spared countless Australians the pain that would have been caused by these dangerous drugs. It also serves as warning to people involved in the supply and distribution of illicit drugs – law enforcement will find you.
"Our officers have also engaged with United States authorities via our liaison network to undertake enquiries regarding the source of the importation," Schofield said.
Newsweek has contacted U.S. Customs and Border Protection for comment.
Matt O'Connor, acting ABF Regional Commander for NSW, said the drug has a "devastating effect on the community every single day."
He added: "This detection should serve as a warning to criminal groups that no matter how clever you think you are being in the way that you attempt to conceal and move your drugs, our officers have the skills, technology and the resources to find them and track down the people who are attempting to bring them in."