How 'CSI: Vegas' Writes Off Jorja Fox and William Petersen From the Show
CSI: Vegas Season 2 will not feature cast members Jorja Fox and William Petersen.
The actors portrayed Sara Sidle and Dr. Gil Grissom in the original CSI: Crime Scene Investigation show, and they reprised their roles in the first season of the sequel CSI: Vegas.
However, it has been confirmed that neither actor will be returning to the show ahead for season two, as Petersen only signed a 10-episode contract and Fox did not want to appear on the show without her on-screen partner.
How 'CSI: Vegas' Writes Off Jorja Fox and William Petersen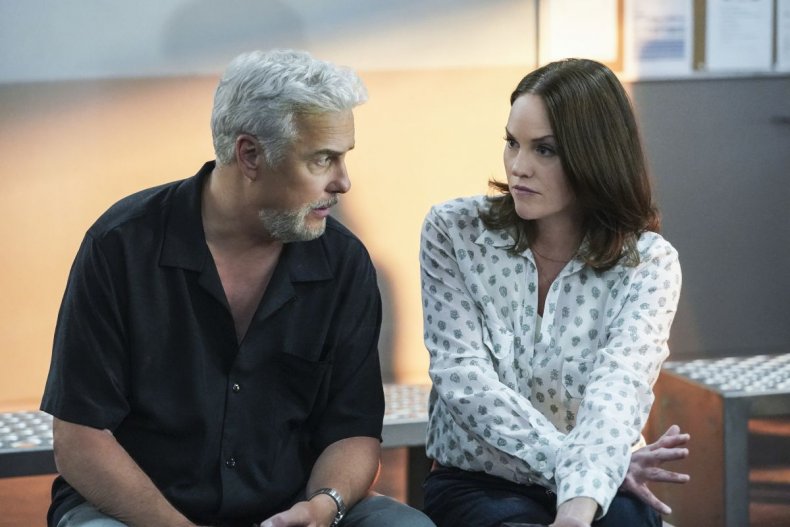 In December 2021, it was confirmed that Petersen was not going to be returning to CSI: Vegas, with The Hollywood Reporter saying at the time that the actor would remain involved with the show as an executive producer.
Following this, Fox shared that she also would not be returning to the show for its second season via a statement shared with fans on Twitter.
In her social media thread, she wrote: "Hey all you #CSI fans! After much deliberating, I have decided not to 'Sidle up' for CSI Vegas. For me CSI has always been a love story. The story that people can find love in the darkest of places and times.
"And the story that love, even in the darkest of places and times, can expand and grow roots and endure. I personally just can't split Sara and Grissom up again. So goes Grissom…So goes Sara. Wherever they go, they belong together.
"Thanks for watching everyone!!!!! Keep tuning in! I know I will. CSI VEGAS has an incredible team and it should be an amazing show!"
CSI: Vegas show runner Jason Tracey told TVLine ahead of the Season 1 finale that there was "no expectation" either actor would return to the show.
"The door will always be open to a couple of legends, but we only asked them to come back to help us tell this finite number of episodes," Tracey told the publication.
For those wondering how the two characters' exit would be explained, on September 24 TVLine shared a preview clip from Season 2's September 29 premiere which showed exactly how this would take place.
In the clip Chris Park (Jay Lee) was seen speaking to Josh Folsom (Matt Lauria) about Catherine Willows (Marg Helgenberger) coming out of retirement to help the Las Vegas CSI team, led by Maxine Roby (Paula Newsome).
Chris wondered if Catherine met with Sara and Gil to discuss their work, but Joshua explained that "they're on a boat above the Arctic Circle" so there is no way to communicate with them except via satellite phone.
This certainly leaves the door open for both characters to return given Sara and Gil are alive and well.
CSI: Vegas Season 2 premieres on Thursday, September 29 at 10 p.m. ET on CBS.