Cuba Calls Biden Easing Some Restrictions 'Limited Step in Right Direction'
The Cuban Foreign Ministry has partially welcomed and criticized President Joe Biden's decision to ease certain restrictions against the island nation, noting that it would still keep in place broad efforts to maintain pressure against Havana's Communist-led government.
"The announcements do not modify the blockade in any way," the Cuban Foreign Ministry said in a statement shared with Newsweek on Monday, "nor the main economic siege measures taken by Trump, such as the listings of entities that are subject to additional coercive measures, nor does it eliminate travel bans on Americans."
"It does not reverse the arbitrary and fraudulent inclusion of Cuba on the State Department's list of countries that are allegedly sponsors of terrorism," the statement continued, "one of the main causes of the difficulties that Cuba encounters for its commercial and financial transactions in many parts of the world."
"It is, however," the statement added, "a limited step in the right direction."
Speaking to reporters Monday, a senior Biden administration official said the White House was rolling out a package of new measures including the resumption of immigration visa processing, expanding authorized travel for family and educational purposes, reinstating people-to-people educational travel under a general license, increasing support for Cuban entrepreneurs and relaxing tight restrictions on the flow of remittances.
The official emphasized, however, that other sweeping restrictions in line with the six-decade embargo against Cuba would remain in place, in addition to specific sanctions placed on individuals and institutions since Biden took office.
Asked by Newsweek if the measures marked a departure from the hard-line strategy pursued by former President Donald Trump toward a more conciliatory approach pioneered by former President Barack Obama, whom Biden served as vice president, the senior administration official said that the steps were focused on improving humanitarian support and empowering U.S.-Cuba connections in line with Washington's interests.
"These are steps that are...intended to help alleviate the humanitarian suffering that prompts outbound migration from Cuba and also to advance our interest in supporting the Cuban people and ensuring that Cuban Americans and Americans, in general, are also the best ambassadors for U.S. policy," the official said.
And while the Biden administration has rejected the "maximum pressure" approach on other foreign policy areas such as Iran, the official said the current agenda very much planned to keep the pressure up against Havana.
"The measures are ones that are a complement to what has been an active effort since July of last year to increase the pressure on human rights abuses in Cuba, and to find ways to provide more direct humanitarian support," the official said.
"And again," the official added, "the president's direction has been to find ways to hold the regime accountable and to support the Cuban people and that's been what has informed this policy."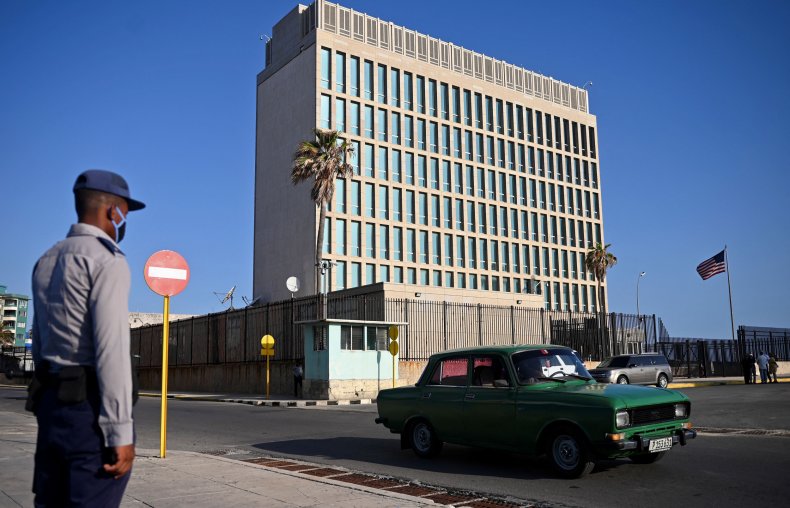 The U.S. has maintained broad sanctions against Cuba since shortly after the revolution that brought leader Fidel Castro to power in 1959, toppling a U.S.-backed government. These restrictions have been occasionally expanded over the years until Obama introduced a thaw in long-frozen ties, setting the stage for the mutual opening of embassies and greater opportunities for educational, tourist and cultural interactions.
Then-Vice President Biden backed the measures at the time and his wife, now-first lady Jill Biden, even visited Cuba weeks before the 2016 election that would ultimately bring victory for Trump and a return to tense U.S.-Cuba relations. Trump reversed much of Obama's detente with a series of constraints and pointed the finger at the Cuban government amid a series of reports of health incidents affecting personnel at the U.S. embassy in Havana.
While challenging Trump on the campaign trail in September 2020, Biden said he would "try to reverse the failed Trump policies that inflicted harm on Cubans and their families." But little progress was made on this front and, in July of last year, a series of rare protests in Cuba in response to economic hardships exacerbated by the COVID-19 pandemic prompted an even tougher approach by Biden.
Last month, a senior Cuban official told Newsweek that U.S. and Cuban officials "haven't had one official formal serious discussion on any issue."
Less than two weeks later, U.S. and Cuban officials announced that they held their first talks on migratory issues in four years.
Despite these early inroads, speculation has mounted as to whether or not the U.S. would invite Cuba along with fellow leftist-led Nicaragua and Venezuela to the Summit of the Americas set to be held next month in Los Angeles. Mexico and a number of Caribbean nations have threatened to boycott the event if all countries in the Western Hemisphere were not included.
White House Press Secretary Karine Jean-Pierre told reporters Monday she had no update to offer on the invite list, and the senior Biden administration official on Monday's call said the announcement vis-à-vis Cuba policy was "completely separate" from the invitation issue.
"We should be focusing on addressing a whole host of shared challenges in the region and not blow up the summit over who shows up and who doesn't," then official said.
Monday's Cuban Foreign Ministry statement reiterated the nation's "willingness to initiate a respectful dialogue on an equal footing with the Government of the United States, based on the Charter of the United Nations, without interference in internal affairs and with full respect for the independence and sovereignty."
The Biden administration has also been subject to domestic pressure on Cuba, especially from Republicans and a sizable, influential community of Cuban Americans opposed to the Cuban Communist Party's rule.
A joint statement released by Republican Senators Marco Rubio, Rick Scott, Jim Risch, Bill Cassidy, and Ted Cruz, along with Republican Representatives Mario Díaz-Balart, Michael McCaul, Mark Green, María Elvira Salazar and Carlos Giménez accused Biden of "appeasing Cuba's murderous regime."
And within Biden's own party, Senate Foreign Relations Committee Chair Bob Menendez of New Jersey said the move "risks sending the wrong message to the wrong people, at the wrong time and for all the wrong reasons."
Others such as Massachusetts Representative Jim McGovern, however, welcomed the move.
"Encouraged by steps in the right direction from the Biden administration on Cuba," McGovern tweeted. "Reversing Trump's failed strategy & undoing decades of outdated, cold-war policies will take time. I applaud this move towards a smarter strategy of engagement and diplomacy."