Two Black Boxes Recovered From Cuban Airline Crash Being Investigated by NTSB
The two black boxes that were found at the scene of the Cuba airplane crash last month are being investigated and analyzed in Washington, D.C., by the National Transportation Safety Board, the Miami Herald reported Thursday.
Flight 0972 crashed on May 18 and killed 112 people en route to Holguín in Cuba after taking off from Havana's José Martí International Airport. Twenty of the people on the flight were said to be religious leaders.
"On that plane were 10 couples of pastors. Twenty people. All of the Nazarene Church in the eastern region," confirmed Maite Quesada, a member of the Cuban Council of Churches, to the Associated Press.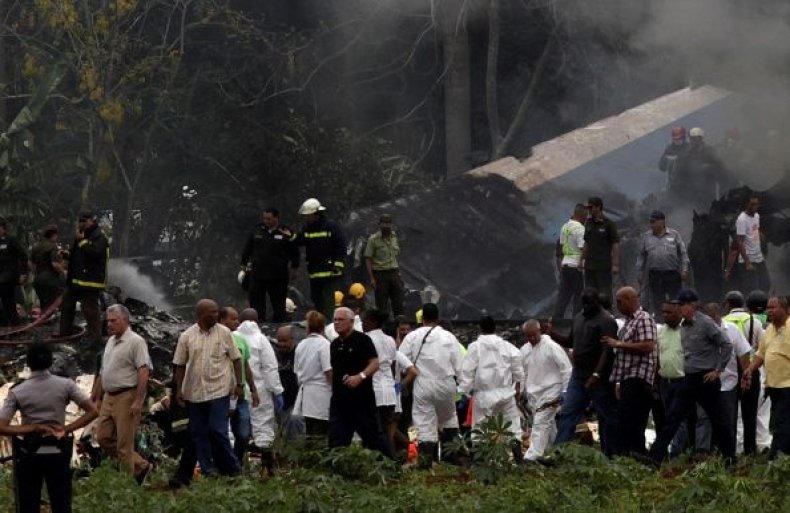 There is only one survivor left, 19-year-old Mailén Díaz Almaguer. It could take months to figure out what exactly caused the crash.
One of the black boxes was the plane's flight data recorder, which was discovered a week after the crash, the Miami Herald reported. The second black box, which was recovered right after the plane crash, reportedly recorded voices from the cockpit and is in good condition.
Vice President of Cuba's Civil Aeronautics Institute (IACC) Carlos Radamés Pérez Andino, along with two Cuban investigators, took the two black boxes to the NTSB lab to download the information.
"All information about the investigation will be released by IACC, who leads the accident investigation," the NTSB said in a statement to the Miami Herald.
The nearly 40-year-old aircraft was leased to Cuba by Aerolíneas Damoh, a Mexican airline. The same plane was stopped from being used in Guyana after authorities found the crew kept overloading luggage onto flights in Cuba, Captain Egbert Field previously told the Associated Press.
Marco Aurelio Hernandez, a pilot who used to work for Damoh, told Mexican newspaper Milenio that he had complained to the airline about the inadequate maintenance of the aircraft.
"I experienced several incidents at this company, like engine failure or the electrical system went when we took off from Mexico on one occasion," Hernandez told the publication.