Videos posted on social media show the thousands of Cubans who have taken to the streets in the biggest anti-government demonstrations Cuba has seen in decades.
Protesters chanting "freedom" and "unite" marched in cities from Havana to Santiago demanding an end to the island's Communist dictatorship and for President Miguel Díaz-Canel to step down.
The protests erupted amid Cuba's worst economic crisis since the fall of the Soviet Union, further crippled by U.S. sanctions imposed by the Trump administration.
People have expressed anger over the government's handling of the pandemic amid a surge in coronavirus infections, as well shortages of food and basic goods, and rising prices.
Díaz-Canel, who also heads the Communist Party, blamed the unrest on the United States. In a televised speech, he warned that further "provocations" would not be tolerated and calling on supporters to confront them.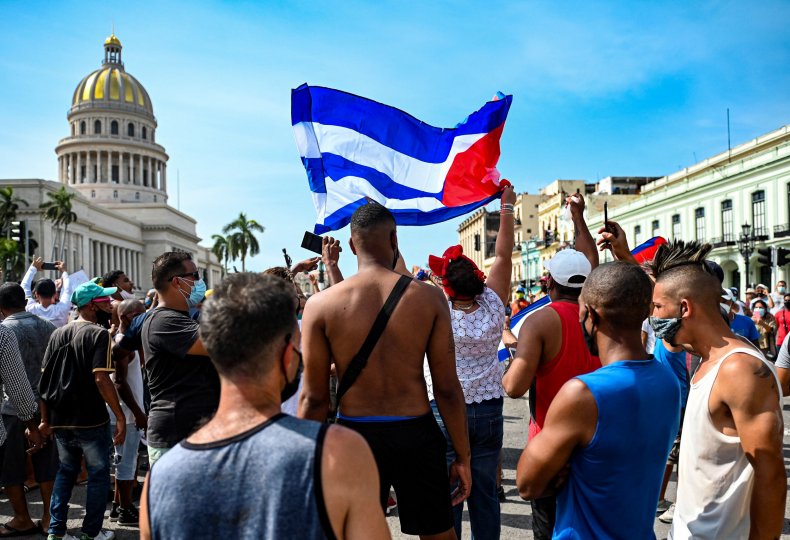 A Biden administration official tweeted support for Sunday's demonstrations, saying Cubans were gathering to protest rising coronavirus cases and shortages.
"Peaceful protests are growing in #Cuba as the Cuban people exercise their right to peaceful assembly to express concern about rising COVID cases/deaths & medicine shortages," wrote Julie Chung, acting assistant secretary for state for Western Hemisphere Affairs. "We commend the numerous efforts of the Cuban people mobilizing donations to help neighbors in need."
Florida Sen. Marco Rubio slammed Chung's tweet as "ridiculous."
"People in #Cuba are protesting 62 years of socialism, lies, tyranny & misery," he wrote.
Carlos F. de Cossio, Cuba's director general for U.S. affairs, responded, writing: "US State Department and its officials, involved to their necks in promoting social and political instability in #Cuba, should avoid expressing hypocritical concern for a situation they have been betting on. Cuba is and will continue to be a peaceful country, contrary to the US."
Rubio, whose parents immigrated from Cuba in 1956, tweeted that decades of misery endured by Cubans were "boiling over into organic, grassroots protests in over 32 cities."
Alongside video of one march, Rubio added: "We have NEVER seen a day like today in #Cuba."
Patrick Oppmann, a CNN reporter based in Havana, tweeted that "widespread frustration over rising Covid cases and food and medicine shortages" had prompted the rare protests across Cuba.
"I have lived in Cuba for nine years and the scenes we saw today were stunning," Oppmann wrote alongside a video of a protest in Havana. "The protests spread more quickly than anyone could have imagined. I don't know what tomorrow will bring but the level of discontent and anger isn't going anywhere."
Many of those protesting in Havanan tried to use their cell phones to broadcast the protest live, the Associated Press reported, but authorities shut down internet service throughout the afternoon.
Police initially trailed behind chanting protesters as numbers grew to a few thousand and continued despite some charges by police and tear gas deployments.
Police broke up after the demonstration after several hours when a few protesters threw rocks, the AP reported. At least 20 people were taken away in police cars or by individuals in civilian clothes, according to AP journalists.
In a tweet early on Monday, Jake Sullivan, U.S. national security adviser, said the U.S. "would strongly condemn any violence or targeting of peaceful protesters who are exercising their universal rights."