Cuba Protests Reported as Internet Use Drops Off in Wake of Hurricane Ian
People in Cuba have been protesting for 48 hours, according to multiple media reports, after Hurricane Ian caused power outages. The internet has also reportedly been cut and there is no cellphone signal.
Early on Friday, internet shutdown monitor NetBlocks.org posted on Twitter, showing a near total collapse of internet traffic from the Caribbean island.
"We can confirm the near-total internet blackout in Cuba," said Alp Toker, director of NetBlocks, adding that his London-based group did not see the internet blackouts straight after the hurricane hit on Tuesday.
"We believe the incident is likely to significantly impact the free flow of information amid protests," Toker added. Newsweek has contacted Toker for further comment.
Havana Times, an independent blog, reported that the Cuban government cut off internet access on Thursday after protests in the capital, Havana.
"Mainly women and young people staged a sit-in on a street in San Francisco de Paula while hitting pots and pans. They demanded electric power, which has been missing since the National Electric System collapsed Tuesday after Hurricane Ian," the blog post said.
Doug Madory, director of internet analysis at Kentik Inc., a network intelligence company said that a "total internet blackout" in Cuba started at 12:30 A.M. GMT on Friday.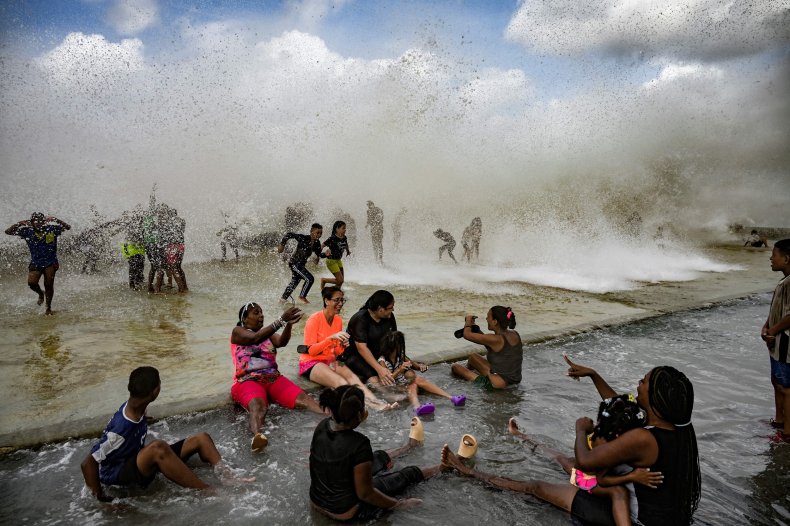 Havana residents told independent digital media outlet 14ymedio that the government has deployed the military on many streets, including in Centro Habana, the central district. This was in response to hundreds of people taking to the streets to protest peacefully in Calzada del Cerro, one of the main roads that runs through Havana, blocking traffic in the process.
A police spokesperson said that authorities had erected a barricade in central Havana in response to protesters "throwing stones and sticks."
An Associated Press journalist saw around 400 people gathered in at least two spots in the Cerro neighborhoods in Havana, shouting "We want light, we want light," while loudly banging pans and pots.
Ian hit Cuba on Tuesday night, knocking out all of its power grid. At least three people were killed in the storm, which has wreaked a huge amount of damage on the island.
Ian has since swept through Florida and is now barreling towards North Carolina. The death toll in Florida is estimated to be "in the hundreds," the state sheriff said on Thursday.
In July 2021, Cuba saw its biggest protests in decades against its communist government. Thousands of people marched in the streets in cities across the island to voice their anger at food shortages and power failures, as well as U.S. sanctions.
Hundreds were arrested and prosecuted in a brutal police crackdown, stirring more criticism of President Miguel Diaz-Canel's administration.