Is Cuba Ready to Cope With American Tourists?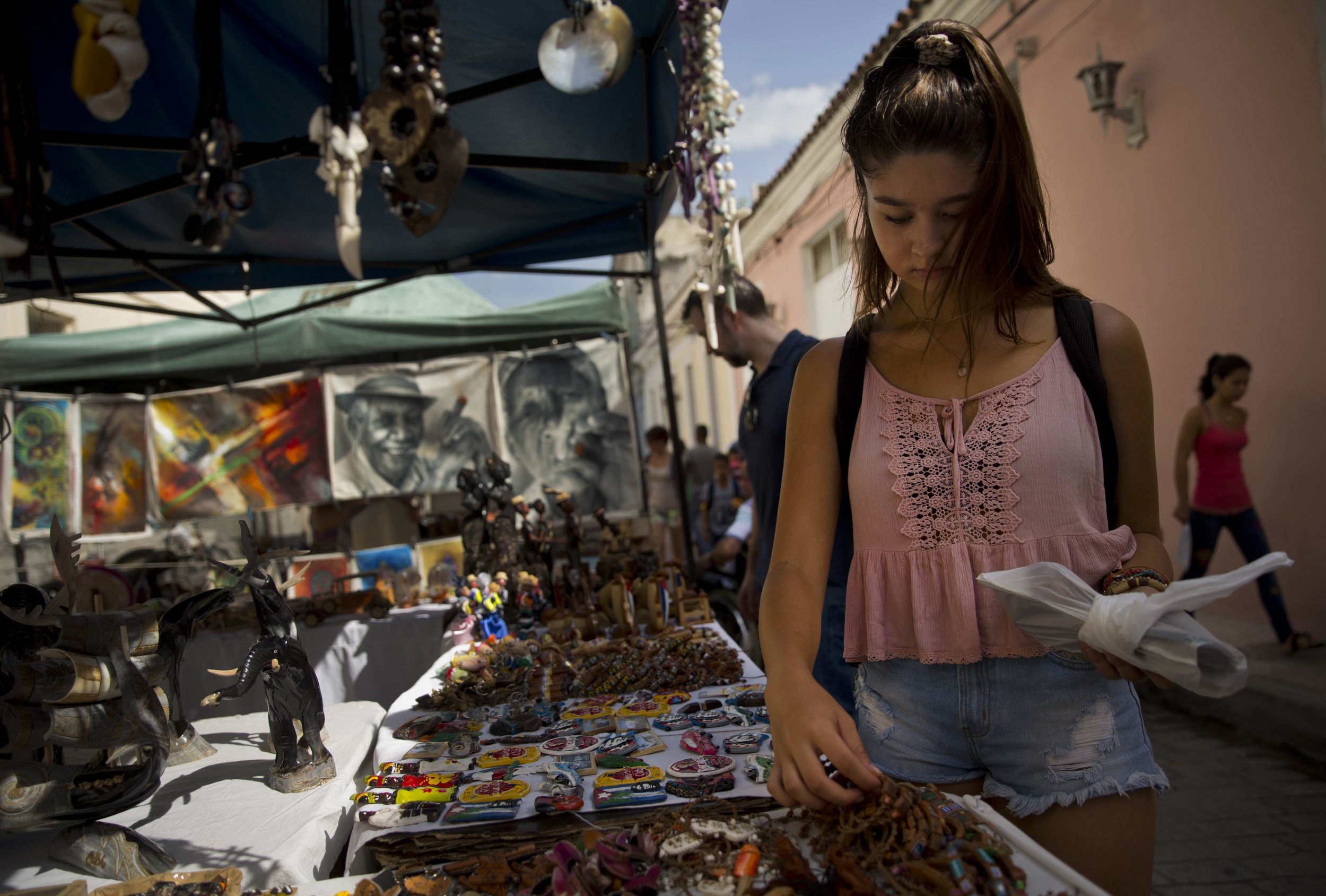 Call it Yanqui chic, Cuban style. On the crumbling streets of Havana, the Stars and Stripes adorn the T-shirts of passersby and flutter from car dashboards and the auto-rickshaws known as bicitaxis.
But for new arrivals driving into the city, there is a reminder of a very different side of U.S.-Cuban relations. At a junction just outside Revolution Square, amid the sloganeering billboards of revolutionary heroes Fidel Castro and Che Guevara, one message stands out. "Embargo: the longest genocide in history." On August 31, after more than half a century's break, the first scheduled flight from the U.S. landed in Santa Clara, Cuba—JetBlue Flight 387 from Fort Lauderdale, Florida. But the schizophrenic, love-hate relationship between the two neighbors is still hard to escape.
The much-vaunted restoration of the commercial air link—the latest rapprochement between the old foes—has had a halfhearted start. Havana airport does not yet have the computer equipment, luggage carousels or trained staff to handle an influx of flights or passengers from North America. Nor do Cuba's Communist chiefs want to appear too cravenly open to tourist dollars. So the first flights from the U.S. to Cuba were authorized for Santa Clara—the scene of a decisive victory for the rebels in December 1958—and other provincial hubs.
Nobody, however, has any doubt that the Americans are coming. Barack and Michelle Obama led the way with an official visit this year, the first time a sitting U.S. president has visited the island since 1928. Madonna celebrated her 58th birthday in Cuba last month with a stay at the Saratoga, one of Havana's handful of five-star hotels (and, for the time being, one of the best in the city, with comfortable mattresses and almost-power showers). On the big night, her entourage had dinner at La Guarida, the country's first and best-known paladar, or private restaurant, in a mansion where the glamour comes faded.
Faded glamour is, of course, one reason tourists come to Havana. Poverty and a post-revolution determination to focus on the rural poor set the city's architecture in aspic, then left it to decay in the tropical heat and humidity. But it was not abandoned, and visitors now meander through one of the Caribbean's best-preserved colonial settlements, a living relic of narrow streets, stuccoed mansions and tiled courtyards. Among a certain kind of traveler, the motto has been "get to Cuba before it changes." That has, incongruously, fueled a surge in visitor numbers, putting a considerable strain on the state tourist industry.
During a visit in late August, I met the owner of one of the casas particulares (private homes for rent to foreigners) that are now flourishing as the city's hotels reach maximum occupancy. "It's been great for business for months now," said Claudio, who asked to give only a first name while discussing his work. "My European guests have been telling me they want to get here before the Americans arrive and spoil the place. In fact, I've even had a few Americans who tell me they want to get here before the Americans."
Meanwhile, life is still lived out in public on the streets, balconies and atriums of old Havana; salsa music fills the air, and bread is delivered in buckets pulled up to sweltering rooms on the higher floors of buildings with no elevators. At a local neighborhood bar on Tejadillo Street, drinkers tell of a country of haves and have-nots. The haves are those with the Cuban convertible peso (CUC) that tourists must use, which gives access to the goods at hard-currency stores, while the have-nots are those paid in local Cuban pesos.
When word spreads that chicken has just arrived at a hole-in-the-wall, state-owned food outlet, Cubans appear from nowhere to line up with their ration cards. Each person is entitled to one pound of rangy meat per month, while stocks last. But nowadays, supplies are often mysteriously diverted to the tables of tourists, who pay in CUCs—hence today's rush. Locals tell me that many teachers and medics have abandoned their peso-paying state jobs to work as guides, drivers and waiters for tourists, who tip in CUCs. The tourist business is bringing much-needed income to Cuba, but it is also deepening the social and economic divides. And for many Cubans, life may get worse before it gets better, thanks to events in Venezuela.
Paintings of Hugo Chávez, Venezuela's late president, appear on walls and billboards across Cuba, accompanied by the message "Our best friend." Cuba has good reason to hold him in such high esteem. In a gesture of fraternal support for his mentor Fidel Castro—and in return for Cuban doctors taking up contracts to work at clinics in Venezuelan slums—for many years Chávez supplied Cuba with oil, essentially keeping the country running. His successor, Nicolás Maduro, had maintained that policy. But Venezuela's economic implosion means that it can no longer afford such largesse. As a result, Cubans are bracing for a possible return of fuel shortages and power cuts. (Outside Havana, however, it sometimes seems as that would make little difference to traffic: On a trip to Cienfuegos, a laid-back city of broad boulevards and extravagant villas, the main highway running east out of the city was already near deserted.)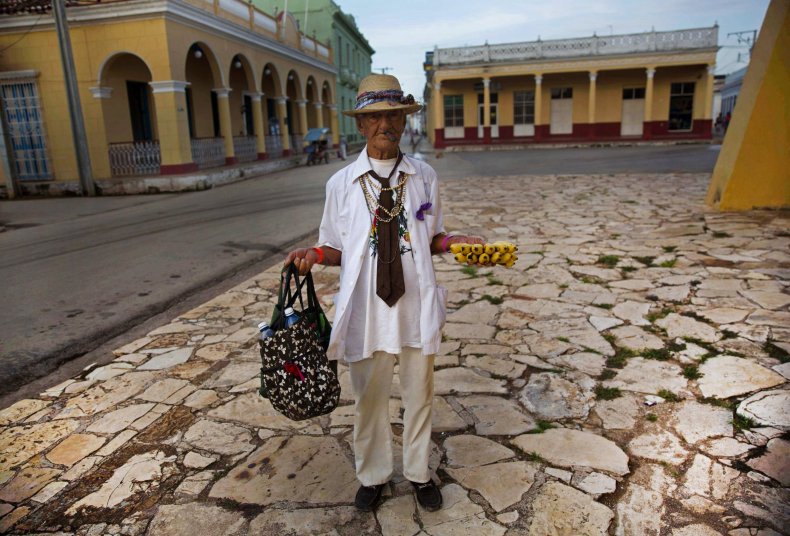 Back in the capital, cranes have started to appear, part of a face-lift that's proceeding one building at a time. The newly restored baroque Gran Teatro de la Habana Alicia Alonso, home to the Ballet Nacional, reopened this year, while next door the dome of El Capitolio–a copy of the U.S. Capitol and Cuba's seat of government until 1959—is clad in scaffolding as a lengthy refurbishment continues. Some major international hotel chains, including Kempinski, a Swiss group synonymous with opulence, and the Spanish company Iberostar, are restoring old buildings in the city. And, in another post-revolutionary first for a U.S. business, the first Starwood hotel—the Four Points—has just opened.
Many of the elegant new paladares, establishments such as Atelier and Otramanera, are serving world-class dishes of octopus carpaccio and ceviche. In the warren of old Havana, El del Frente is deservedly carving out rave reviews for its food and ambience, with a rooftop bar that could have been transported straight from Williamsburg. But despite the fanfare for some of the new restaurants and a surge in availability of casas particulares, what's striking about Cuba is how little has changed—yet.