Cuba Rejects 'Hypocritical, Cynical' U.S. State Sponsor of Terrorism Listing
Cuba has rejected the United States' decision to re-add the country to the State Department's list of state sponsors of terrorism, arguing the move was disingenuous and designed solely to serve political interests at home.
"We condemn the US announced hypocritical and cynical designation of #Cuba as a State sponsoring terrorism," Cuban Foreign Minister Bruno Rodríguez wrote Monday in a tweet referred to Newsweek by Havana's embassy in Washington and permament mission to the United Nations in New York.
"The US political opportunism is recognized by those who are honestly concerned about the scourge of terrorism and its victims," he added.
Secretary of State Mike Pompeo announced the move in a statement published earlier Monday, just over a week before President Donald Trump's term was set to end, bringing President-elect Joe Biden to office.
While Biden participated in a historic warming of ties between the Cold War-era foes that saw Cuba removed from the list during his tenure as vice president under former President Barack Obama, Trump reversed this trend and took a hard line against the communist-led island.
"The Trump Administration has been focused from the start on denying the Castro regime the resources it uses to oppress its people at home, and countering its malign interference in Venezuela and the rest of the Western Hemisphere," Pompeo said. "With this action, we will once again hold Cuba's government accountable and send a clear message: the Castro regime must end its support for international terrorism and subversion of U.S. justice."
The U.S. and Cuba have been at odds since the latter underwent a revolution led by Fidel Casto, who ousted U.S.-backed Fulgencio Batista and brought the Cuban Communist Party to power. The decades since have seen a strict trade embargo that has limited the island nation's access to critical goods.
"#Cuba is a state victim of terrorism perpetrated for years by the US government or by individuals and organizations that operate from that territory with tolerance from the authorities," Cuban Foreign Ministry Director-General for U.S. Affairs Carlos Fernández de Cossío wrote in another tweet Cuba's embassy and mission referred to Newsweek.
He placed the number of fatalities incurred by the blockade at 3,478, and the disabled at 2,099.
The comments were later featured in a statement issued by the Cuban Foreign Ministry and shared with Newsweek.
"For months, there has been speculation about the possibility of including Cuba in the unilateral list of the State Department that classifies countries, without any mandate or legitimacy, lacking genuine motivation, referring to terrorism and its consequences," the statement said, "and as an instrument of defamation to apply coercive economic measures against nations that resist bowing to the whims of US imperialism."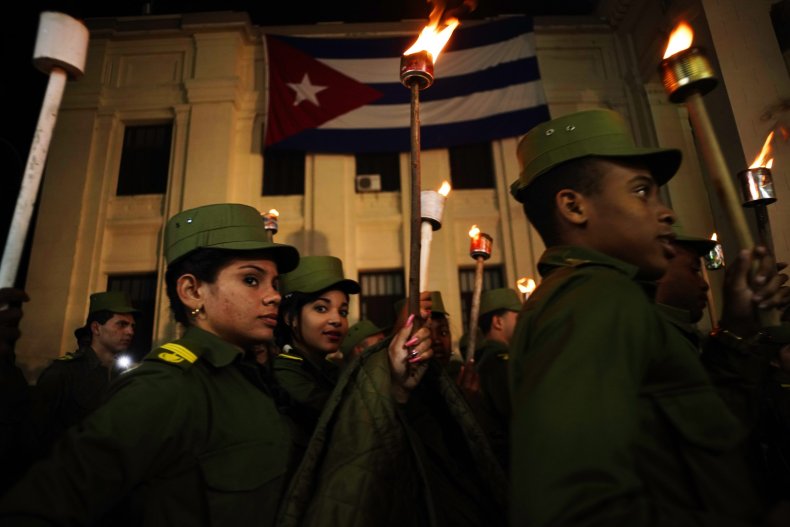 Cuba, originally added to the list in 1982 for its support to left-wing movements in Latin America and beyond, joins Syria, Iran and North Korea, which were first added in 1979, 1984 and 1988, respectively. North Korea was delisted in 2009 and then returned in 2017.
The Trump administration also delisted Sudan, on the list since 1993, late last year as part of a U.S.-overseen agreement that saw the Arab country normalize relations with Israel. Other original entries once included in the 1979 list devised are South Yemen, Iraq and Libya.
Cuba's return to the list was hinted at last May when the State Department included the nation on a list of countries "certified under Section 40A(a) of the Arms Export Control Act as 'not cooperating fully' with U.S. counterterrorism efforts." The Cuban government is accused of harboring members of outlawed groups such as Colombia's National Liberation Army (ELN) and fugitives wanted for crimes committed in the U.S.
The State Department has also tightened the trade boycott of Cuba over the country's support for Venezuelan President Nicolás Maduro. Havana is accused of helping the socialist leader in Caracas withstand a two-year U.S.-backed opposition effort to bring National Assembly leader Juan Guaidó to power.
Cuba's designation was met with a degree of controversy as it took place amid political unrest in the U.S. itself as uncertainty gripped Washington in the wake of a deadly riot led by Trump supporters seeking to overturn the president's electoral loss as lawmakers certified the vote on Wednesday.
At least five people were killed in the turmoil, and some lawmakers have demanded the Trump administration focus more on pursuing right-wing elements at home than making last-minute foreign policy calls.
"This blatantly politicized designation makes a mockery of what had been a credible, objective measure of a foreign government's active support for terrorism," Democratic Senator Patrick Leahy of Vermont said in a statement. "Nothing remotely like that exists here. In fact, domestic terrorism in the United States poses a far greater threat to Americans than Cuba does."
The legislator argued Pompeo "has self-righteously defended Donald Trump's worst foreign policy failures, and on his way out the door he seems intent on making things as difficult as possible for his successor."
His reaction was shared on Twitter by Cuban Foreign Ministry Deputy Director Johana Tablada de la Torre, who noted that Leahy was set to become president of the U.S. Senate given the dual Democratic victories in Georgia's elections.
"#Cuba is not a terrorist state.," she wrote in a follow-up tweet. "To affirm such a big and harmful lie vs the people of #Cuba integrity, in order to justify #UnitedStates economic siege and satisfy a reactionary minority, is [a] scandalous act of political corruption of the #Trump gov."
Biden has not yet unveiled his foreign policy plans for Cuba, but past actions and reports indicate a potential rapprochement, though he and raised human rights concerns.
The president-elect's nominee to head the State Department, Antony Blinken, received then-ambassador Jose Ramon Cabañas when Washington and Havana reestablished relations during a historic ceremony in 2015. The following year, Biden's wife, Jill Biden, traveled to Cuba on a cultural trip in the final weeks of the Obama administration.