Cuba Says Tourists Are Welcome Again, Except for Cuban-Americans
After shutting its borders to travelers in late March, the island nation of Cuba announced on Wednesday that it is reopening several of its cays to tourism. However, its government will forbid Cuban-Americans from visiting their relatives until the entire island fully re-opens to tourism.
That's because the government has instructed its citizens to have any contact with any foreign-born visitors as a precaution meant to prevent the spread of COVID-19. Natives are also forbidden from staying in hotels intended to accommodate tourists.
Cuba hasn't opened its main island to tourists yet and hasn't said when it plans to do so, nor when it will allow Cuban-Americans to visit their relatives.
Cuba's health officials claims that the island has had 2,348 confirmed cases of COVID-19 and 86 related deaths, according to The Miami Herald. The island has reportedly suffered from the epidemic's blow to its tourism industry as it hosted nearly 1 million fewer visitors between January and April than it did during the same period last year.
Visitors will undergo mandatory rapid COVID-19 tests upon arriving, be subject to temperature checks when re-entering their hotels and their hotel rooms will be regularly cleaned and disinfected to prevent any contamination. Hotel workers will also be monitored for symptoms.
Newsweek reached out to Ministry of Foreign Affairs for further information. This story will be updated with any response.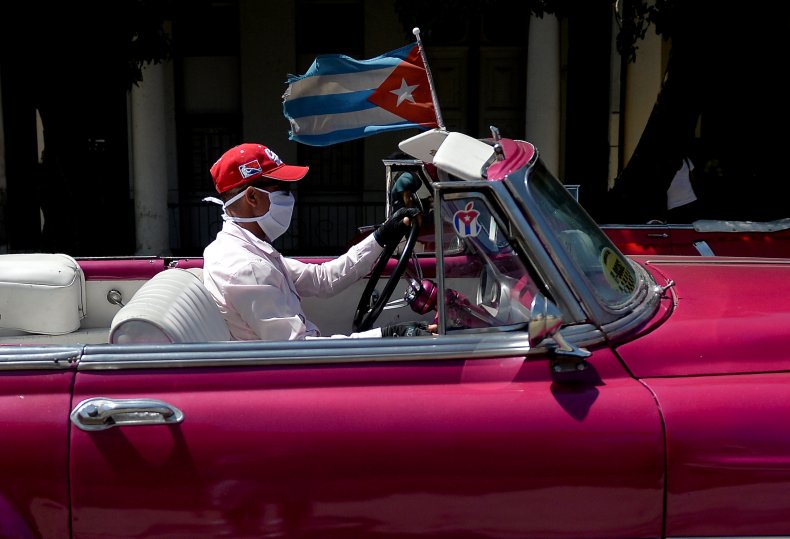 After shuttering all tourism, schools and public transportation, the island nation ordered tens of thousands of family doctors, nurses and medical students to actively screen all homes for COVID-19 every day. Medical workers could lose their jobs or be barred from graduation if they didn't conduct the screenings.
People suspected of having the virus are put into "isolation centers" for 14 days. There, patients are left food outside of their door three times a day and given medical checks. Anyone who resists or refuses to wear a face mask is jailed, according to The Guardian.
In early June, Cuban Prime Minister Manuel Marrero Cruz announced the nation's three-phase plan for reopening. The first phase continues the mandatory requirement of face masks and social distancing measures as well as having employees with respiratory symptoms avoid workspaces. Hospitals will also be allowed to reopen at 50 percent.
The second phase will allow schools and transportation services to reopen and will only require face masks in crowded spaces, according to the Herald. Baseball games will also resume later this year, but all international sporting events, carnivals, and large cultural events will be suspended, the publication reports.
Cuba's right against the pandemic has exacerbated economic difficulties caused by tightened U.S. sanctions under U.S. President Donald Trump which deterred tourism, foreign investment, trade and international financing that could help the island import medical equipment and emergency funds, according to The Conversation, an international news site.