Cuba Without Castro: New President Sworn in Right After One-Candidate Vote
Cuba swears in its new president on Thursday, with outgoing leader Raul Castro, 86, handing over power to his first vice-president, Miguel Diaz-Canel, 57.
The country's 605-member National Assembly of People's Power, a legislative body, gathers in the morning to vote for the 31-member Council of State, which forms the country's government. The options are limited, as Diaz-Canel is the only candidate for the presidency.
The deputy position of first vice-president, Diaz-Canel's previous role, also only has one candidate, 72-year-old Salvador Valdés Mesa, and there are only five candidates to choose from for the five positions of vice-presidents. And, of course, there are only 24 names listed on the ballots to the 24 roles of secretary.
Read more: How will new Cuba leader Miguel Diaz-Canel affect Washington-Havana relations?
Diaz-Canel will be sworn in right after the assembly session, marking the first Castro-free government since the 1959 Cuban Marxist revolution led by the late Fidel Castro against the U.S.-backed dictator Fulgencio Batista.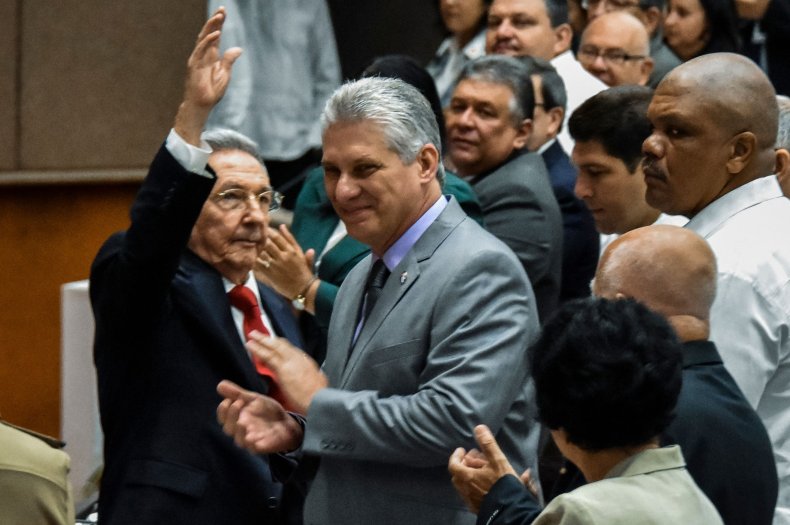 Despite the historic opportunity to reform a country marked by authoritarian state control of most civil society and the media, the regime's message is one of continuity. "In Cuba there will be no breaks, but continuity of the Revolution and its historic legacy," read a poster by the Cuban Ministry of Foreign Affairs shared on social media.
In another tweet, the ministry shared a photo of Raul Castro embracing Diaz-Canel, along with the caption "an image worth more than a thousand words" and the hashtag #SomosContinuidad, meaning "We are continuity" in Spanish.
Diaz-Canel was born in post-revolution Cuba and spent 30 years quietly moving up the party ranks until he was voted in as Raul Castro's first deputy in February 2013. He faces the task to revive an economy that continues to struggle despite Castro's economic reforms, as well as managing a power transition that represents a novelty for the 80 percent the island's population born, like him, after 1959.
Read more: End of an Era in Cuba: Raul and Fidel Castro in Pictures
Analysts are skeptical about the potential for radical change, believing that Castro will still exercise considerable power as he remains head of the Communist Party until the 2021 congress, at which point his son Alejandro could take over.