On November 25, 2016, a somber Raúl Castro announced on Cuban state television the passing of his brother, Fidel, who ruled Cuba for nearly 50 years. Today, many of Fidel's followers describe his demise as a "transition to immortality."
A year after Fidel's death, some wonder whether Castro is willing to leave power on February 24, 2018—as he promised in 2013—especially in the face of President Donald Trump's crackdown on U.S. business and travel to the island. The sanctions, which took effect earlier this month, prohibit Americans from doing business with 180 entities linked to the Cuban military, intelligence and security services.
Given the current state of U.S.-Cuba relations, this may be an incentive for Castro to extend his term. "The fatherland is in danger; it is facing very difficult economic circumstances plus the threat of aggression from a historical enemy. Facing difficult circumstances, revolutionary leaders don't back down," Domingo Amuchastegui, a former Cuban intelligence analyst who lives in Miami, told The Miami Herald.
Most recently, Cuba and the United States have been in the crosshairs with respect to the alleged sonic attack against U.S. embassy staff in Havana, which led to the removal of 15 Cuban diplomats from Washington in early October. Earlier this month, the U.S.—alongside Israel—voted against a U.N. resolution that underlined the need to lift the embargo against the island. The measure was overwhelmingly approved in the U.N General Assembly by a 191-2 vote.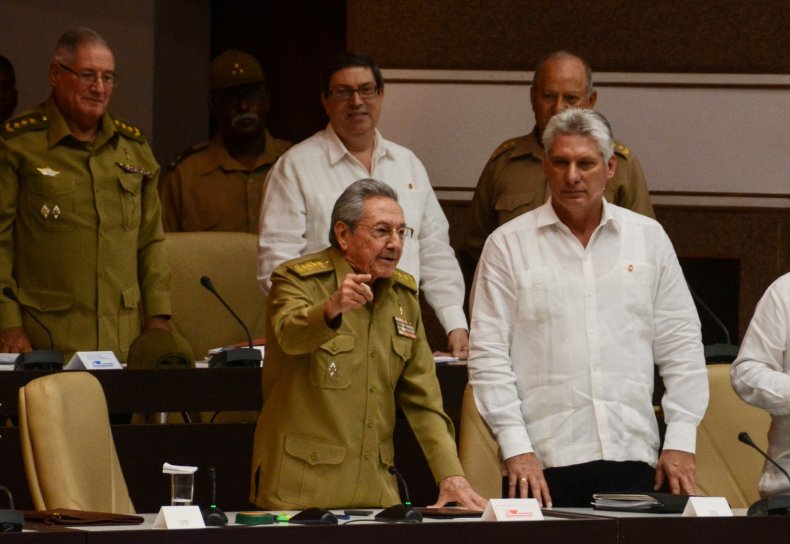 Trump's draconian stance on Cuba and North Korea brought both countries together. Cuban Minister of Foreign Affairs Bruno Rodriguez and his North Korean counterpart Ri Yong Ho held an "anti-U.S." meeting in Havana this week and called on the U.S. to "respect both nations' sovereignty, independence, self-determination and territorial integrity."
In addition to the deteriorated relationship with the United States, Cuba has recently faced other economic challenges caused by Hurricane Irma in September and a waning aid from Venezuela.
But despite Cuba's woes, others believe that a country without the Castros in power is possible. Castro's daughter, Mariela, said earlier this year that she "would never want to be a contender for the presidency," Reuters reported.
For this reason, Castro would grant power to Miguel Díaz-Canel, first vice president of the Council of the State. Diaz-Canel, 56, represents a break from the "revolutionary old guard," The Miami Herald said, since he wasn't even born when the Cuban Revolution rallied against the right-wing government of Fulgencio Batista in 1959.
Another reason for Castro to step down is his advanced age and the health complications that could come with it, something that occurred to his brother when his health condition began to worsen in 2006. Raul, 86, said during the 2016 party congress that age 60 is the limit to enter the party's core committee while 70 is the maximum age to hold government and party positions. "Somebody who is 65 or 70 is useful for important activities, but not the activities of an important leader," Business Insider cited him.
Even though Castro would not be a visible leader starting next February, his clout may still endure. Castro has worked to strengthen institutions "to guarantee the regime's continuity," American University professor William LeoGrande told the Herald. "Besides, Castro has said nothing about stepping down as first secretary of the Communist Party of Cuba," LeoGrande said, adding that Castro is likely to continue to wield influence in policy decisionmaking.
365 days without Fidel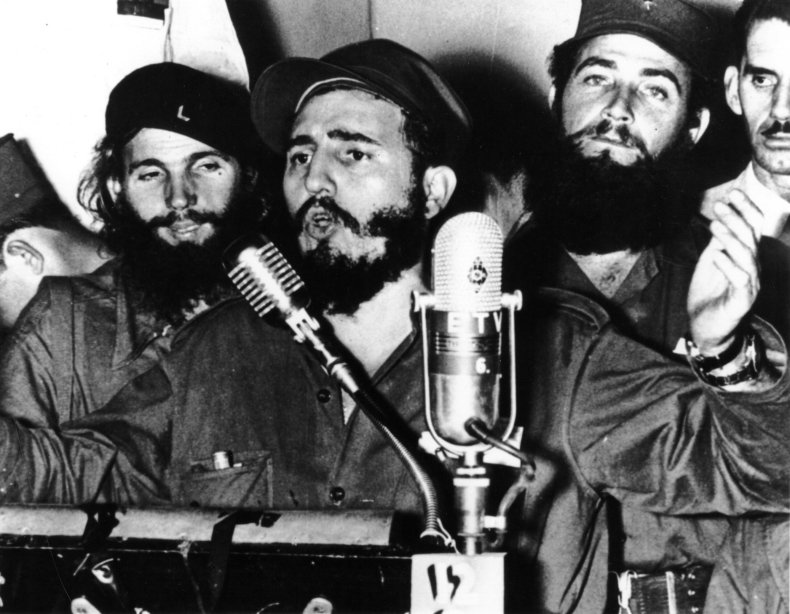 Cuba's squares and public areas do not bear Fidel Castro's name—at least that was his wish before passing. Cubans, however, held a vigil at the University of Havana Friday to celebrate the life of the comandante and made signs that read "Forever Fidel," or "I am Fidel" on the streets, according to Colombian newspaper El Tiempo.
The island will hold remembrances between today and December 4, the day Castro was interred in a cemetery in Santiago de Cuba, the city where the revolution started, Voice of America reported. State television has been running archived videos of Castro, and cultural centers are paying tribute to his memory with performances.
The events come at a time when Cubans will be participating in municipal elections, whose votes will end with the selection of a new president in February 2018, Voice of America added.
Castro was always a polarizing figure, and some Twitter users expressed their admiration and contempt for the late leader. This user said that "refusing to mourn Fidel Castro's death is punishable by prison."
Others remembered "60 years of tyranny and oppression."
This user said in Spanish, "Cuba is a prison without democracy ever since Communism arrived on the island."
Other users said that "the love the people of Cuba have for Fidel lifts my heart so much."
This user tweeted, "Forever Fidel, I am Fidel"
This Twiter user added in Spanish that "Cuba is a country with excellent healthcare professionals, great public education and high-quality culture."
For almost 50 years, Castro developed a defiant relationship with the United States. His antagonistic stance led to the failed U.S. invasion of Bay of Pigs in 1961, and he almost pushed the world to the brink of a nuclear war during the 1962 Cuban missile crisis. Castro became a "towering international figure" in the 20th century, according to The New York Times.