The state of Florida has been a major battleground state during U.S. presidential elections this century. This year is no different. On Saturday in Miami, tens of thousands of Latin American descendants and originals congregated to make their voices heard in the strategic area of South Florida.
In the name of Trump.
Thousands of Trump supporters hit the streets in Miami on Saturday in their vehicles, forming a parade in a caravan that ranged from Pro-Trump to "free Cuba" and other socialist-held countries in Latin America.
The caravan in the Greater Miami area was projected from 20,000 to 30,000 people, all social distanced in their cars because of COVID-19. Their message was simple and clear with all of their flags and other messages:
Pro-Trump
Anti-Communism
Anti-Socialism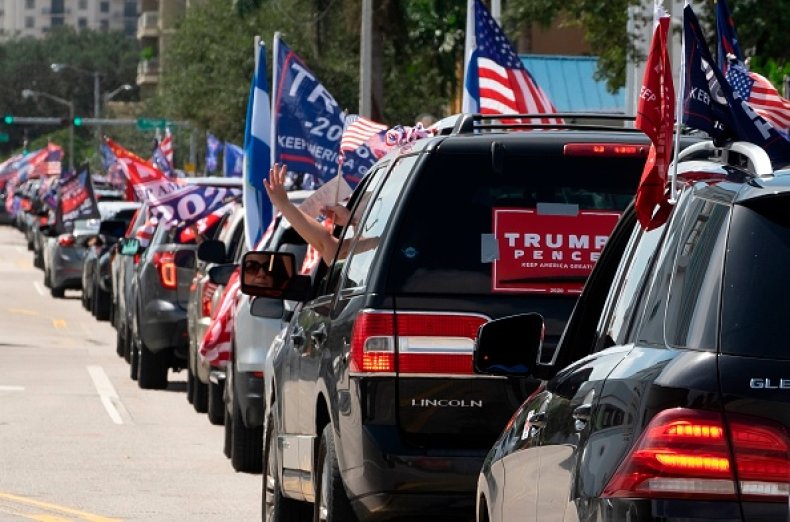 The message to their fellow Americans was that they not only wanted nations of Cuba, Nicaragua and Venezuela free from socialism, but they wanted American citizens to beware the dangers of a socialist society.
Orlando Gutiérrez Boronat, who leads one of the groups, de Directorio Democrático, said the caravan was a chance for those who fled socialist countries to defy a movement within the Democrat party.
"As on October 10 of 1868, the Anti Communist and Anti socialist Caravan for Freedom and Democracy arose organically from all our exile community, from all generations, headed by the historic exiles," Boronat said in the Miami Herald. "Together with our Latin American brothers, we have a very clear message: Our moral priority is to defend the United States, the liberation of Cuba and the hemisphere with love. Today we start the road to our second independence as Cubans."
Florida is a major battleground for both President Donald Trump and Democratic challenger Joe Biden. Both candidates, and several members within their respective parties, will try and make pleas for undecided voters over the next few weeks as the general election nears.
The Latino vote in Florida has been a big go-getter for both the Trump and Biden campaigns. Trump has visits scheduled by his campaign in Florida over the next few days, including several on Monday. Meanwhile, Biden's campaign also has planned stops.
Going back to the pro-Trump caravan on Saturday, Alex Otaola is a YouTube star who helped organize the event.
"I think it was very powerful. Miami is very active, which we haven't seen in a long time. Anti-communism is a factor that unites our communities, as well as the support for President Trump," Otaola said.
Among the drivers and riders in the caravan were folks who have heritage from Colombia, Cuba, Nicaragua and Venezuela—all wanting freedom in this country, and not the evils they escaped. They waved flags from their home countries, but all in the name of freedom.