Cuban Americans Plan Reverse Refugee Voyage to Cuba in Flotilla
A group of Cuban protesters are setting their sights on helping the people of Cuba. Spearheaded by Cuban artist-influencer, Santiago Rivero, the group had plans of sending a flotilla of boats to Cuba filled with flashlights, bottled water, and boxes of canned Chef Boyardee.
"We're going to Havana. If we have to intervene, if we have to stay, we'll do what we have to do," said Rivero via Instagram. "The U.S. president has done nothing, supposedly. At a minimum, we want to stand at the border of what are the Havana limits."
A number of posts on Rivero's Instagram shows him standing in solidarity with the people of Cuba. On Monday he stated he wanted people to show up in Cuba just to "see what happens." In earlier social media posts, he mentioned having people potentially bear arms during the 10-hour boat ride, but later retracted his statement, citing that he wanted peace at the end of the day.
"We're not going with weapons," Rivero stated. "This is not some political problem or anything. Simply and plainly, it's for whatever the police is doing in Cuba, to do it to us instead."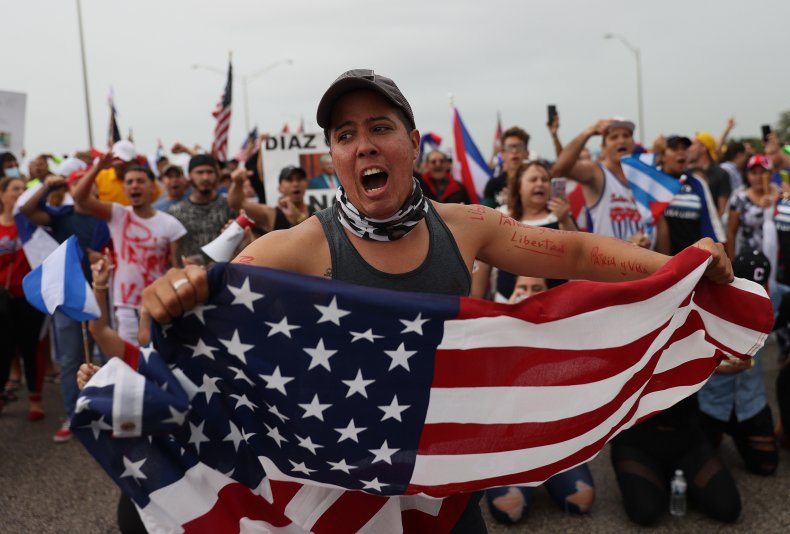 The group was supposed to leave Pelican Harbor Marina in North Bay Village and arrive in Cuba. Once the group were able to secure a boat, authorities were alerted and Rivero told the police they were simply having "a peaceful gathering." It's unclear whether the boat made it to Cuba or not.
In Cuba, there's been civil unrest due to communist dictatorship in the country and a lack of basic necessities that's been exasperated amid the COVID-19 pandemic. As of now, this is the worst economic and societal predicament Cuba has faced since 1991.
President Miguel Díaz-Canel has spoken out regarding the demonstrations and protests within the country. He also stated the United States was trying to "weaken Cuba's economy."
"We call all revolutionaries to hit the streets to defend the revolution everywhere," said Díaz-Canel. "Over our dead bodies. We are prepared to do anything."
Republican Florida Rep. Mario Diaz-Balart stated the United States should support Cuba's efforts regarding total liberation from an oppressive system.
"Now more than ever, the United States and the international community must support the Cuban people in their struggle for freedom."
President Joe Biden also shared his thoughts after being criticized for not speaking out sooner regarding the turmoil in Cuba.
"We stand with the Cuban people and their clarion call for freedom and relief from the tragic grip of the pandemic and from the decades of repression and economic suffering to which they have been subjected by Cuba's authoritarian regime," said Biden.
Newsweek has reached out to Santiago Rivero for further comments.