Who Is Cuban Doll? Rapper Says She 'Never Met' Offset While Denying Cheating Rumors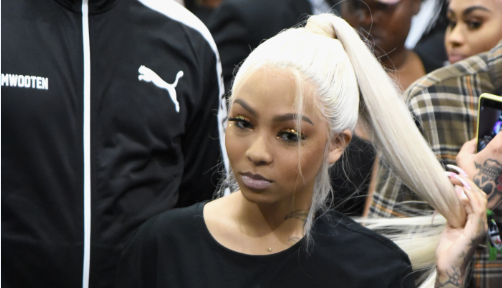 Rapper Cuban Doll responded to allegations of engaging in an affair with Offset, who is married to Cardi B.
In an Instagram video, Cardi announced her and Offset's split on Tuesday night. Although the "Money" rapper said no one was to blame for their decision to part ways, Offset's alleged infidelity was revealed after text messages of the Migos rapper attempting to orchestrate a threesome were released by TMZ on Wednesday.
Offset reportedly requested a woman named Summer Bunni to help him set up a ménage à trois with Doll. The "Bankrupt" rapper denied the threesome and said she never met up with Bunni and Offset. "I never went to new or lean leave me alone!" Doll wrote on Twitter on Wednesday night.
In the text message, Offset told Bunni he would fly her and Doll out to meet him in "new or lean"—presumably meaning New Orleans.
Doll told TMZ she has never met Offset before, let alone hooked up with him. "I don't know him. I've never spoke to him. Never had no conversation with him," she said on Thursday.
Doll went on to say she was dragged into the cheating scandal because of Bunni, who fully acknowledged having an extramarital relationship with Offset. "The other girl, she has no name. She don't do nothing," Doll said.
"It's all based off her trying to get clout. That's the only thing it is. It's a bunch of clout chasing stuff and my name caught in the middle of it," she continued. "I never met him, never texted him, never accepted no type of agreements with him, none of that."
Bunni, on the other hand, issued an apology to Cardi on social media on Wednesday. Claiming she wasn't aware of "how serious" Offset and Cardi's marriage was, Bunni said she felt "ashamed" for her role in the scandal.
"To Cardi B and her fans, her family, to her situation, these were never my intentions and I never wanted to break up a happy home and be a cause of someone just saying like, 'F**k it,' to get a divorce or anything like that," she said.