Cuban Leader Denies Attacks on U.S. Diplomats, Calls It a 'Defamatory Story' and a 'Fallacy'
Cuba's president rejected the claim that the island nation was involved in attacks against U.S. diplomats, during an interview on Sunday.
"[The United States] has started threatening again. They've started to impose, and in the middle of all this they have created this fallacy, this defamatory story of alleged 'acoustic' incidents,'" Miguel Diaz-Canel said in his first interview since taking up his position as president in April, according to CNN.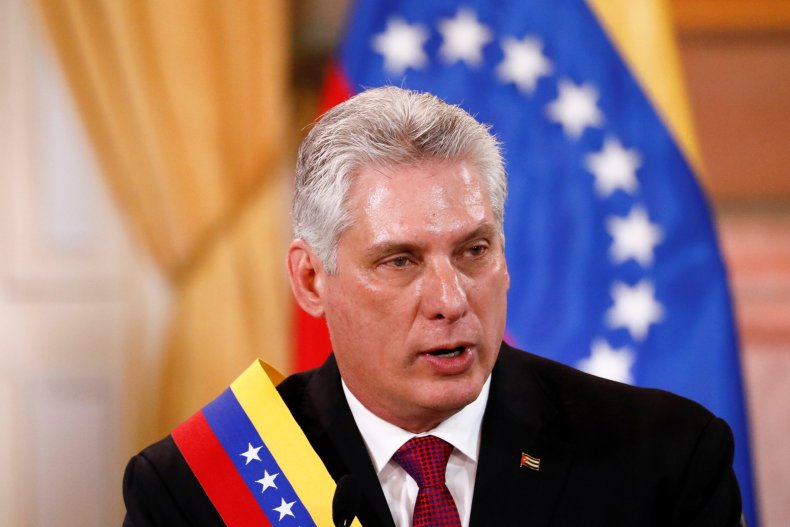 The Trump administration blamed Cuba after U.S. diplomats stationed in Havana began to complain of hearing loss, sharp ear pain and severe headaches, among other symptoms. The attacks, which officials said took place in the fall of 2016, led to a reduction of U.S. Embassy personnel in Cuba early this year.
Get your unlimited Newsweek trial >
"Cuba does not attack, Cuba defends, Cuba shares," Diaz-Canel said, according to Reuters, noting that relations between the U.S. and Cuba were "in decline."
The 58-year-old also said that he would back a change to the constitution, which would allow same-sex couples to marry. Marriage is defined as being between "a man and a woman" in Cuba's current constitution.
"We've been going through a massive thought evolution and many taboos have been broken," Diaz-Canel said, according to the BBC, adding that recognizing "marriage between people without any restrictions" would pave the way for "part of eliminating any type of discrimination in society."
The comments came less than a year before citizens would vote on a new constitution in a referendum to replace the 1976 version, which stated that Cuba's main goal was to "build a Communist society." The proposed change came partly in response to the advocacy of Mariela Castro, the daughter of former President Raul Castro, who is a representative in the National Assembly and director of the National Center for Sex Education, according to The New York Times.
Get your unlimited Newsweek trial >
The president also said that he would not speak with President Donald Trump as long as the U.S. government held an "abnormal" attitude toward the country.
"We still maintain channels of dialogue and our position is that we do not reject the possibility of dialogue at any time, but it must be between equals," Diaz-Canel said. He called the U.S. economic blockade "the main obstacle to the development of the country."
"What happens is that a dialogue is built between two or more, therefore a dialogue has its rules. You cannot aspire to a dialogue among unequal [parties]—one cannot aspire to a dialogue if there is arrogance, hegemony, pressure," he said.
Cuban Leader Denies Attacks on U.S. Diplomats, Calls It a 'Defamatory Story' and a 'Fallacy' | World