Cuban Migrants Swim Ashore in Florida After Boat Sinks During Hurricane Ian
U.S. Border Patrol says it rescued four Cuban migrants off the Florida coast on Wednesday as Hurricane Ian barreled toward the state's western shore.
Walter Slosar, chief patrol agent for Border Patrol's Miami sector, said in a tweet that the U.S. Coast Guard recovered several migrants from the Florida Keys whose boat had apparently been destroyed in the storm, forcing them to swim ashore. Approximately two dozen others were still missing in connection to that vessel, he said, though three additional people were later found in the water about 2 miles south of Boca Chica Key mid-Wednesday afternoon. The rescued migrants were then transported to a local hospital for symptoms of exhaustion and dehydration.
The rescue operation comes amid a record-setting influx of migrants from Latin America, and a busy week for migrations from Cuba as state and local leaders prepare for what some believe to be the most intense storm to hit Florida in a half-decade.
Slosar's sector reported that in the last week nearly 120 Cuban migrants had arrived by boat, bringing the total number of migrants repatriated by the Coast Guard in the sector to over 6,000. Beyond that, the Coast Guard estimated 64 migrants had died during their passage to Cuba, which spans more than 200 miles of open water to the southern tip of the Florida mainland.
Illegal migration has been a growing problem between the two nations. In 2021, the Cuban foreign ministry accused the U.S. government of encouraging illegal migration by not processing visas in Havana after steep reductions in staff at the embassy enacted by former President Donald Trump, which they claimed made it relatively easy for Cubans to claim asylum.
After relying on its embassy in Guyana—a South American country roughly 1,700 miles away from Cuba—to process immigrant visas for much of 2021, the U.S. State Department announced in April the renewal of efforts to increase staffing at the consular office in Havana, with the issuing of visas beginning up again in May after a four-year hiatus.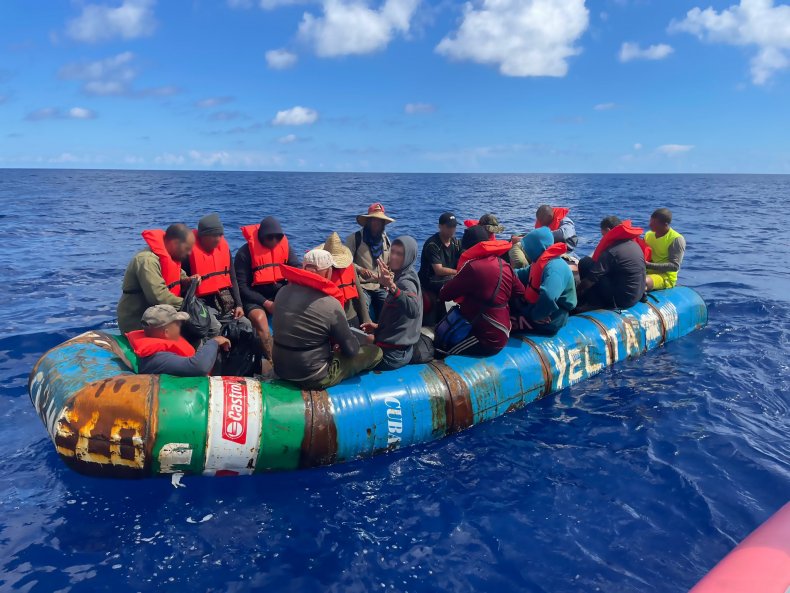 Despite the change, the summer of 2021 saw a high number of Cuban migrants arriving in the U.S. by boat. In a single weekend in August, U.S. immigration officials said they arrested 187 Cuban migrants who had landed in the Florida Keys between 10 different boats.
The same week Florida Governor Ron DeSantis faced intense public scrutiny for his decision to fly undocumented immigrants to Martha's Vineyard earlier this month, theMiami Herald reported the arrival of nearly 100 undocumented migrants from Cuba, all of whom arrived by boat.
Those that arrived safely during the hurricane could face a lack of resources to support them.
Though the eye of the storm bypassed the Florida Keys overnight Tuesday, Hurricane Ian caused severe flooding in the area before the rains finally subsided on Wednesday, prompting the closure of a homeless shelter and other facilities in the area as the storm prepares to make landfall further up the coastline. Slosar warned that although the storm has passed, conditions in the area could remain treacherous.
"Do not risk your life by attempting this journey at sea," he tweeted. "Storm surge along with King tide can create treacherous sea conditions even after a storm passes."
Update 09/28/22, 5:23 p.m. ET: This article was updated with additional information and background.