Cubans Cry for Help on Social Media: 'Tomorrow We Will Go So They Will Beat Us to Death As Well'
As the protests against Cuba's communist dictatorship ramp up, citizens of the island nation have taken their pleas to social media.
Across apps like Twitter and TikTok, Cuban Millennials and Gen Z are sharing their struggles with food insecurity, power outages, and lack of access to medical supplies.
These are their stories:
Observatorio Cubano de Derechos Humanos, Twitter
In this video two men who say they are doctors share a story of the beating inflicted upon one of their colleagues by the police. The doctors begin by saying that they aren't financed by anyone and aren't working for anyone.
"We want to let you know a doctor, a colleague of ours named Raul, the police beat him to death at the protests. Literally, beat him to death."
The doctor who speaks throughout the entire video says this will spur doctors and health care workers to take to the streets.
"Tomorrow we will go so they beat us to death as well."
sabor29, TikTok
In this TikTok, sabor29 introduces herself as Paula, stating she is Cuban. Close to tears, she shares that the healthcare crisis in Cuba continues to spread and inflict damage upon her people.
To both Cubans and others across the world, she makes the following plea:
"I want to ask, please, all Cuban and non-Cuban people to please help spread the word with the hashtag 'SOSCuba' because there is a health crisis in Cuba, and it is moving fast."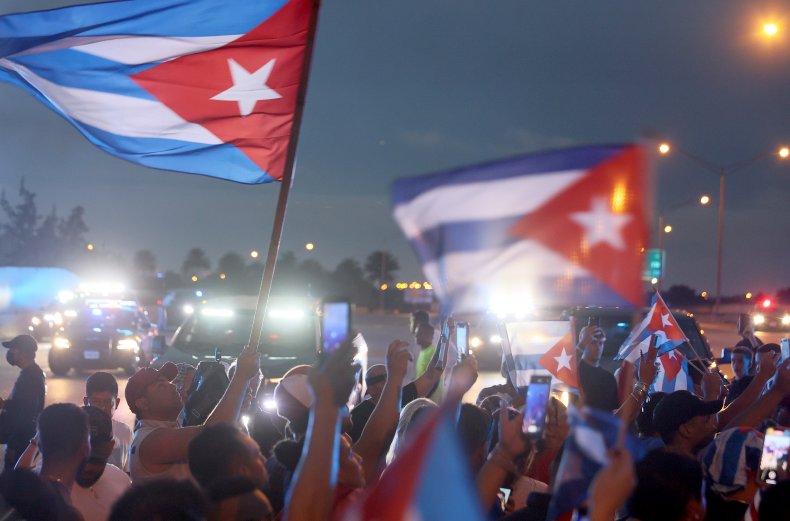 America valdes, Twitter
In a thread first created on July 10, America valdes shares a detailed picture of her perspective of the situation in Cuba.
In it, she says the "healthcare system has crumbled and they are unequipped to contain the covid outbreak," including images of people lying in patient beds sprawled across a dirty hospital.
Her tweets include a number of videos showcasing the protests and the state violence launched in response. These videos show people being beaten and choked, with blood dripping down some of their faces.
"For years now the Cuban health care system has been suffering due to a lack proper infrastructure, medicine, equipment, and personnel," she writes. "The lack of medicine IS NOT BECAUSE OF THE EMBARGO. The embargo does not block trade for food and medicine (because people need these things to survive). The government simply doesn't fund the healthcare system."
In regard to the embargo, a joint report by Oxfam America and the Washington Office on Latin America states the following:
"In the context of the weakened Cuban economy, the U.S. embargo exacerbated the problems in the health care system. The embargo forced Cuba to use more of its now much more limited resources on medical imports, both because equipment and drugs from foreign subsidiaries of U.S. firms or from non-U.S. sources tend to be higher priced and because shipping costs are greater."
La tuti, TikTok
This post by La tuti focuses on the breakdown of the country's medical system, featuring images of the nation's hospitals, overlaid with text as the song Por Cuba la Que Me Vio Nacer plays in the background.
The overlaid text first focuses on the nation's hospitals, writing:
"Cuba is not going through a pleasant moment, people are dying, there is no food, there are no resources for personal hygiene, the government is worse every day."
In reference to the COVID-19 shelters, erected in response to the overcrowding of hospitals, where people lay on dirty concrete floors near filthy bathrooms, the post writes:
"These are the so-called 'shelters' where it is assumed that people can pass through the virus since the hospitals are full."
La tuti follows this message making an appeal for help and change.
"There is no care, there is no attention. They give priority to tourism instead of having the people first. It is outrageous to see the country where I was born go through what is happening. We need urgent help!"
yomama567tbs, TikTok
Filmed at what appears to be the site of a protest, yomama567tbs voices his complaints about what he perceives to be the nation's focus on tourism over the well fare of the Cuban people.
"We are here because of the repression against the people," he says. "They are starving us to death. Havana is collapsing. We have no houses, we have nothing. But they have money to build hotels and they leave us to starve."
This post garnered over 32,000 likes and was shared in TikTok "duets" by other users across the platform.