Cubans, Haitians Warned to Not Travel to U.S. Illegally by Sea
U.S. Homeland Security Secretary Alejandro Mayorkas warned potential Cuban and Haitian migrants not to attempt to travel to the United States illegally by sea, on Tuesday, saying the journey would be too dangerous, and wouldn't mean entry into the country.
"Any migrant intercepted at sea, regardless of their nationality, will not be permitted to enter the United States," Mayorkas said at a press conference.
The warning from Homeland Security comes amid historic protests in Cuba, where thousands of demonstrators swarmed the streets of Cuba Sunday, calling for the removal of President Miguel Diaz-Canel and protesting for better access to basic human necessities like food and vaccines.
The political situation in Haiti has also been destabilized by the aftermath of the recent assassination of President Jovenel Moïse in his home on July 7.
Mayorkas' Tuesday warning seemed to be preemptive, rather than in reaction to an actual influx of water migration attempts.
"DHS is closely monitoring from the air for any increase in either incoming or outgoing 'unsafe and irregular' traffic throughout the Florida straits amid unrest in the Caribbean. We have not seen a surge at this time," he said, though he added that U.S. officials were prepared to deal with any potential surge.
"The time is never right to attempt migration by sea. To those who risk their lives doing so, the risk is not worth taking. Allow me to be clear: if you take to the sea, you will not come to the United States," Mayorkas said.
Mayorkas' statement seems to echo the sentiment from Vice President Kamala Harris' controversial speech from her June trip to Guatemala when she seemed to discourage the flow of migrants from the U.S. southern border with the message that they would be sent home.
"I want to be clear to folks in this region who are thinking about making that dangerous trek to the United States-Mexico border: Do not come. Do not come," she said.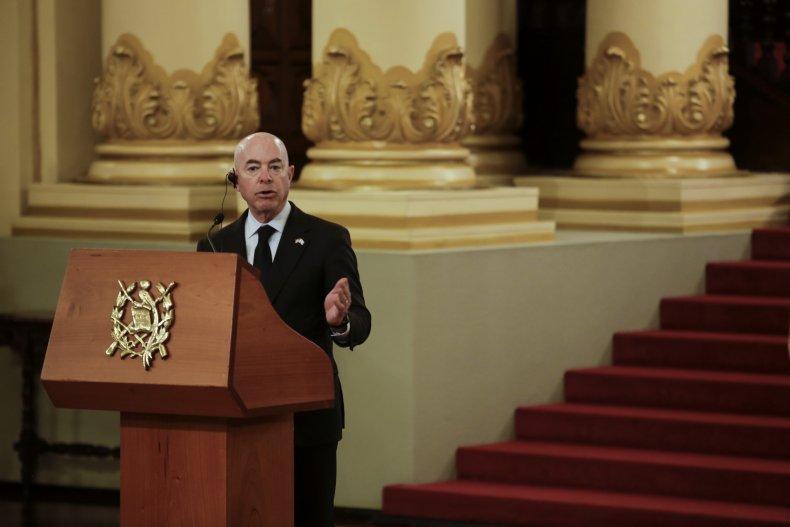 A previous arrangement called the "wet foot, dry foot" policy, once allowed Cubans who made the trip to the U.S. by sea without a visa to become legal residents. That policy ended in 2017, and Mayorkas' recent warning seems to be reminding would-be migrants of that change.
"DHS is working with our partners to support the Haitian and Cuban people. The Coast Guard, along with our state, local and federal partners, are monitoring any activity that may indicate increases in unsafe and irregular maritime migration in the Florida Straits, including unpermitted vessel departures from Florida to Cuba.," Mayorkas reiterated in his briefing.