Cuba's Foreign Minister Blames U.S. After Paris Embassy Attacked With Molotov Cocktails
Cuban Foreign Minister Bruno Rodriguez accused the U.S. government of initiating campaigns of "violence" on Monday after the country's foreign embassy in Paris was attacked by gasoline bombs.
Rodriguez announced in a tweet on Monday night that the embassy was attacked with Molotov cocktails and put the blame on Washington.
"We denounce a terrorist attack with Molotov cocktails against our Embassy in Paris @EmbaCubaFrancia. I hold the US Government responsible for its continuous campaigns against our country that encourage these behaviors and for calls for violence, with impunity, from its territory," he wrote.
According to the Cuban Foreign Ministry's International Press Center, the attack on the Paris embassy occurred around midnight when three Molotov cocktails were thrown at the building. Two of the Molotov cocktails hit the embassy and caused a fire, but Cuban diplomats were able to extinguish the flames before French firefighters and police arrived at the scene, the Associated Press reported.
Police said no one was injured in the incident, and an investigation is currently underway to determine who was responsible for throwing the gasoline bombs.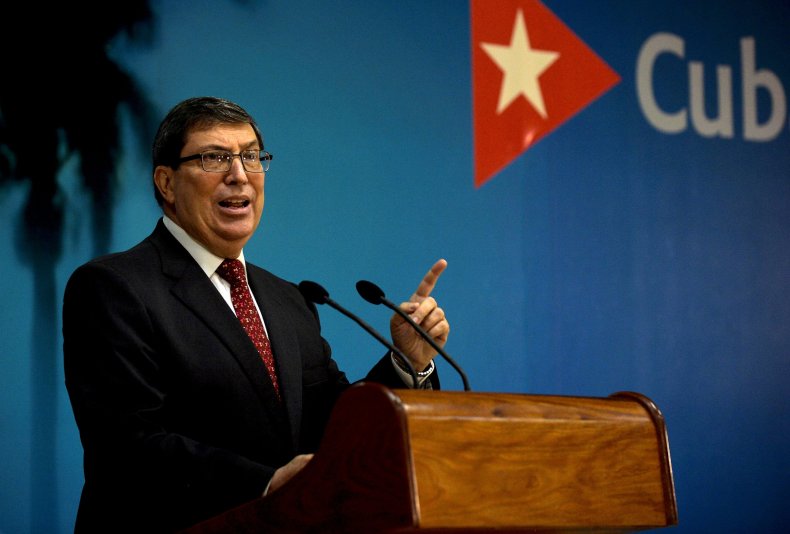 A number of Cuban embassies around the world have come under attack in recent weeks as protestors both for and against Cuba's government react to widespread demonstrations that broke out across the country earlier this month.
Thousands of Cubans took to the streets on July 11 and 12 to demand the end of the country's communist dictatorship, after frustration regarding national food shortages and inflated prices exacerbated by the COVID-19 pandemic reached a tipping point.
Dozens of activists and journalists have been arrested since the demonstrations began, and at least one person has been killed.
Amid the unrest, Cuban officials have accused the U.S. government of formulating a social media campaign aimed at destabilizing the nation.
Earlier this month, Cuban President Miguel Díaz-Canel spoke out about what he saw as "politics of economic asphyxiation" from the U.S. toward Cuba and accused the country of contributing to the unrest by maintaining travel and trade restrictions on the country.
On Monday, the U.S. and 20 other countries signed a statement that called on Cuba to "respect the universal rights and freedoms of the Cuban people, including the free flow of information to all Cubans."
"We urge the Cuban government to heed the voices and demands of the Cuban people," the statement said. "The international community will not waver in its support of the Cuban people and all those who stand up for the basic freedoms all people deserve."
Alongside the U.S., the joint statement was signed by the governments of Austria, Brazil, Colombia, Croatia, Cyprus, Czech Republic, Ecuador, Estonia, Guatemala, Greece, Honduras, Israel, Latvia, Lithuania, Kosovo, Montenegro, North Macedonia, Poland, Republic of Korea, and Ukraine.
Newsweek contacted the White House for additional comment but did not hear back in time for publication.