#CuccinelliResign Trends on Twitter After Controversial Statue of Liberty Immigration Comments
Ken Cuccinelli, the acting director of U.S. Citizenship and Immigration Services, is facing calls to leave the Trump administration following his controversial remarks on migrants and the Statue of Liberty.
The hashtag #CuccinnelliResign topped Twitter on Wednesday morning after the immigration official attempted to rewrite the famous poem etched onto the Statue of Liberty in correspondence to a new regulation that denies green cards to immigrants on public assistance.
"Dear Mr. Cuccinelli, racists have historically demonized different immigrants to our country DESPITE what the Statue of Liberty stands for," Sara Spector, a criminal defense attorney, wrote on Twitter using the hashtag. She added that the nation "will find our way back to its genuine soul."
Another Twitter user called out Cuccinelli's hypocrisy, pointing to a blog post in which the immigration official wrote that his grandfather came to the United States "without even an eighth-grade education."
On Monday, the Trump administration announced a new regulation aimed at curbing legal immigration. Under the rule, immigrants who receive public benefits like Medicaid, food stamps or housing assistance could have a tougher time being granted green cards and visa applications. The change is expected to impact over 380,000 people seeking to adjust their immigration status.
Immigration advocates slammed the rule, arguing that it unfairly targets low-income migrants. Cuccinelli responded to the backlash by stating that the government fully expects immigrants to be self-reliant and self-sufficient.
Cuccinelli made headlines on Tuesday morning after he provided an altered version of the poem The New Colossus in defense of the new public charge. A line from the original poem reads: "Give me your tired, your poor, your huddled masses yearning to breathe free."
During an interview on NPR, the UCIS director suggested those lines should be rewritten to say: "Give me your tired and your poor who can stand on their own two feet and who will not become a public charge."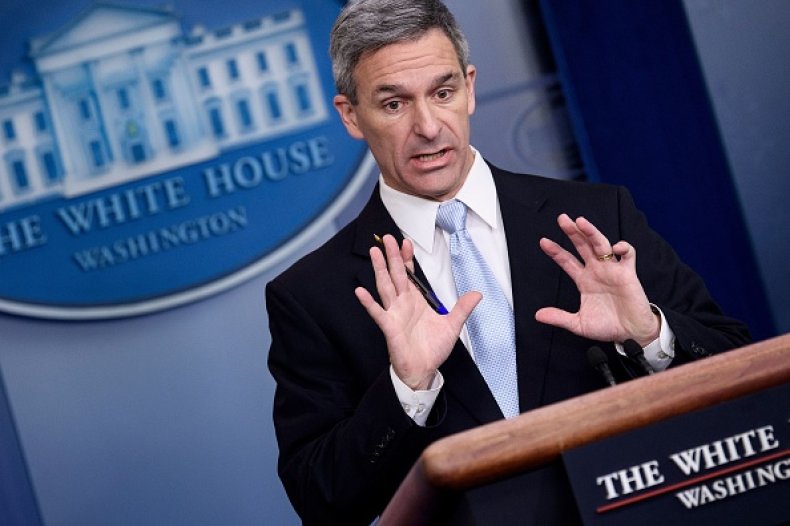 Cuccinelli doubled down on the statement during an appearance on CNN, stating that the Statue of Liberty poem "was referring back to people coming from Europe."
"Of course that poem was referring back to people coming from Europe where they had class-based societies, where people were considered wretched if they weren't in the right class," he said.
Cuccinelli's comment instantly drew criticism from politicians and pundits, many of which argued it was the latest example of the Trump administration's attacks on brown and black immigrants.
"This administration finally admitted what we've known all along: They think the Statue of Liberty only applies to white people," former Texas congressman and 2020 Democrat Beto O'Rourke tweeted. His post included a video clip of Cuccinelli's remarks to CNN.