'Cuck Knight,' Who Disrupted White Supremacist Rally in New Orleans, Vigorously Sought by Alt Right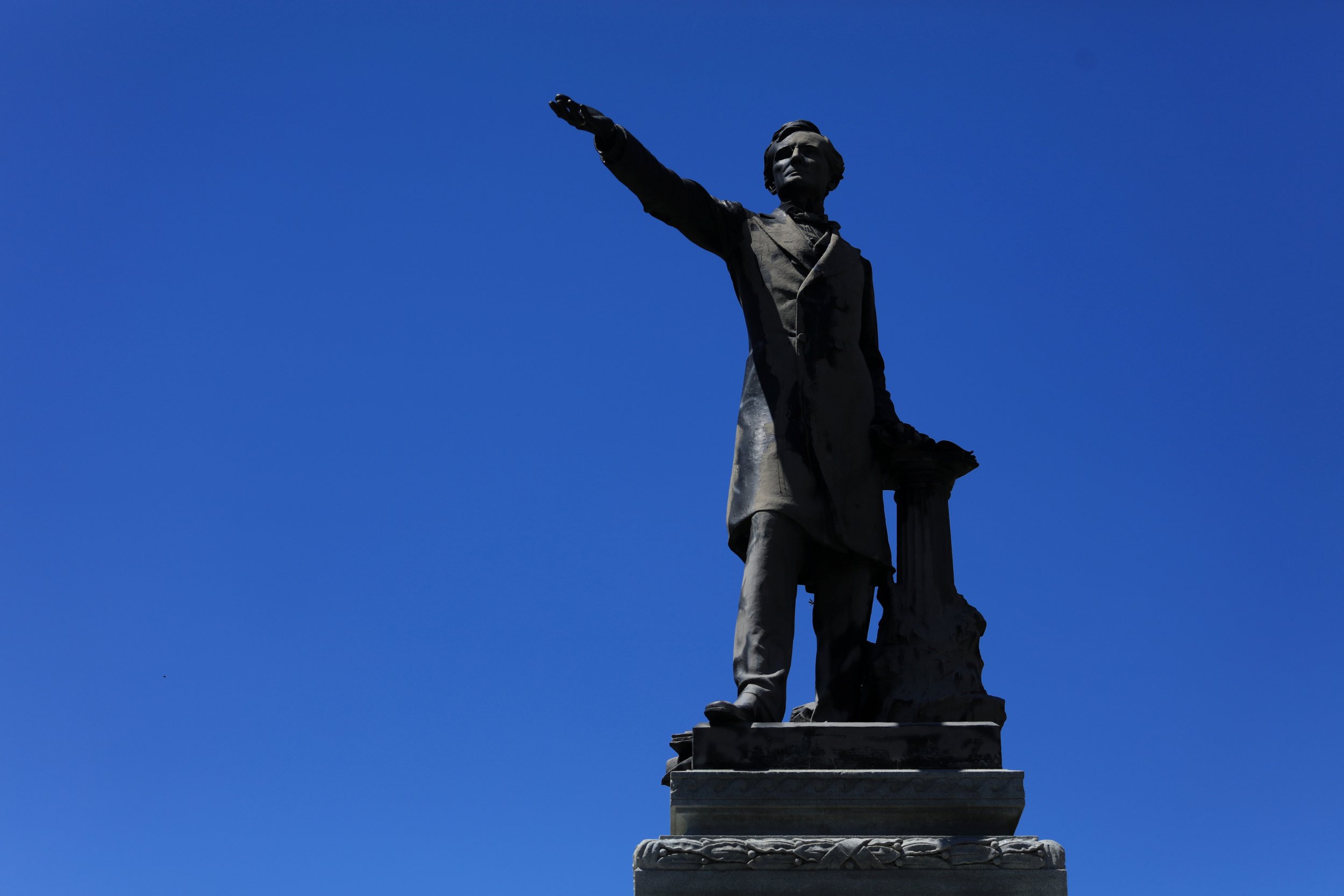 He came shrouded in intrigue—as well as armor and the American flag.
On Sunday, sympathizers of the Confederacy gathered in New Orleans to protest the removal of monuments to the heroes of the slaveholding South, including Jefferson Davis and Robert E. Lee. The removal was ordered by the city's Democratic mayor, Mitch Landrieu.
The pro-Confederacy protesters were met at Lee Circle by those who supported the effacing of New Orleans's legacy of slavery and racism. The Times Picayune of New Orleans reported that "a tense and angry confrontation that included some scuffles" took place, though it noted there were only "a couple of fights," which police officers quickly quelled.
And then there was the Cuck Knight.
That is the name being given by right-wing extremists to a man who appeared on the scene on Sunday afternoon. A white male in his mid-twenties who wore a Medieval-style breastplate, he reportedly drove to New Orleans from Los Angeles. He is also said to have a biracial son.
Images from Twitter strongly suggest that the Cuck Knight invests in styling product for his hair. This is not likely indicative of his political affiliations.
The Cuck Knight's appearance confused those who first thought he was a pro-Confederacy supporter. As he became confrontational, this plainly proved to not be the case. Some speculated he was "planted" by far left forces to sow discord. Heat Street, the far right website, plausibly indicated that he was possibly a member of the "Alt Light." That is, a nationalist, but not a white supremacist.
In the below video, the Cuck Knight can be plainly heard chanting "black lives matter" in apparent seriousness. At another instance, according to Bryan Menegus of Gizmodo, he can be heard telling pro-Confederate protesters that they are "working against the movement." A racially-inclusive hyper-nationalism would indeed confirm his Alt Light bona fides.
Tensions reached their high point when the young man appeared to get into a violent scuffle with several pro-Confederacy protesters after knocking down their flags.
"He then got beaten down," reported William Hicks of Heat Street. "He was summarily defeated, and the fight ended with him on the ground with a bloody face."
"Cuck" is, of course, the shortened form of "cuckservative," a disparaging term used by the extreme right for those insufficiently loyal to its causes. To call the flag-and-armor clad young man a "knight," however, suggests an admiration for his bravery, however misguided the far right might deem that bravery to be. And as Gizmodo helpfully explains, the whole nickname is a play on "Alt-Knight," the name given to far-right activist Kyle Chapman.
Some claimed that Cuck Knight was an actor, though without any evidence to that effect.
On Monday, the far right continued trying to identify the Cuck Knight.
As of this writing, his identity remains unclear. So do his motives and convictions. In keeping with the national mood, the Cuck Knight leaves us having sown chaos and confusion.