Mary Lane's Florida home doubles as a shrine of sorts. Her pink-and-green-themed guest room, her closet of colorfully patterned pastel dresses and even her dog's name are nods to Lilly Pulitzer, the Palm Beach, Florida heiress turned designer to whom Lane has devoted much of her time (and space).
In yacht clubs and on golf courses along the East Coast and in parts of the South, Lilly Pulitzer clothes like those Lane wears daily are practically a uniform. They have gained a cult following in these communities, which inspired a revival of the brand in the early '90s. The style is marked by bright, flamboyant patterns, like flamingos on a floral backdrop, bunches of carrots surrounded by pink, and sea turtles swimming through a daisy patch.
Since its inception in 1959, Lilly Pulitzer has evolved to a lifestyle brand, predominantly anchored by the Palm Beach elite and embodied by their once and future queen, Jacqueline Kennedy. As a lifestyle brand, Pulitzer dresses women from birth to death, and decorates much of their homes.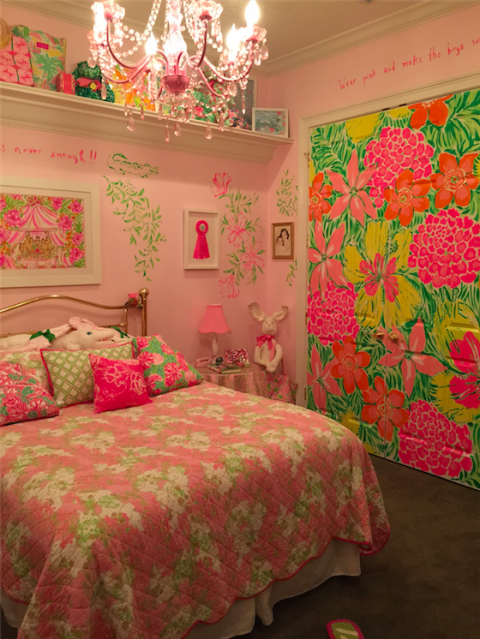 A graduate of the prestigious Miss Porter's School in Farmington, Connecticut, Lillian McKim married publishing heir Peter Pulitzer in 1950. The pair lived in Palm Beach, where they were known for lavish parties thrown year-round. In the late 1950s, she was operating a juice stand off Worth Avenue, the most prominent shopping district in Palm Beach (Peter owned orange groves in the area), where she was constantly getting covered in pulp. Frustrated with the juice stains on her clothing, she created an extremely colorful, yet simple, cotton dress and "the Lilly shift" was born. When, while she was first lady, Kennedy posed in it in 1962 for the cover of Life magazine, it became iconic.
Though the brand shuttered in 1984, it experienced a major revival in the '90s after Lilly—who had divorced Peter and married Cuban lawyer Enrique Rousseau—sold the license. She continued on as a brand consultant until her death in 2013. Almost 60 years after the juice stains, the brand continues to sell thousands of shift dresses each year, developing new prints and bolder accents while maintaining the patented A-line cotton dress.
This April, in collaboration with Target, Lilly Pulitzer released two of its shift dresses as part of a larger collection of the preppy clothier and the big-box retailer that also featured Lilly-printed linens, housewares and accessories. The limited-edition dresses sold out in minutes and went up for auction on eBay for over $200, despite retailing for just $38. (Target did not unveil exactly how many of each product they sold.) The entire collection, which was made available on April 19 around 3 a.m., went on to sell out in hours, both in stores and online.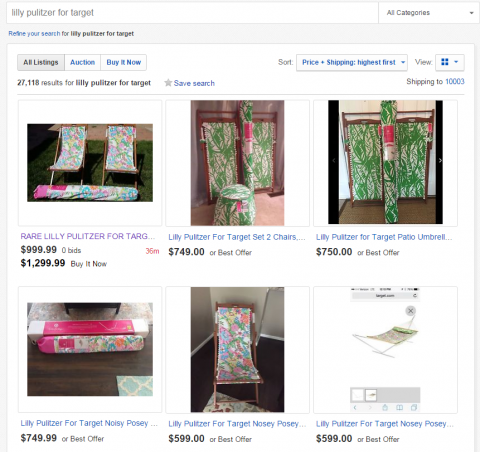 While the numbers show the collaboration was an overwhelming success, some of the brand's most loyal followers viewed its mere conception as a betrayal.
Target has created similar lines with other fashion houses, including high-end designers Joseph Altuzarra, Jason Wu and chevron-print devotee Missoni. Shoppers arrived in the middle of the night to stand in line for these high-low collections, clearing shelves before the sun went up. On eBay, a secondary market popped up for Target's designer collaboration items: A set of five "Missoni for Target" espresso cups, for example, sold for $260, despite retailing for just $40.
Housewives, Real Housewives, editors of glossy magazines and broke bloggers have all praised Target's past partnerships with designers. Yet, when Lilly Pulitzer for Target was announced, a backlash began. "Ew, ew, ew," one Twitter user wrote. "Lilly Pulitzer is turning over [in] her grave right now that her legacy is being sold at TARGET," said another.
On Total Sorority Move, a popular blog frequented by women in the Greek community (many of whom love the brand), a venomous blog post popped up that detailed the frustration hundreds of other sorority girls had shared online. "Imagining a $150 scarf being reproduced and sold for $20 is upsetting," the anonymous blogger, known only as StephHushhh (G-Big), decreed. "Is this incredibly superficial to think? If I want Lilly to continue to be exclusive, am I a horrible person?... I just hope a favorite brand of mine won't go from a tasteful treat to a thrifty bargain find."
But while many of Lilly Pulitzer for Target's adversaries disliked the collaboration simply because Target was involved, others focused on the quality issue: "I have mixed feelings about the Target line," Caroline Powell, a southern sorority girl, told Newsweek. "I love Lilly for the quality and the fit. My biggest concern is if the Target collection is going to be cheaper and lower quality. Is it going to fit the same way? Because of that, I'm apprehensive."
Powell is a huge fan of Lilly's lace, a detail it incorporate into the hem line of each of its dresses. This is notably missing from the Lilly Pulitzer for Target dresses. But those sell for $38. For a fifth of the price, many can do without a bit of lace.
At the Pink Palace, the brand's nickname for its headquarters in King of Prussia, Pennsylvania, staffers were shocked by the negative reaction. "I don't know if offense is the right word, but we believe this is a brand for everyone," says Jane Schoenborn, vice president of creative communications. "We believe that Lilly would always have included everyone. We are really proud to carry that on." Schoenborn adds that though Pulitzer is deceased, her "joie de vivre was an inspiration for every collection, especially this one."
Those who knew Pulitzer disagree vehemently with the idea that she would find the collaboration distasteful or low-brow. "I think she would've loved it," says Lisa Birnbach, author of The Preppy Handbook, True Prep: It's a Whole New Old World and a friend of Pulitzer's. "I think the Target association is smart and I've been sort of offended by the remarks that people have made that now 'common folks' can buy Lilly Pulitzer."
Schoenborn agrees: "Lilly loved a party. And we are the kind of brand that is going to invite everyone."
Pulitzer was so inclusive, in fact, that she would leave the door open to her Palm Beach estate, encouraging those who loved her to stop by. "She wanted everyone to be a part of it," says Lane, whom Pulitzer named a "Lilly Ambassador" because of her love of the brand. "Lilly wasn't someone who wanted to be an elitist."
Lane is the epitome of a Lilly superfan. She has been wearing the brand for five decades. "I would estimate 99.9 percent of my outfits are Lilly Pulitzer," she tells Newsweek. She owns many exclusive items, like a floral golf cart designed by the company and a mural created by a Pulitzer print designer in her guest bedroom. She says her personal goal is to visit every single Lilly Pulitzer brick-and-mortar, over 90 stores in total. "I have thousands of pieces. Just...thousands. Since they brought the line back in the '90s, I've never given away a piece. They're all in storage. Just in case, you know, you need a print that has lemons on it. I have it. I shop there at least once a week."
Unlike many of the young sorority women who scoffed at the high-low collaboration, Lane flew into New York City three days before the April 19 launch date to shop the Lilly Pulitzer for Target exclusive pop-up shop, praising both the quality and design of the items.
Lane's devotion to the brand might seem unusual, but this kind of deep connection is actually common. In fact, this die-hard, emotional attachment is why Schoenborn believes some women oppose the Target collaboration. Change, especially if you've been wearing the same shift dress for years, is difficult. "We understand that consumers hold our brand very close to their hearts," Schoenborn says. "People love us enough to care. We are a multigenerational brand—mothers pass it down to daughters. We see the Target collaboration as a wonderful opportunity to bring more people into what we do."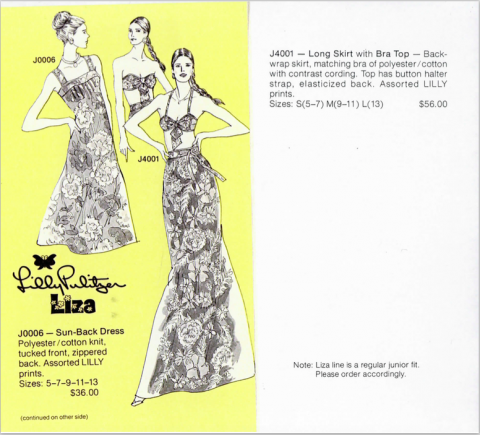 Veronica Ruckh, director of Total Sorority Move, says of her readers: "They grew up in these clothes, as did their mothers and their grandmothers. To them, Lilly is theirs."
Although Ruckh's site published the takedown of the Target collaboration, she notes it was written not by a staff writer or a formal contributor, but by a community member. "It definitely looks bad on sorority girls to be freaking out about this Target collaboration, but they did freak out," Ruckh says. "It was a really polarizing issue. Some were really stoked to see an affordable version of the brand that they love. Others felt slighted by it, like it was a luxury that they had and making it more readily available makes it less special."
Ruckh, a former sorority girl, was surprised by the outrage, pointing to the retail price points of Missoni, whose dresses sell for as much as $2,755, compared to the price point of Lilly's most expensive dress, $348, and Vera Wang, whose wedding gowns retail for tens of thousands of dollars but created a budget-friendly line for the David's Bridal chain.
Though Ruckh doesn't consider herself a fan of the brand, she was shocked and annoyed by the negative reaction on her blog. Regardless of the backlash, she doubts any of the Southern sorority girls who supported Lilly for so long will stop buying the brand over distaste for the Target collaboration. "It will not hurt their bottom line."
In fact, it helped the bottom line: The collaboration caused Target to have Black Friday volumes of Web traffic and led to lines out the door at stores. The only complaint? There wasn't enough merchandise to go around.