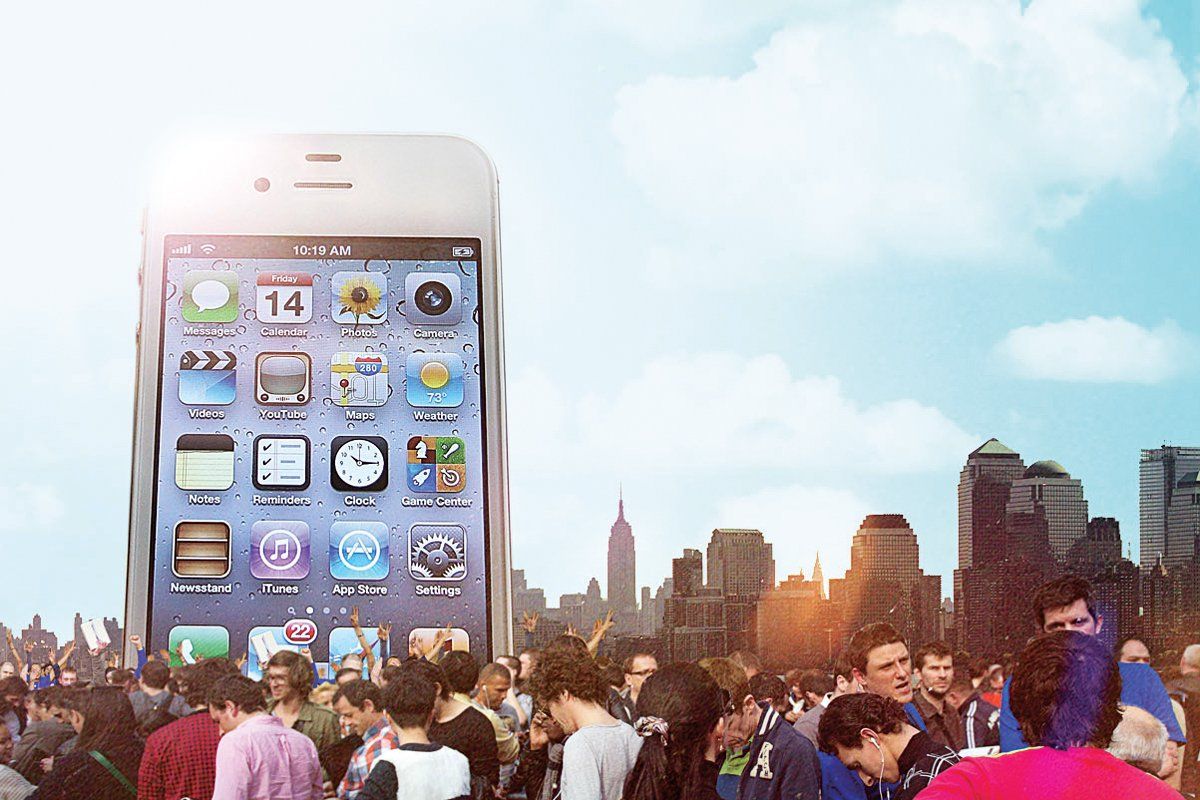 It's that time of year. A chill is coming, and the trees are losing their leaves: it's Apple season. Around the globe, fans of the company's iThings are buzzing about the latest and greatest gadget from the most fervently worshiped brand in the business.
Rumors are swirling that the iPhone 5 will have updated software and a larger screen—half an inch larger, according to leaked pictures. It won't be a revolution, but that doesn't matter. Even these seemingly minor tweaks have sent anticipation through the roof. A recent survey by ChangeWave found that demand for the new phone is "strikingly higher" than for previous models. According to M.G. Siegler, partner at tech venture-capital firm CrunchFund, Apple enthusiasts aren't expecting a design, or even a software, overhaul, just a continuously more polished version. He expects sales of the newest iPhone to be "insane."
Just as fans wait for hours for midnight movie premieres, Apple devotees have made a ritual of iPhone-release eve, this time anticipated to be on Sept. 21, with a product unveiling the week before. Hard-core fans spend the rest of the year on online forums, meet-ups, and even a private dating site called Cupidtino (which promises to match you with "an Apple fanboy or girl"). Product releases are a chance to move that community offline.
Jim Dalrymple, editor of Apple blog the Loop, says there's a certain energy to being part of that first group. It's about connecting with a community and a brand—or about rubbing it in the faces of those who aren't there. "You know you can tweet 'I'm here' and others are not," he says half-jokingly, adding that he plans to join the lines next month.
Self-proclaimed "iDork" Chase Drum, a 23-year-old developer of an upcoming app, will also be snapping up the iPhone 5 this September. "[Apple] has been able to create a very emotional and personal connection with their consumers," he says, which is rare among other brands. Plus, Dalrymple points out, the way the company makes all its gadgets compatible with each other means it's a hassle to quit Apple once you join.
A psychological test shown in the BBC's Secrets of the Superbrands supports Drum's theory. The test found that the same areas in the brains of Apple fans were stimulated when shown images of the company's shiny products as were stimulated in people of faith when they looked at religious imagery. Fittingly, bloggers christened the first iPhone the "Jesus phone" after observing the stampedes back in 2007.
Apple may have a devoted core of zealous super-fans, but with tens of millions of users and more coming this month, the $600 billion company has long outgrown its cult status.