Culture Wars Hit Capital One
Capital One, a Virginia-based bank holding company, has been hit in the midst of ongoing culture wars sweeping through the U.S. after its New York City deposits have been frozen for failing to submit required anti-discrimination plans, prompting a decline in the stock's value.
The New York City Comptroller said on Thursday that it joined the mayor's office and the Department of Finance in freezing city deposits at Capital One and KeyBank, a Cleveland-based retail banking company. Both banks hold a collective $17.2 million in city deposits.
The halt was the result of a failure to disclose required reports about non-discrimination policies and comes as several states, including Texas and Florida, have stopped doing business with banks over "woke" practices.
"The perspectives we heard today from New Yorkers who experienced discrimination in the process of opening or closing accounts, and frontline bank staff who faced illegal and abusive practices, should give all of us pause," Deputy Comptroller for Policy Annie Levers said in a statement.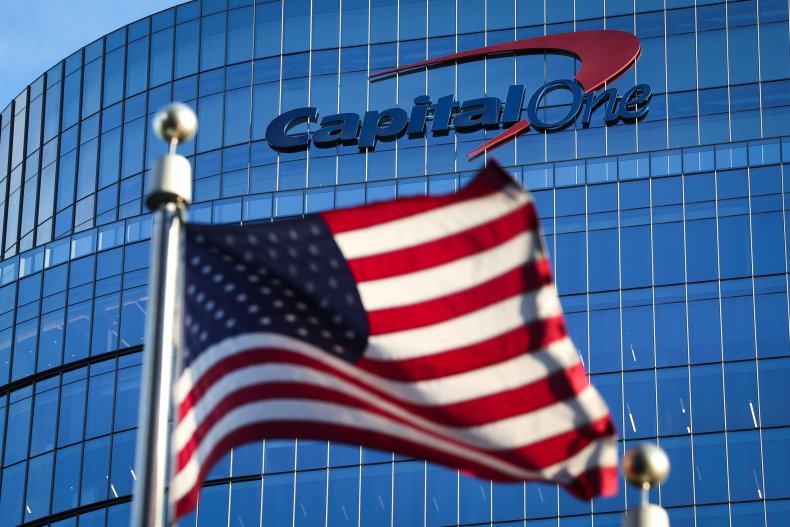 "We are proud of our record in New York City and are happy to share publicly available data and information with the Banking Commission. Our 2023 submission is consistent with what we submitted to the City of New York in previous years," a Capital One spokesperson told Newsweek in an email.
The spokesperson added that Capital One bans discrimination and harassment against any individuals the bank deals with.
Along with Capital One and KeyBank, three other banks—Finance Bank, PNC Bank and Wells Fargo—had deposits halted by the Banking Commission. However, those three banks do not currently hold any City deposits.
Shaquana Chaneyfield, deputy press secretary for the NYC comptroller, told Newsweek that the halt on deposits is only for City agency funds. New York City residents are still free to continue depositing money in the banks.
"We heard from many residents concerned that taxpayer dollars are going to banks that provide financing for predatory lending, fossil fuel extraction, and gun manufacturing – and support for the idea of a public bank that would instead put those dollars to work for our communities. The Banking Commission can and should assume a stronger role in assuring that the city only conducts business with banks who demonstrate their commitment to community reinvestment and fair credit practices," said Levers in the NYC Comptroller statement.
New York City Comptroller Brad Lander said that banks doing business in New York City must show that they are responsible managers of public funds and act responsibly in communities. Lander explained that the five banks failed to comply with NYC Banking Commission's designation process, despite having "several" opportunities to do so, which led to the conclusion that they are not actively taking steps to combat discrimination in their operations.
However, Florida and Texas chose the opposite direction when it came to holding banks and financial institutions accountable for not honoring conservative values in both states.
In 2021, Texas enacted legislation that bans certain state government entities from working with financial institutions that, according to the state, don't support oil, gas, and guns. Senate Bill (SB) 13 and SB 19 bans financial managers from considering Environmental, Social, and Governance (ESG) policies when making investment decisions.
The Texas comptroller under the legislation is required to develop and maintain a "blacklist" of financial institutions that boycott fossil fuel companies. Last August, the comptroller's office released a list of companies and investment funds that are banned from doing business with the GOP-led state.
Similarly, GOP Florida Governor Ron DeSantis in February announced legislation meant to "protect Floridians from the woke" ESG movement that his office said "continues to proliferate throughout the financial sector. The legislation was signed into law in May.
"Today's announcement builds on my commitment to protect consumers' investments and their ability to access financial services in the Free State of Florida," DeSantis, who is running for presidency in 2024, said in February. "By applying arbitrary ESG financial metrics that serve no one except the companies that created them, elites are circumventing the ballot box to implement a radical ideological agenda. Through this legislation, we will protect the investments of Floridians and the ability of Floridians to participate in the economy."
The Florida legislation bans big banks, trusts, and other financial institutions from discriminating against customers' social beliefs, including "their support for securing the border, owning a firearm, and increasing our energy independence." It also bans the use of ESG in all investment decisions and when issuing bonds.
Newsweek reached out by email to KeyBank's media office for comment.
Update 5/26/2023, 9:19 a.m. ET: This article has been updated to include comments from a Capital One spokesperson.