CUNY Deletes Article Praising Grad Who Worked With Johnny Depp's Legal Team
An article on a university website celebrating a graduate who served on Johnny Depp's legal team has been deleted after receiving backlash online.
CUNY, The City University of New York, published a feature on its blog celebrating one of its alumna, Yarelyn Mena, who worked on Depp's legal team in his recent successful defamation trial against ex-wife, Amber Heard.
Mena, 29, graduated from CUNY's Hunter College in 2015 and went on to become an associate at Brown Rudnick LLP, the law firm representing Depp in his legal battles.
However, following backlash online, the college scrubbed the article from its website—it is unclear when the piece was published, and for how long it was live.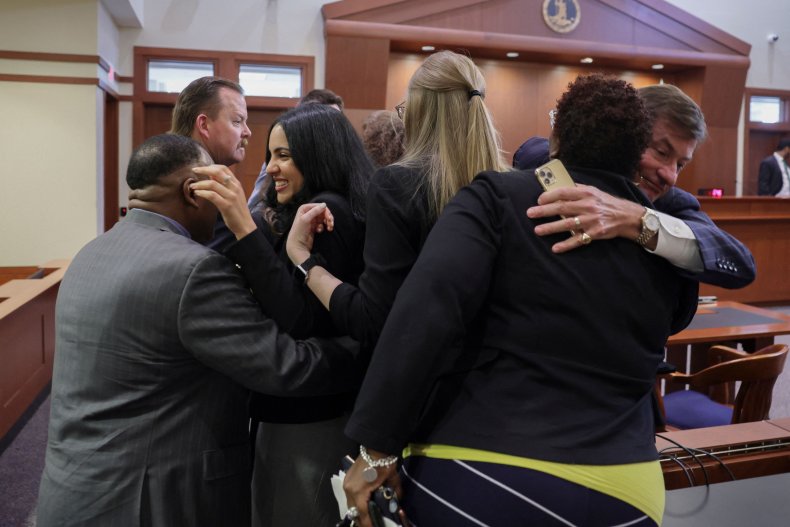 The university's reason for deleting the post is "to avoid upsetting others or triggering traumatic experiences."
They said they had received complaints over the article.
"We appreciate everyone who shared their concerns about a CUNY blog post shared in our newsletter featuring a recent graduate who worked on Johnny Depp's legal team," a statement published on CUNY's website reads.
"We understand the strong negative emotions this post elicited from members of the CUNY community, particularly survivors of domestic violence and those who have been affected by it, and apologize for publishing it."
Following a televised trial in Virginia that concluded in late May, the jury ruled largely in Depp's favor on June 1, awarding him $10 million in compensatory damages and $5 million in punitive damages, while Heard, who had countersued for $100 million for nuisance, was awarded $2 million in compensatory damages by the jury.
The punitive damages against Heard were later reduced from $5 million to $350,000 under a Virginia law that caps such damages.
However, last week, the recent unsealing of 6,000 pages of court documents relating to the televised trial has led to a number of people changing their stance on supporting Depp.
CUNY's statement continued: "The piece and especially the insensitive way it was promoted in the newsletter was not meant to convey support for Mr. Depp, implicitly or otherwise, or to call into question any allegations that were made by Amber Heard."
The decision to remove the article was condemned on Twitter by KC Johnson, a professor at CUNY Brooklyn.
"One line of the institution's groveling apology could even be read as casting doubt on the jury's verdict in the civil case," Johnson tweeted.
"CUNY's message to talented young grads who go into the law seems to be—we'll celebrate you only if we institutionally approve of your client."
The CUNY controversy comes as several celebrities appear to have withdrawn their likes from Depp's post-trial statement on Instagram, two months after he emerged victoriously from his defamation court battle against Heard.