As New York Governor Andrew Cuomo's administration faces political fallout for its handling of COVID-19 information disclosure, a Republican lawmaker is leading an effort to pursue criminal consequences as well.
On a Wednesday conference call with Democrats, Cuomo's aide Melissa DeRosa said the administration withheld information about nursing home deaths because it wasn't sure if then-President Donald Trump would use the information against it. The comment prompted calls for Cuomo to be removed from office, stripped of some power and even prosecuted.
While Cuomo needs to be held accountable, GOP Representative Tom Reed is focusing his immediate attention on DeRosa and is looking to pursue criminal charges against her.
During an interview with Fox Business' Maria Bartiromo, Reed said the call amounts to a "taped confession" that DeRosa committed "criminal activity" to "cover up" the hiding of information from federal officials.
"This cannot go unaccounted for," Reed said. "I'm going to be looking at filing a personal criminal complaint against this individual today in local law enforcement offices, as well as federal offices, because she needs to be arrested today."
Reed told Newsweek they were pursuing "every legal avenue available," including issuing subpoenas and demanding investigations. He reiterated that he believes the call demonstrates "deliberate and admitted criminal conduct."
"For these families who lost loved ones in this horrific nursing home scandal, know that we stand with you and justice will be done," Reed said.
Newsweek reached out to Cuomo's office for comment but did not receive a response in time for publication.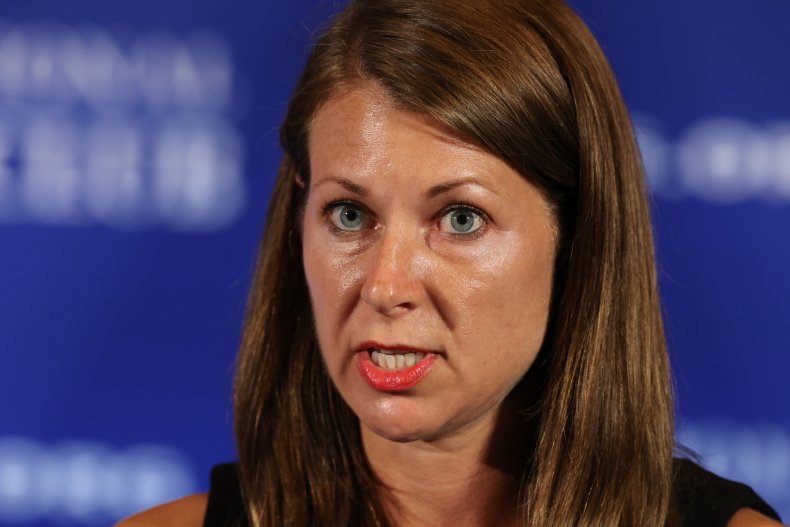 In August, the New York Legislature requested information regarding COVID-19 and nursing home facilities. Fulfilling that request was put on "pause," according to DeRosa, because it was made "around the same time President Trump turns this into a giant political football."
"He starts tweeting that we killed everyone in nursing homes.... He directs the Department of Justice to do an investigation into us," DeRosa said. "Basically, we froze because then we were in a position where we weren't sure if what we were going to give to the Department of Justice, or what we give to you guys, and what we start saying was going to be used against us."
Cuomo's handling of nursing home residents during the pandemic has been a stain on his coronavirus response since the beginning, when he issued a controversial advisory directing the facilities to accept patients with the virus. Cuomo shifted blame to the U.S. Centers for Disease Control and Prevention, saying he was following its guidance, and to nursing homes, which he said were responsible for refusing patients if they were unable to properly care for them.
More than 9,000 recovering coronavirus patients were released from hospitals and sent to nursing homes, according to the Associated Press, about 40 percent more than what the state health department previously reported. The death toll among long-term-care residents is now nearly 15,000, a significant increase from the 8,500 previously disclosed.
New York Republicans are pushing for an investigation of Cuomo and for him to be removed from office. But the backlash has been bipartisan, and Democrats are calling for him to be stripped of certain powers.
State Senators John Mannion and Samra Brouk want to pull emergency executive powers given to Cuomo to manage the health crisis. They have also called for legislative oversight of the governor's actions. Mannion took it a step further, calling for public hearings with "witnesses under oath" because it's the Legislature's "duty to establish a truthful timeline and accounting of what occurred."
"Your admin made a decision to lie about the numbers, and you're out of excuses so you're pointing at Trump. It's nonsense and you know it," State Senator Alessandra Biaggi tweeted.
Reed agreed that Cuomo bore responsibility for the order he issued and needed to be held to account. However, he committed to holding "everyone" who was involved accountable as well and called DeRosa a "criminal actor."
This article has been updated to include comment from Representative Tom Reed.