Cuomo Allegations Arranged to Distract From COVID Situation, Claims Pastor Shane Vaughn
Pastor Shane Vaughn suggested last week that the sexual harassment allegations against New York Governor Andrew Cuomo are part of a strategic effort led by other Democrats to shift the public narrative on the coronavirus pandemic.
The right-wing pastor, who previously accused Meghan Markle of making false, attention-grabbing allegations about the royal family during a recent interview with Oprah Winfrey, delivered his "message" for Cuomo in a March 12 video, during which he first said he was "no fan" of the Democrat. Vaughn said that he "sort of detest[s]" Cuomo and that he has "hate" for the way Cuomo treated former President Donald Trump.
Also problematic for Vaughn was the way Cuomo's administration handled the reporting of COVID-19 deaths in nursing homes, a controversy that predated the multiple sexual harassment allegations made against the governor in recent weeks.
Vaughn clarified that he believes Cuomo should resign—which the governor has said he will not do—but said he should do so because of the nursing homes scandal, not because of the sexual harassment allegations.
Cuomo, who was celebrated a year ago for his early response to the pandemic, "created a hole" in the Democratic Party's COVID-19 "propaganda," Vaughn said.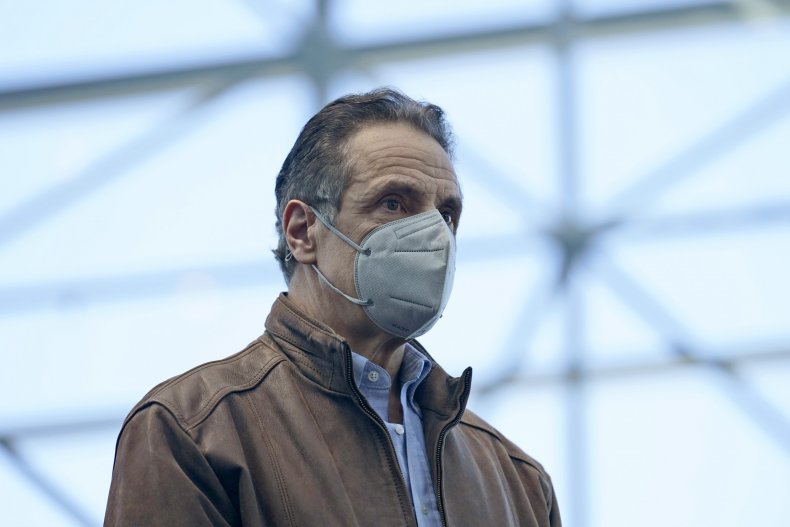 "The nursing home fiasco brought some very unwanted attention to their smokescreen. That's all I can really say on this show," he said.
Vaughn suggested that Democrats are "sending" accusers into the public in an effort to shift the focus away from the pandemic.
"The reason these Democrats are now sending these women to make these allegations against Cuomo is because they need that to divert from the COVID-19 situation, where the numbers were exacerbated in certain areas and then deflated in the important areas," Vaughn said. "So now, here comes all these women, out of nowhere."
Vaughn went on to suggest that the alleged sexual harassment strategy "never fails."
"It's mighty funny to me how, for years and years and years and years, all of these women remained silent. And then in a moment of time, they have a great epiphany, and the angels of honesty come and visit them and anoint them with power from on high to go forth and lead the charge of bringing men to account," Vaughn said. "Well, it's a bunch of bull, is what it is."
In a statement shared with Newsweek, Vaughn said he believes any individual who has been accused of sexual harassment should face due process rather than be tried in the "court of public opinion."
"I believe that all victims of sexual harassment should be heard legally in a court of law and that anyone who is accused of such heinous crimes should be given due process and tried in a court of law rather than the court of public opinion and in this case this is exactly what I meant that what I said," Vaughn said.
Cuomo is facing calls to resign from both Democrats and Republicans in the Legislature. After a former aide published her allegations about Cuomo in a February Medium post, six other women have come forward to accuse the governor of inappropriate behavior, which he has denied. The state's attorney general, Letitia James, launched an official investigation into the allegations earlier this month, and an attorney representing Cuomo has said the governor will cooperate.
Newsweek reached out to Cuomo for comment and will update this story with any response.
Updated 3/15 at 3:46 p.m. ET: This article has been updated to include a response from Pastor Shane Vaughn.