Andrew Cuomo Says 'Extreme' Socialists, Conservatives to Blame After Alexandria Ocasio-Cortez, Others Protest Amazon Headquarters
Governor Andrew Cuomo is pushing back against the criticism of New York's recent deal with Amazon to house its second headquarters, blaming "extreme conservatives and the socialists" for the public outcry.
"This transaction is a lightning rod for the political rhetoric on both extremes," Cuomo wrote in an op-ed published by his office on Monday. "The extreme conservatives and the socialists both now vehemently oppose 'incentives' for Amazon, which is one of the most profitable companies in the country."
Amazon's Jeff Bezos announced that the company had chosen Long Island City to be the location of its second headquarters after a year-long national competition and hundreds of bids from governments across the country. The retail giant will also put another headquarters just outside of Washington, D.C., in Arlington, Virginia.
"These two locations will allow us to attract world-class talent that will help us continue inventing for customers for years to come," Bezos said in a statement. "The team did a great job selecting these sites, and we look forward to becoming an even bigger part of these communities."
But many New Yorkers immediately expressed concern over the announcement, worrying that Amazon's headquarters will drive up rent costs and overburden the already problematic subway system.
Also at the top of the complaints was that New York state was going to be paying over $1 billion in subsidies to Amazon.
Congresswoman-elect Alexandria Ocasio-Cortez blasted Cuomo and New York City Mayor Bill de Blasio over the decision to house Amazon, saying that she has been receiving calls from concerned and angry constituents.
"We've been getting calls and outreach from Queens residents all day about this. The community's response? Outrage," she wrote on Twitter. "Amazon is a billion-dollar company. The idea that it will receive hundreds of millions of dollars in tax breaks at a time when our subway is crumbling and our communities need MORE investment, not less, is extremely concerning to residents."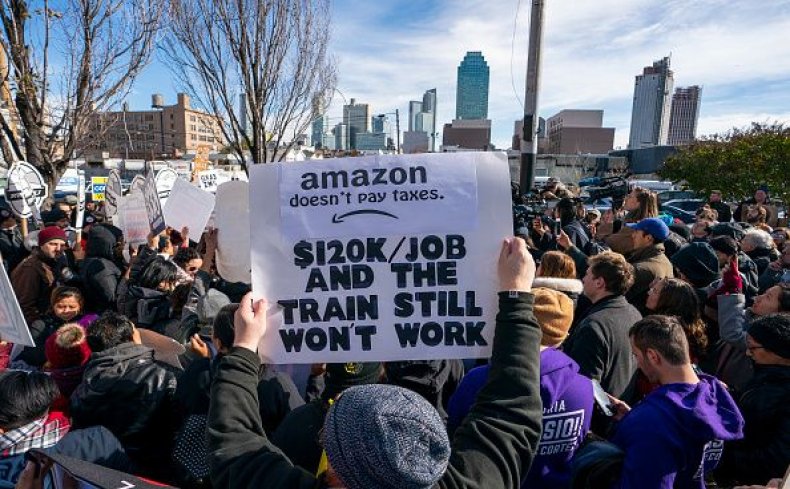 In a series of social media posts, Ocasio-Cortez wrote that instead of worrying about the Amazon deal the government should be focusing on "good health care, living wages, affordable rent."
She argued that her criticism is not "about picking a fight" and that she is advocating for her "community's interests."
Her arguments against Amazon were supported by conservative Fox News host Tucker Carlson, who admitted that she has a "very good point" and that it was "hard to argue with the internal logic of her point."
Senator Bernie Sanders also pushed back on New York's deal with Amazon, writing on Twitter on Monday that "At a time of massive corporate profits, and an already regressive tax system, Amazon and other large corporations do not need corporate welfare. Instead, they need to pay their fair share of taxes."
Cuomo pushed back against claims that New York was paying Amazon in his op-ed, writing that New York will "give Amazon nothing and their revenues give us approximately $900 million annually." He went on to say that the tax incentives they are providing are "usual and typical."
The governor also attacked major New York news organizations, like The New York Times and the New York Post over their coverage of the transaction. Cuomo said that the Times was being "totally hypocritical" and said the Post was "representative of extreme conservatives."
Cuomo rebuked politicians currently criticizing the project, claiming that they will change their minds once they see how many benefits there will be.
"Mark my words, come election time, when the opponents of these politician's side with the businesses and residents who are benefiting from the Amazon infusion, these same politicians will find a way to change their position once again," Cuomo wrote.