Are 'Cuomo Chips' the New 'Raines Sandwich' for Bars Struggling to Survive?
New York bars and restaurants attempting to get around regulations requiring that alcohol be served with food have come up with creative solutions that echo an earlier century's own approach. Yesterday's "Raines Sandwiches" have become today's "Cuomo Chips."
On July 16, New York governor Andrew Cuomo announced new regulations on bars and restaurants during a conference call with reporters, citing "problems with compliance" requiring "additional actions."
During the call, the New York governor said many of the 5,000 bars and restaurants surveyed by state regulators aren't complying with restrictions limiting service to outdoor areas.
"It's wrong. It's dangerous. It's selfish. It's unacceptable," Cuomo said, announcing a "three strikes and you're closed" approach.
Newsweek subscription offers >
But while the announcement of tougher enforcement on bars violating regulations put in place to slow the spread of COVID-19 was largely uncontroversial, Cuomo followed with a rule stipulating that "all establishments must only serve alcohol to people who are also ordering food."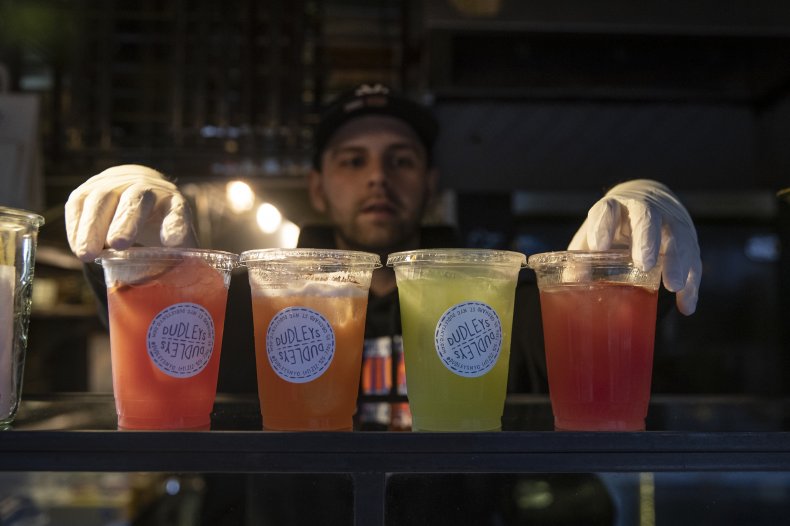 "If you're not eating a meal and you're just drinking, then it's just an outdoor bar and people are mingling and they're not isolated at individual tables, and that's what we're seeing," Cuomo said.
Across the state, bars and restaurants came up with novel workarounds to meet the letter, if not the spirit, of the new regulations. A picture of a joke menu created by the Lafayette Brewing Company in Buffalo, New York, went viral for its compliant offerings of $1 snacks, including "just a few grapes," "9 french fries" and "literally the smallest piece of cheesecake you'll ever see."
Newsweek subscription offers >
But nothing quite embodied the moment like "Cuomo Chips," created by Harvey's Restaurant and Bar in Saratoga Springs, New York. Sold for a dollar, the cooked kettle chips were meant to minimally comply with the food requirements.
"That's food," Harvey's owner Matthew Bagely told WGRB in Albany, "And you can buy it for a dollar."
Newsweek has reached out to Harvey's Restaurant and Bar via phone and email, but did not get in touch with the Cuomo Chips creators by time of this article's publication. The restaurant later clarified in a Facebook post that they also offer flat bread with field greens for a dollar and believed in their "obligation to do our utmost to protect our guests and our staff," while maintaining full compliance with the "difficult to work with" regulations.
After the chips drew attention from around the country, Cuomo senior advisor Rich Azzopardi confirmed to the New York Post that the chips were in compliance, just so long as the people eating them are seated.
But the Cuomo administration subsequently reversed course, with guidelines released by the New York State Liquor Authority on Tuesday clarifying what constituted a sufficient food accompaniment.
"A bag of chips, bowl of nuts, or candy alone" are no longer sufficient. Instead, foods must be of a "similar quality and substance to sandwiches and soups," with the Liquor Authority offering salads, wings and hot dogs as examples.
"Obviously it is what it is, the government passes the mandates and we have to follow them as a restaurant," Lafayette Brewing Company's general manager, Robert Buskirk, told Newsweek. "We believe in the health and safety and wellbeing of our employees and our customers. We also saw a lot of people in our industry, when all this news came out, really upset, because a lot of places don't serve food and these bars are already hurt."
While Lafayette Brewing Company already had a full food menu—and has since added a compliant "quick & cheap" menu with $2 fish sticks and $1.25 pretzel fries—other bars unaccustomed to food service are struggling to come up with solutions. They might want to look to history for some inspiration.
In 1896, the New York state legislature passed what came to be known as the "Raines Law," named for legislator John Raines, which was meant to combat public drunkenness by targeting the thousands of dive-y saloons in New York City with an expensive increase to liquor license costs, a higher drinking age (from 16 to 18) and crackdowns on the regularly flaunted ban on Sunday drinking.
But the Raines Law continued to allow hotels to serve guests alcohol with food every day of the week. According to Atlas Obscura, this loophole particularly benefitted the city's upper class, which tended to dine out at hotel restaurants on Sunday, when their servants were not working.
Bar and saloon owners soon implemented their own workarounds, dividing attics and basements into the requisite number of lodging rooms to meet the hotel requirement, and by presenting themselves as private clubs. But the nastiest workaround had to be the "Raines Sandwich."
The Raines Sandwich consisted of "two pieces of bread with a brick between," turn-of-the-century police reporter and tenement photographer Jacob Riis wrote, in words recounted by Daniel Okrent in Last Call: The Rise and Fall of Prohibition.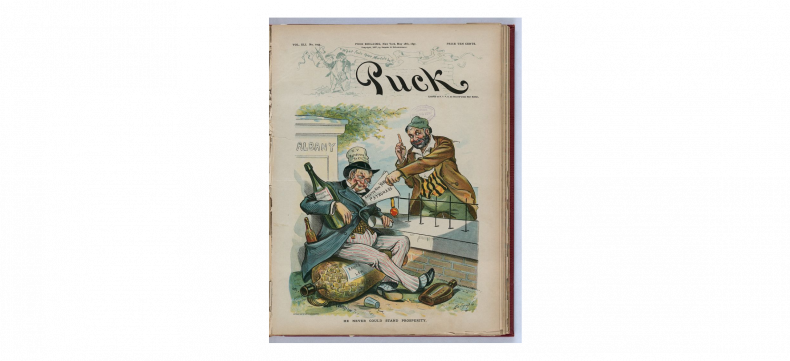 In actuality, the Raines Sandwich tended to include ham or cheese (going out for "cheese" briefly became a New York City euphemism for Sunday drinking), but it wasn't so much the sandwich's contents that made it disgusting. Instead, Raines Sandwiches were characterized by their reusability, with bar servers bringing out a sandwich with each drink order, then quickly taking it back and using the same sandwich to accompany the next drink order. It wasn't uncommon for a Raines Sandwich to continue circulating for days.
Raines' law ended up backfiring, since the newly compliant pubs—now hotels and clubs—could serve at any hour of the day, while nearby beds led to a spike in prostitution.
It's unclear what consequences the new regulations regarding food service will have on New York bars, especially since the rules also enfold to-go and takeout drink orders, which have been a crucial financial lifeline for struggling drinking establishments. But so long as we have options like Cuomo Chips instead of Raines Sandwiches, drinkers can consider themselves lucky.
Are 'Cuomo Chips' the New 'Raines Sandwich' for Bars Struggling to Survive? | Culture