Cuomo Didn't Protect Seniors From COVID-19. But it Was the Media That Covered it Up | Opinion
Things are not looking good for New York Governor Andrew Cuomo. After receiving an Emmy "in recognition of his leadership" and writing a bestselling book called American Crisis: Leadership Lessons from the COVID-19 Pandemic, the toll Cuomo's leadership has taken is finally emerging. On Thursday, the New York Post broke the story that Melissa DeRosa, one of the governor's top aides, apologized to Democratic lawmakers for fudging the number of nursing home deaths from COVID for fear of being investigated.
Such an investigation was long overdue. One of the biggest scandals of the pandemic has been the number of nursing home deaths in New York City, many of them possibly linked to a March 25 directive from the Cuomo administration forcing nursing homes to take in people even if they had tested positive for COVID-19. It would prove a death sentence for thousands of seniors. And to fend off an investigation, the Cuomo administration underestimated the number of nursing home deaths by 40%. The true number was 15,000, not 9,056.
But this isn't just a government scandal. It's a media scandal. For while the Cuomo administration was sentencing seniors to death, the media was busy fawning over Cuomo in a series of softball interviews, many of them conducted by his own brother.
Cuomo has been a television mainstay throughout the crisis, particularly on CNN where his brother, Chris Cuomo, is a host. But it wasn't just his brother who fawned. A June interview with CNN's Chris Cilizza provided Cuomo an opportunity to tout his performance while criticizing that of then-president Donald Trump and Republican governors who had not gone along with economy-crushing lockdowns. Cilizza was more than happy to assist.
"We tested both theories," Cuomo told Cilizza. "We have the evidence. It's numbers. It's irrefutable. Why don't we pause and recognize the undeniable reality of the situation?"
"On the numbers, it's hard to disagree," Cilizza dutifully wrote. "On April 9, New York had almost 10,000 coronavirus cases in a single day, according to a tally from Johns Hopkins University. On Friday, it had just 673 cases statewide."
There would be no follow-up article when New York would hit over 14,000 cases in January. No review of what went wrong in Cuomo's "undeniable reality." No comparison to states that found a different "undeniable reality of the situation" and have objectively handled the COVID crisis better.
Cilizza glossed over other numbers: New York had had the most overall COVID deaths of any state, a number only recently surpassed by California, which has nearly double the population. New York spent the pandemic swapping the number one spot of most deaths per capita with New Jersey. On the numbers, it was actually quite easy to disagree with Cuomo's self-assessment that he had done a great job.
But few in the national media landscape would.
It wasn't just Cilizza and it wasn't just CNN, though CNN egregiously led the way in the fawning coverage of the governor. The network had a penchant for handing off interviews of the governor to his adoring brother. They had spent the spring months joshing about big noses, who their ma liked best and whose hands looked more like bananas. It had its charm, but as the pandemic wore on and the interviews continued, it should have been a red flag to anyone concerned with good journalism or a separation between government and the press which is supposed to cover them impartially.
"Obviously, I'll never be objective. Obviously, I think you're the best politician in the country," Chris Cuomo said during a June 24 brotherly interview.
This embarrassing lack of objectivity had spread well beyond family ties. Cuomo-love affected almost all of the governor's coverage. On MSNBC in May, Stephanie Ruhle ever so gently asked about the nursing home death count, and then let the governor ramble on about how his biggest flaw is doing too much, asking no follow-up questions.
Cuomo's June media tour also featured a spot on Good Morning America where hostess Amy Robach referred to him as "homecoming king of this crisis," talked about his love life and urged him to run for president. He did not receive questions about the nursing home deaths.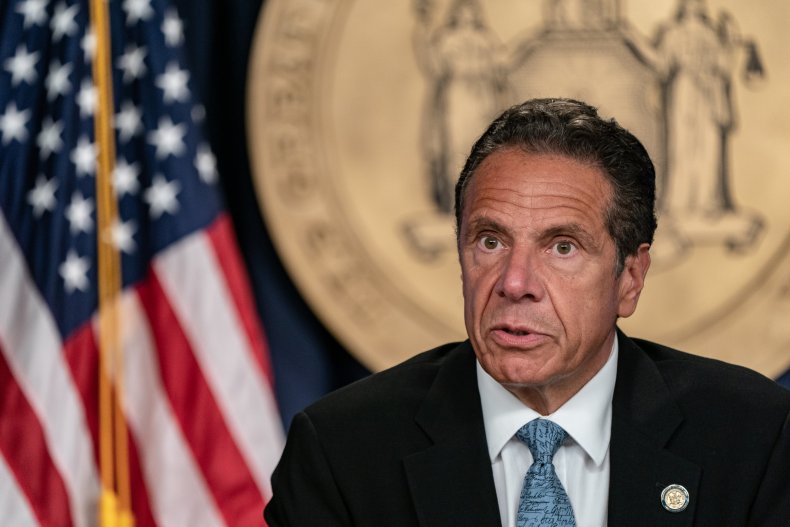 And this was all before his book was released in October, becoming an instant bestseller. Few in the media seemed to think it was a problem that Cuomo touted his own leadership while the pandemic still raged.
On ABC's The View in October, Sunny Hostin did mention the nursing home controversy, but she allowed Cuomo to get away with denying he ever sent a directive at all—before they went back to discussing his love life.
And anyone who tried to buck the trend was denounced. Fox News Meteorologist Janice Dean lost both of her in-laws in nursing homes following the Cuomo directive and became an outspoken activist, trying her best to find out the truth about what happened. She suffered abuse from the Cuomo administration, including Cuomo's top advisor Rich Azzopardi, who told the Daily Mail, "Last I checked she's not a credible source on anything except maybe the weather."
But Dean turned out to be more credible than Cuomo. New York Attorney General Letitia James released a report in January which found that the Cuomo administration undercounted nursing home deaths. The story, of a Democratic Attorney General targeting New York's Democratic governor, was the first crack in the media narrative.
Back in early April, when the sirens were shrieking nonstop throughout the city, responding to sick COVID-19 patients and keeping New Yorkers up all night, Cilizza recorded a segment for his video series called "The Point" where he gushed that in his daily press conferences, Cuomo alternates between "cheerleader, psychologist and stern but loving parents." He then told the governor to run for president.
"Life has a way of changing your best-laid plans," Cilizza concluded his Cuomo campaign video.
With the latest news of cover-ups and lies in the Cuomo administration, let's hope they do. But it's not just Cuomo who owes New Yorkers an apology and a commitment to do better and to be more honest. It's the media who covers him.
Karol Markowicz is journalist and a columnist for the New York Post.
The veiws expressed in this article are the author's own.