Cuomo Fallout Continues as Top Doctor Denies Claim He Was an Adviser: 'One Five-Minute Conversation'
The fallout over Governor Andrew Cuomo's handling of nursing home coronavirus data continued on Friday when a top doctor denied a claim from Cuomo's team that he was one of their chief health advisers.
"I've had one five-minute conversation my entire life with Governor Cuomo, just a few weeks ago when he called me just to congratulate me on a TV program appearance," Dr. Michael Osterholm said in an interview with PBS' Firing Line.
Osterholm's remarks come after Cuomo's top aides told Democratic lawmakers in a private zoom meeting that the governor speaks with Osterholm and Dr. Anthony Fauci on a regular basis.
"I would say those are two of the people that are chief advisors," one aide said.
PBS host Margaret Hoover pressed Osterholm on the issue during their interview, relaying to him the exact quotations from the zoom meeting.
"You said you've only spoken to Governor Cuomo once, but one of his top aides said that [Cuomo] spoke to you on a regular basis, that you were one of his top advisors," she said.
"That's absolutely not true," Osterholm replied. "Never true. I've had one, five-minute conversation, which was a surprise."
Osterholm, the director of the Center for Infectious Disease Research and Policy at the University of Minnesota, told the news program that he had nothing to do with nursing home activity.
"I came on basically in early June only just to review data on a weekly basis; did it meet the standards that they had set? So I was almost more of a technician than any kind of technologist," Osterholm said. "I've never met with their group."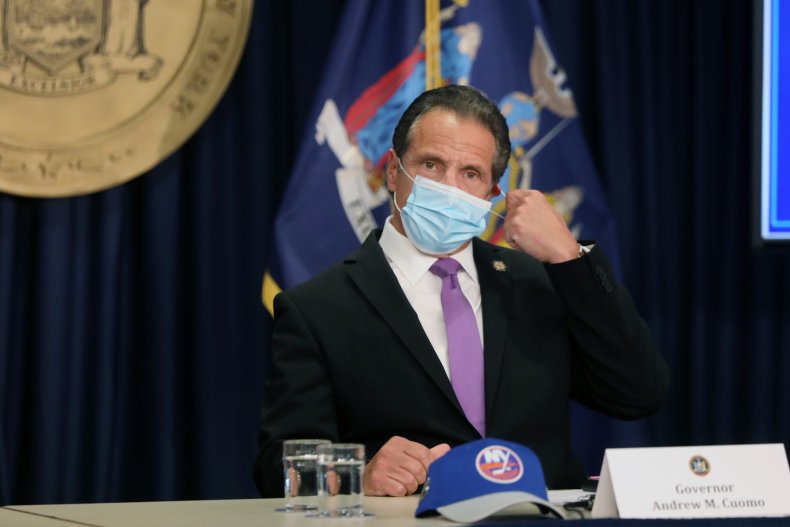 Democratic state Senator Alessandra Biaggi responded to Osterholm's interview on Twitter, writing "A little lie here, a little lie there—all carefully positioned to show you a facade. But it's always some sort of lie or misdirection."
Richard Azzopardi, a senior adviser to Cuomo, responded to Osterholm's interview in a Twitter post.
"This was all short hand—Dr. Olsterholm played a role as a chief advisor on reopening and our fall micro cluster strategy—he advised the gov through our core team, who he spoke to on a regular basis," Azzopardi wrote.
Cuomo's handling of nursing homes early in the coronavirus pandemic is under investigation by the FBI and the Eastern District of New York U.S. Attorney's Office. Last week it was reported that Melissa DeRosa, one of the governor's aides, privately admitted to Democratic lawmakers that the administration withheld the nursing home death toll from state lawmakers out of fear it would be used against the state by the Trump administration.
Newsweek has reached out to Governor Cuomo's office for comment on Osterholm's remarks.