Cuomo To ICE: No More 'Reckless' Immigration Raids In New York, Or We'll Sue
New York Governor Andrew Cuomo issued a stern warning to Immigration and Customs Enforcement on Wednesday, sending the agency a cease and desist letter and warning that ICE will face swift legal action from New York if it refuses to end its raids.
He also signed an executive order prohibiting federal immigration agents from making arrests in state government buildings without valid judicial warrants.
The move came just days after ICE announced its agents had arrested 225 people across New York earlier this month, in a series of raids dubbed "Operation Keep Safe." The arrests unfolded over the course of six days and ended on April 14.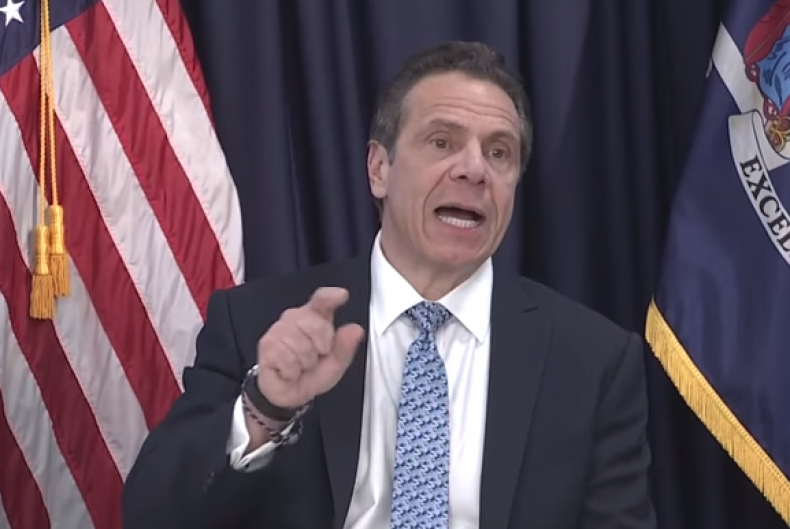 Calling ICE's practices "reckless and unconstitutional," Cuomo said agents had repeatedly raided private property without warning and had failed to identify who they were or present warrants to arrest undocumented immigrants during the operation.
ICE agents typically use "administrative" warrants, which only need to be signed by an immigration officer, rather than a judge. But Cuomo said agents would need to present a judicial warrant—signed by a judge and supported by determination of probable cause—to make arrests in state facilities from now on.
"The reckless and unconstitutional practices ICE is deploying in our communities violates everything we believe in New York and are an assault on our democracy," Cuomo said.
"I demand ICE immediately cease and desist this pattern of conduct, and if they fail to do so, I will pursue all available legal recourse and commit to doing everything in my power to protect the rights and safety of New Yorkers."
Cuomo said he believed ICE was "feeding off [President Donald Trump's hot rhetoric" and "anti-immigrant agenda."
He said the agency's presence in New York has represented an "escalating situation," and said that his cease and desist letter was the first "formal communication" between his office and ICE.
ICE's Acting Director, Thomas D. Homan, hit back at the Cuomo in a matter of hours, accusing the governor of "grandstanding" and asserting that his agency would not "cease and desist" from fulfilling its "mandated mission."
"As a native New Yorker who began my law enforcement career as a police officer in the state, I was disappointed to learn about the Governor's grandstanding today over the issue of immigration enforcement," Homan said in a statement.
The ICE chief said the governor's comments were "inaccurate and an insult to ICE's sworn law enforcement officers who conduct their lawful mission professionally and with integrity."
"These brave men and woman leave the safety of their homes every day to protect this great nation and our communities. ICE cannot and will not cease and desist from fulfilling our agency's congressionally mandated mission of enforcing federal law," Homan said.
The ICE acting director said the agency has arrested nearly 5,000 "criminal aliens" in New York since September 2016, describing those arrested as "individuals with a crime conviction in addition to their violation of immigration laws."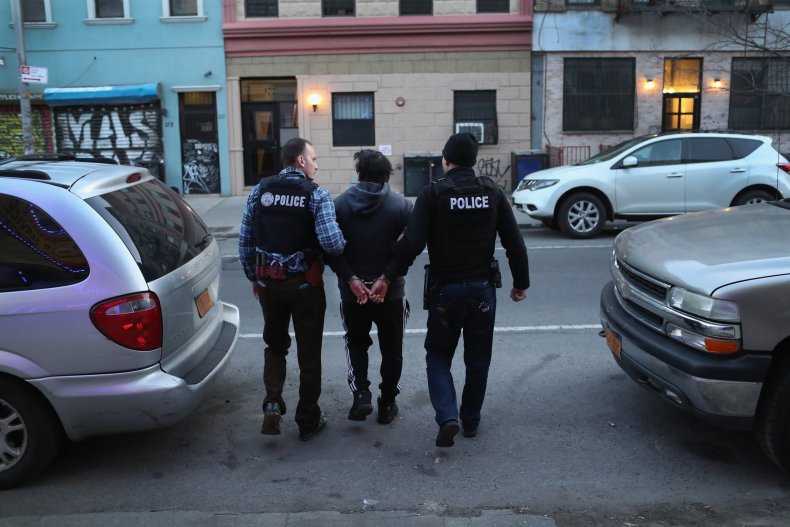 Homan said many of the arrests were conducted "at large in the community" and blamed the widespread raids on New York's sanctuary policies.
"The governor supports these policies at the expense of the safety of the very same communities he took an oath to protect," Homan said.
"ICE will continue to protect New York communities against public safety and national security threats and it is false and offensive for the governor to say otherwise," he added.
Last week, ICE issued a statement blaming New York's "sanctuary" policies for giving the agency "no choice" but to conduct "at-large" arrests.
The agency also accused politicians in New York City of having "shielded removable criminal aliens from immigration enforcement" by banning municipal employees from assisting in enforcing federal immigration laws.
Read more: ICE blames New York's sanctuary policies for crackdown that led to 225 arrests
Field Office Director for ICE's Enforcement and Removal Operations team, Thomas R. Decker said ICE faces "significant obstacles with policies created by local officials which hinder cooperation between ICE and local law enforcement."
"The fact is that a so-called 'sanctuary city' does not only provide refuge to those who are here against immigration law, but also provides protection for criminal aliens who prey on the people in their own communities by committing crime at all levels."
ICE said 180 of the people it arrested during "Operation Keep Safe" were convicted criminals or had criminal charges pending. The agency said "several" people arrested had prior felony convictions for serious or violent offenses, including child sex crimes, assault and weapons charges.
Rosemary Boeglin, spokesperson for the New York City Mayor's Office of Immigrant Affairs told Newsweek at the time that "New York City will work with federal partners in the interest of public safety," but said the city would not "be an arm of immigration enforcement."
The City's policy is to only cooperate voluntarily with requests from federal immigration enforcement if provided with proper documentation and if an individual has been convicted of a serious or violent felony within the last five years or is on the terrorist watch list.
Cuomo said on Wednesday the state would also be working with advocacy and legal assistance organizations to create a "statewide network" to provide a "rapid response" to ICE raids and arrest. The network's aim would be to ensure that detained people have access to legal support and assistance from groups aiding immigrants in the U.S.