With Cuomo, Newsom Under Siege, DeSantis Shines in Biden-era COVID Fights
After facing criticism for his response to the coronavirus pandemic last year, Florida Governor Ron DeSantis appears to be experiencing a comeback among Florida voters and is even being referenced as a potential presidential candidate for 2024.
DeSantis, who remained an ally of former President Donald Trump throughout Trump's time in office, faced heavy criticism last summer for resisting statewide lockdowns as COVID-19 raged throughout his state and the rest of the country.
As Democratic governors like California's Gavin Newsom and New York's Andrew Cuomo implemented strict lockdown measures in efforts to slow the virus' spread, DeSantis fought to keep his state's economy open, a move that one political strategist said behooved the Republican governor and which Politico reported currently appeals to Republican voters.
Whit Ayres, the founder of North Star Opinion Research, counts DeSantis among the politicians for whom his company has provided messaging advice. DeSantis' handling of the pandemic "appears to be at least as effective if not more effective" than other states that imposed stricter lockdowns, Ayres said.
"Governor DeSantis has done an admirable job of handling this pandemic from day one," Ayres told Newsweek. "He has managed to keep a lid on the number of cases per capita while at the same time keeping the economy more open than either New York or California."
Newsom became the first U.S. governor on March 19, 2020, to issue a statewide stay-at-home order in response to the pandemic. Cuomo swiftly followed suit as New York became the early epicenter of the pandemic.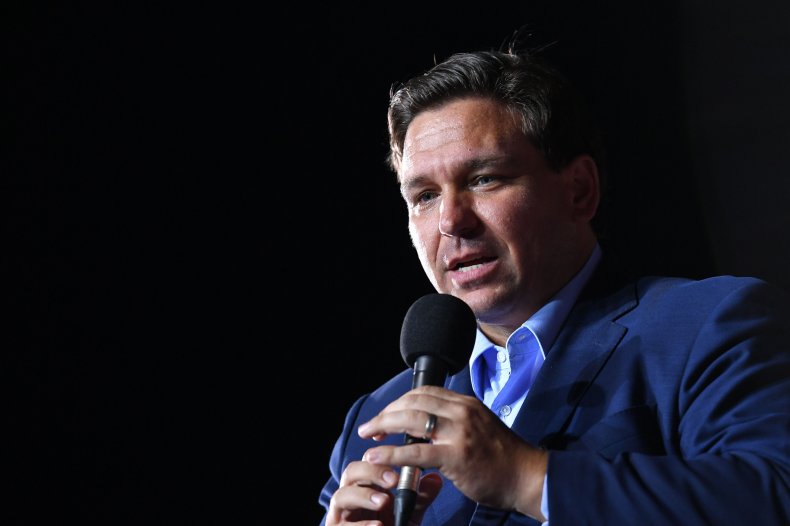 Both Newsom and Cuomo were praised for their quick responses to the rapidly-spreading virus last spring, but support for both Democrats has soured in recent days. Newsom may soon become the first California governor to face a recall election since 2003 after a recall campaign announced last week it collected the minimum number of signatures required to put a recall on a ballot. Cuomo is also battling legislators on both sides of the aisle in New York over his expanded set of emergency powers, in part due to his administration's acknowledgment last week that it delayed sharing data with the state legislature on COVID-19 deaths in nursing homes.
Newsom has also faced criticism for the COVID-19 vaccine rollout in California. According to vaccine distribution data compiled by Our World in Data, California and New York were both behind Florida on Wednesday in terms of the number of vaccine doses per capita that had been administered.
DeSantis "has also done a better job of getting the vaccine distributed" than Cuomo and Newsom, Ayres said. "Based on the record of controlling the pandemic while keeping the economy going, Governor DeSantis has one of the very best records of any governor," he added.
Earlier this week, Florida Rep. Matt Gaetz, a Republican, suggested during an appearance on Fox News that DeSantis would be a "strong potential presidential candidate" in 2024. Though it's too early to tell who would dominate a 2024 field, Ayres said it made sense for DeSantis as the leader of a swing state to consider a run.
"He's a very talented guy with a strong record from one of the country's largest states," Ayres said.
DeSantis was first elected governor of Florida in 2018 and held high job approval ratings during his first year in office, according to an October 2019 poll conducted by the Public Opinion Research Lab at the University of North Florida. While that poll said 72 percent of the registered voters who participated in the statewide survey indicated they either somewhat or strongly approved of how DeSantis was handling his role as governor, another poll conducted by the same research lab in early 2020 found that DeSantis' approval numbers had slipped slightly to 65 percent, though a strong majority of Florida voters still said they approved of how he was handling the job.
DeSantis' job approval ratings dipped significantly by October of 2020, at which time a poll from Florida Atlantic University's College of Business said only 43 percent of Florida voters approved of DeSantis' handling of his job. Even so, DeSantis rebounded in his approval ratings by the time Democratic President Joe Biden was preparing to take office in January, at which time 54 percent of Florida voters told the Florida Chamber of Commerce that they approved of his work, according to Florida Politics.
While Ayres credited the support DeSantis is currently receiving from his constituents to the governor's job performance, Democratic strategist Garry South told Newsweek that approval ratings for state leaders like DeSantis tend to fluctuate based on the success or struggles residents are facing in that moment.
"The reality is that, when you're the governor of a state, the gum sticks on your shoe," South said. "You get credit for a lot of things you don't have any responsibility for: You get credit if the economy's booming when you had absolutely nothing to do with it, and you get blamed for things that are also not your fault."
In the case of the pandemic, South said governors have been criticized both for extensive lockdowns and for avoiding lockdowns in pursuit of keeping their local economies up and running.
"There was a delicate balance that every governor had to consider between the imperatives of dealing with this public health crisis and understanding the reality of human nature and human behavior," South said.
DeSantis has not said whether he is considering a run for the presidency, but many political experts believe that Trump will attempt to stage a comeback during the 2024 election cycle. Recent polling indicates that a majority of Florida voters approve of DeSantis' work as governor, but Trump still has strong support with Republican voters, many of whom recently told pollsters they would vote to elect him for another term in the White House if the former president does run again.