Cuomo Points Out Kentucky Gets More Federal Funding Than New York In Response to McConnell's Bankruptcy Comments
New York's Democratic Governor Andrew Cuomo brought up Kentucky's history of receiving federal funding in response to Senate Majority Leader Mitch McConnell saying he didn't want a "blue state bailout."
Earlier this week, McConnell suggested states experiencing economic shortfalls should declare bankruptcy rather than accept funding from the federal government. Cuomo has repeatedly requested additional aid from the White House as New York grapples with diagnoses, hospitalizations and deaths related to the new coronavirus in quantities that far exceed every other state in the nation.
Responding to McConnell's bankruptcy suggestion on Thursday, Cuomo called it "one of the really dumb ideas of all time," and pointed out that Kentucky benefits greatly from federal expenditures, whereas New York pays back significantly more than it receives.
"NYS puts $116 billion more into the federal pot than we take out," the New York governor tweeted, referencing findings from the Rockefeller Institute of Government's 2020 analysis of federal budget receipts and expenditures nationwide. "Kentucky TAKES $148 billion more from the federal pot than they put in," Cuomo continued. "But we don't deserve help now because the 15,000 people who died here were predominantly democrats?"
McConnell's bankruptcy remarks, originally shared with radio host Hugh Hewitt on Wednesday, now appear in a press release posted to his official website, printed under a subheading that reads, "On Stopping Blue State Bailouts." The Kentucky senator discussed federal funding allocated through Congress' latest coronavirus stimulus package, which aims to support small businesses and hospitals, as well as expand diagnostic testing.
Although Cuomo, alongside Maryland Governor Larry Hogan, requested $500 billion in federal aid to states on behalf of the National Governors Association in early April, the United States government has yet to respond with funding.
"I think this whole business of additional assistance for state and local governments needs to be thoroughly evaluated," McConnell told Hewitt, adding, "There's not going to be any desire on the Republican side to bail out state pensions by borrowing money from future generations."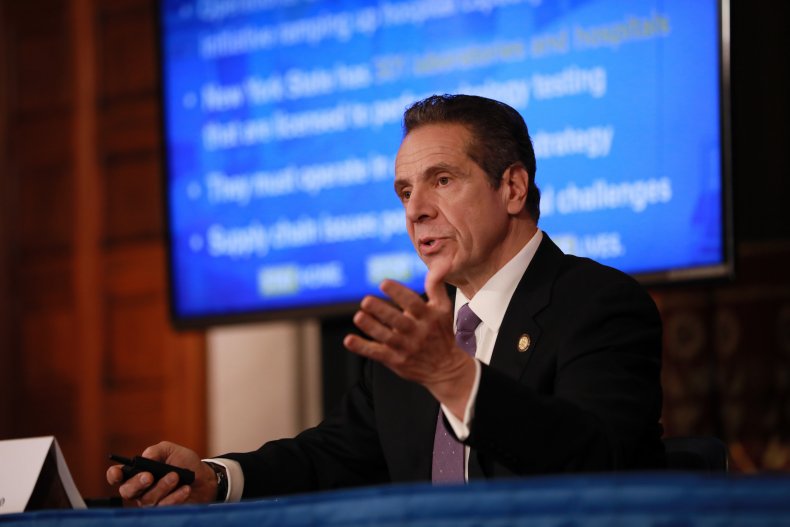 The senator went on to articulate support for "allowing states to use the bankruptcy route" as an alternative. "It saves some cities," he said. "And there's no good reason for it not to be available."
For years, Kentucky has received more federal funding per capita than at least 45 of its neighboring U.S. states. According to reports from PEW Research Center, it also ranks among the most federally-dependent states in the nation, with federal funds composing at least 38 percent of its annual state revenue. In comparison, New York has contributed billions more in federal taxes than it receives in spending since at least 2016.
New York and Kentucky have so far received comparable funding from the White House's initial coronavirus relief package. Under the CARES Act, issued at the end of March, New York's state government was allotted roughly $5 billion for coronavirus-related expenses, while Kentucky was given roughly $1.7 billion. The stimulus funding, determined based on population, ultimately amounted to roughly $350 per capita in Kentucky and $250 per capita in New York. However, it did not account for the undue burden placed upon New York state officials struggling to manage 30 percent of the nation's total coronavirus cases and a sizable portion of its related hospitalizations and deaths.
As of April 23, New York's death toll due to the virus could be as high as 19,551, according to Johns Hopkins University's tracker. Kentucky, with 3,373 positive cases confirmed, has reported 185 deaths from the disease.