Cuomo Remains Widely Popular With Democrats Despite Calls to Resign, Impeachment Effort: Poll
Nearly three-quarters of Democratic voters continue to approve of New York Governor Andrew Cuomo's leadership despite calls from top state Democrats for him to resign as Republicans push for his impeachment in the wake of multiple women coming forward with allegations of sexual harassment and new revelations about COVID-19 deaths in the state's nursing homes.
Multiple former female staffers from the Cuomo administration have come forward with allegations that they were sexually harassed and shown inappropriate attention by the New York governor. Meanwhile, Cuomo is under fire for the thousands of COVID-19 deaths in New York nursing homes after he ordered the facilities to accept the patients last spring. His administration is now accused of hiding and covering up the death toll, as Democratic and Republican lawmakers demand answers.
Although some top state Democrats have called on Cuomo to resign, and many others have pushed for a full independent investigation, the New York governor still appears to be widely popular with his state's Democratic voters. At the same time, the governor's approval rating among Democratic voters has declined significantly since January.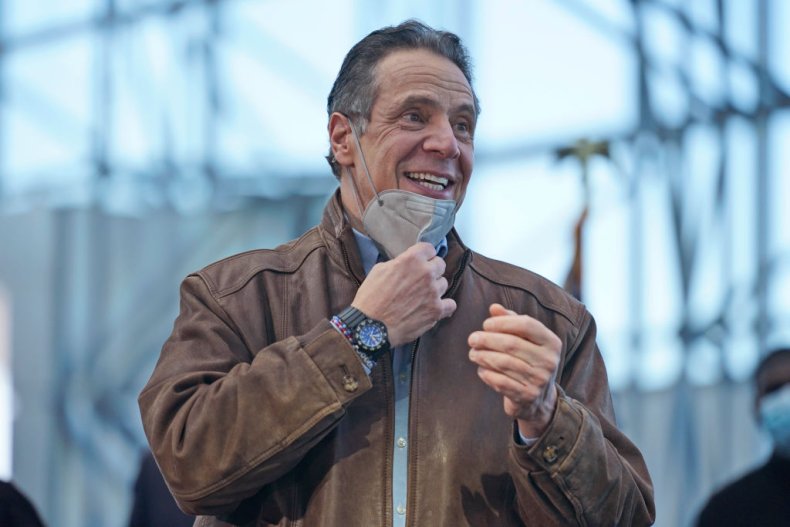 New polling by Morning Consult shows that 73 percent of New York's Democrats continue to approve of Cuomo. Although that signifies a significant majority, the number is down by double digits from the 86 percent approval rating the governor enjoyed from Democrats back in late January. Overall, 52 percent of New Yorkers continue to approve of the governor, a dip of 11 percent from the end of January when Cuomo's approval stood at 63 percent.
Among independents, Cuomo has seen his approval decline from 50 percent earlier this year to 42 percent as of Sunday. Less than a quarter (24 percent) of Republicans approve of the governor, a drop from nearly a third (32 percent) at the end of January.
During a conference call with reporters on Sunday, Cuomo dismissed the possibility of resigning.
"The premise of resigning because of allegations is actually anti-democratic," the governor insisted. "And we've always done the exact opposite. You know, the system is based on due process and the credibility of the allegation. Anybody has the ability to make an allegation in democracy, and that's great, but it's in the credibility of the allegation."
"There is no way I resign," he said.
But shortly after Cuomo made those remarks, the New York state Senate Majority Leader Andrea Stewart-Cousins, a Democrat, called on Cuomo to step down.
"Every day there is another account that is drawing away from the business of government. We have allegations about sexual harassment, a toxic work environment, the loss of credibility surrounding the Covid-19 nursing home data and questions about the construction of a major infrastructure project," Stewart-Cousins said in a statement.
"New York is still in the midst of this pandemic and is still facing the societal, health and economic impacts of it. We need to govern without daily distraction. For the good of the state, Governor Cuomo must resign."