Republicans hoping to be New York's next governor got some welcomed news on Tuesday when Governor Andrew Cuomo announced his resignation. If Cuomo doesn't run in 2022, GOP candidates have better odds of winning in the heavily Democratic state.
Facing impeachment over allegations that he sexually harassed several women, Cuomo announced he'd resign his position, a move that surprised many as the governor deflected responsibility. An incumbent with his level of name recognition and support posed a significant challenge for Republicans and amid rising crime levels, Cuomo's resignation could help Republicans forge a path to the governor's mansion.
"The Republicans do better if the chaos continues," Hank Sheinkopf, a New York-based Democratic strategist, told Newsweek. "The best thing is for Republicans to say nothing and let the Democrats continue to create chaos."
There are more than double the amount of registered Democrats than registered Republicans in New York, so Republican candidates already face an uphill battle in statewide elections. That challenge is only exacerbated by having to face off against an incumbent, as they often win reelection, and despite facing criticism for his handling of nursing homes during the pandemic and sexual misconduct allegations, Cuomo enjoyed positive polling for the bulk of his tenure.
His stock took a hit after Attorney General Letitia James published a report that found he violated state and federal law in sexually harassing women. Cuomo vehemently denied any wrongdoing even amid his resignation announcement.
Cuomo won reelection in 2018 with nearly 60 percent of the vote and overcoming his being a household name may have been difficult for Republicans to do. Assuming he decides not to seek reelection in 2022, Republicans could turn their focus on building up their own candidate's name recognition, a challenge they still face.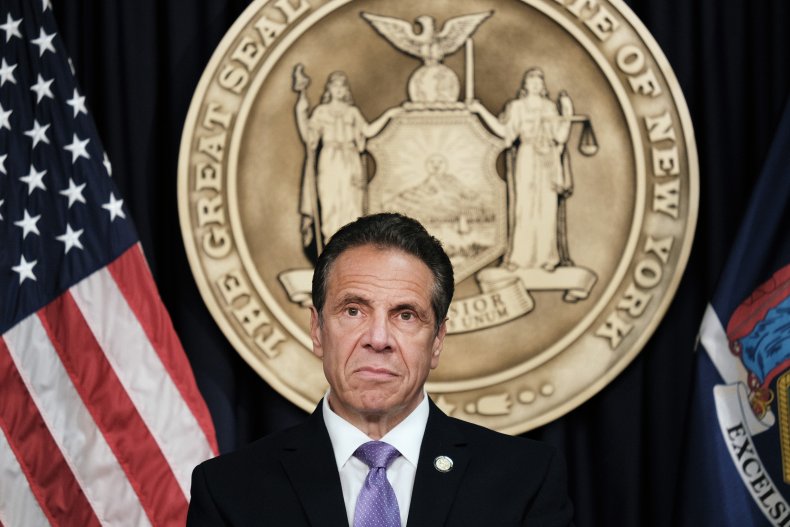 One of the most well-known last names in the governor's race is Giuliani, but Andrew, the son of "America's Mayor," isn't a GOP favorite for the nomination. He didn't receive a single vote in the New York Republican Party's June straw poll, although it's done little to temper his fight to stay in the race. He campaigned on his support for former President Donald Trump in an attempt to appeal to his base and told Newsweek Cuomo's resignation was a win for all New Yorkers.
"Shifting the focus from Cuomo's misconduct to the things New Yorkers really care about—economic recovery, preventing lockdowns and vaccine passports, and school choice—doesn't just benefit Republican candidates, it benefits all of us," Giuliani said.
Congressman Lee Zeldin is the leading Republican for the nomination and garnered 85 percent support in the June straw poll. A supporter of Cuomo's resignation, Zeldin criticized Lieutenant Governor Kathy Hochul, who will now assume the role of governor, for "empowering" Cuomo's "disgusting behavior," and advocated for voters to "rid" the state of their "disgraceful legacy."
"The last three Democrat governors have left office embroiled in scandal," Zeldin said. "Voters in New York need to take back control of how we are governing and set the standards we want for those who are given the honor of serving us."
Zeldin also has the backing of the Conservative Party, which is critical for Republicans because, as the third-largest political party in New York, it could give a GOP candidate a much-needed boost.
In a heavily blue state, it'll be difficult for Republicans to have a leg up going into the general election, a Republican strategist who spoke to Newsweek on condition of anonymity said. However, he said Zeldin could mount a competitive run if Democrats get into a divisive primary, while Republicans avoid any big fights. He sees Zeldin's best chance at winning hinging on an ability to raise a "lot of money" in the primary.
"I think donors will still be interested," the strategist said. "There's so much business interest in the state and taxes are so high and they realize if they get a really progressive governor you're going to talk about folks not wanting to leave but having to leave."
Unfortunately, Zeldin is still relatively unknown and Sheinkopf noted James has more recognition than the Republicans in the race.
A recent poll from Slingshot Strategies found the attorney general led the field of 14 hypothetical Democratic candidates if Cuomo wasn't running. After going after Trump, James shied away from favoring those of her own party, releasing damning reports of Cuomo's handling of nursing-home deaths and his alleged inappropriate sexual behavior.
In New York's last two open races, in 2006 and 2010, the then-current attorney general, Eric Spitzer and Cuomo won. Spitzer resigned in 2008 amid allegations that he elicited services from a high-priced prostitution ring.
Her name recognition and battles against the National Rifle Association and Trump could garner her support in a Democratic primary. Come a general election, James' holding Cuomo accountable could be helpful in winning over more moderate voters.
She's not a shoo-in though and Sheinkopf noted that there's a lot of time between now and the 2022 election. It's possible people's feelings towards Cuomo could change and if in six months' time, they miss the governor and feel he was treated unfairly, it may backfire on James. Sheinkopf also warned Democrats about going too far left with their candidate.
"If they go too progressive they will lose," he said. "People are concerned about crime, they're not interested in defunding the police and cutting criminal justice services."
Republicans have flipped New York's gubernatorial office three times since 1942, once in an open seat and twice with an incumbent governor. Playing up the rising crime could be advantageous to Republicans, according to Sheinkhopf, because "when there's high crime you have Republicans elected to office."