Cuomo Suggests Florida Tourist Quarantine After DeSantis Did Same to NYers
As the number of positive coronavirus cases in Florida increased Thursday, New York Governor Andrew Cuomo said he was considering placing visitors from Florida to New York under quarantine. Cuomo's potential move would mirror an executive decision made by Florida Governor Ron DeSantis in March that placed New York visitors to his state under 14 days of self-isolation.
Florida reported its largest increase of coronavirus cases in a single day on Thursday with 3,207 new positive cases, bring the current tally in the state to 82,179 cases of the virus. DeSantis' executive order, which also applied to visitors from Connecticut and New Jersey, is still in effect.
"Who would believe this 180 turnaround?" Cuomo said at a Thursday news conference, adding that while a final decision on the Florida quarantine had not been reached, he has "had experts advise me of that."
"It is a real concern," Cuomo continued. "You're right, it could happen and it is something I'm considering."
Newsweek reached out to Governor DeSantis' office for comment. This story will be updated with any response.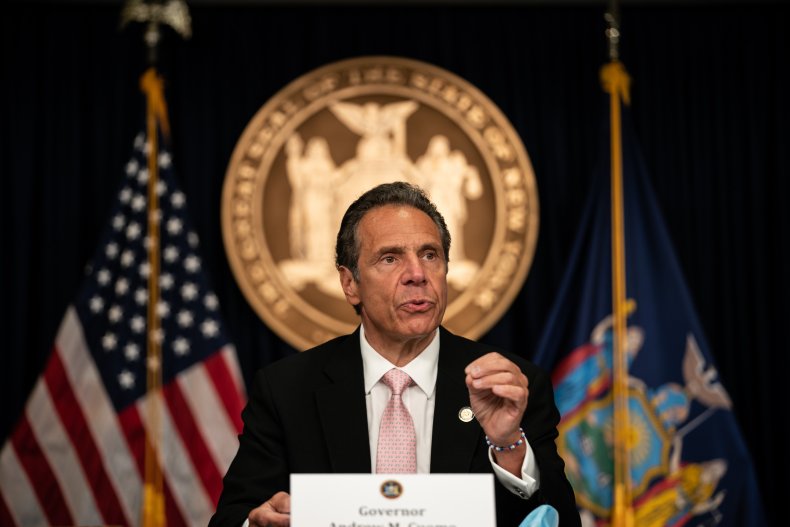 DeSantis' order was issued after travelers from the New York tri-state area, which was suffering from high coronavirus numbers, began migrating to Florida in hopes of avoiding catching the virus. Health screenings were issued to airline passengers disembarking from flights from the region. Passengers who failed the screenings were told to isolate themselves for 14 days and to provide a list of people they had been in close contact with before arriving in Florida.
"I would reckon, given the outbreak there, that every single flight has somebody on it who is positive for COVID-19," DeSantis said in March.
White House Coronavirus Response Coordinator Dr. Deborah Birx said during a March press briefing that any New Yorkers, no matter where they traveled to, should self-quarantine. "No matter where they have gone," Birx said, "whether it's Florida or North Carolina or out to the far reaches of Long Island."
Although new cases have declined in New York, Cuomo said during a Monday news conference that ignoring previously enacted social distancing protocols could reverse that trend.
"We have 22 states where the virus is increasing," Cuomo said. "It's a dramatic national turnaround. We don't want the same plight of these other states."
Much of New York State has already entered the second phase of its reopening, but New York City is not expected to enter phase 2 until Monday.
Florida began the second phase of its reopening in June, allowing bars, restaurants and cinemas to resume business. Three counties in South Florida—Broward, Miami-Dade and Palm Beach—still remain in phase 1.
DeSantis told reporters Tuesday that one of the reasons his state had seen an increase in coronavirus cases was because of the crowded living conditions of Florida's migrant workers.
"Some of these guys," DeSantis said, "they go to work in a school bus and they're all just packed there like sardines, going across like Palm Beach County or some of these other places, and there's all these opportunities to have transmission."