Cuomo Says Trump Pouring 'Gasoline on the Fire' With Tweet Attacking Elderly Buffalo Protestor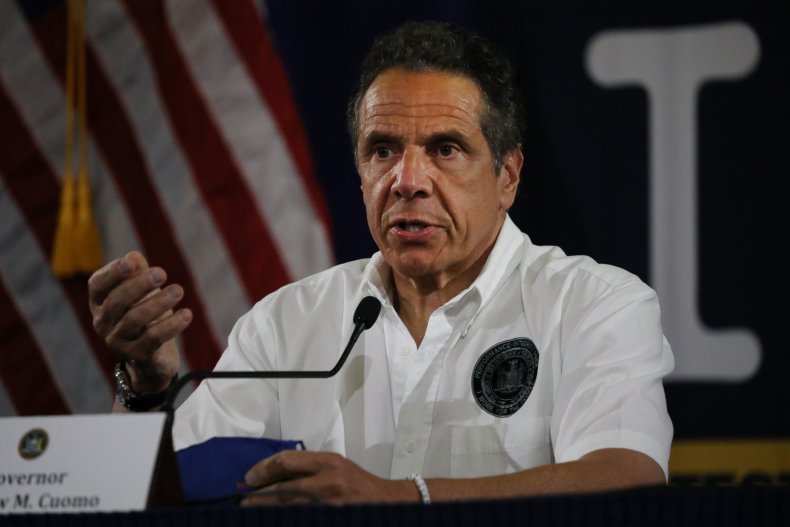 New York Governor Andrew Cuomo assailed President Donald Trump Tuesday morning for his tweet smearing the 75-year-old Buffalo protester who was pushed to the ground by police officers at a racial justice rally last week, sustaining serious injuries.
Two Buffalo Police Department officers were suspended following the incident and charged in state court with assault in the second degree. They both pleaded not guilty and were released on their own recognizance.
At a daily coronavirus briefing, Cuomo accused Trump of pouring "gasoline on the fire" with his comment, which suggested that the protestor, Martin Gugino, might be an "ANTIFA provocateur." No evidence was provided to substantiate this claim, and the Trump administration has previously accused individuals associated with antifa, a loose coalition of anti-fascist agitators, of infiltrating the ongoing demonstrations.
At a press conference last week, U.S. Attorney General Bill Barr claimed that antifa affiliates had "hijacked" anti-police sentiment following the death of George Floyd and were exploiting the demonstrations to incite violence. To date, direct evidence of such widespread coordination by antifa actors has not been provided.
A spokesperson for the president did not return Newsweek's request for comment.
"Do you think the blood coming out of his head was staged, is that what you're saying?" Cuomo asked, his voice elevated. "How reckless. How irresponsible. How mean. How crude."
The video of officers shoving Gugino went viral last week, leading to widespread condemnation of the incident. Gugino is a longtime peace activist and has worked in anti-torture and human-rights advocacy.
The entire emergency response team responsible for monitoring Buffalo's demonstrations resigned after the two officers, Aaron Torgalski, 39, and Robert McCabe, 32, were suspended. Initial reports suggested the mass action was a show of support, but subsequent reporting indicated they lacked legal protections necessary to continue on the team.
In an email to Newsweek Tuesday, Kelly Zarcone, a lawyer for Gugino, said he was out of the intensive care unit but still hospitalized and "needs to rest."
"Martin has always been a PEACEFUL protestor because he cares about today's society," Zarcone said. "No one from law enforcement has even suggested anything otherwise, so we are at a loss to understand why the President of the United States would make such dark, dangerous, and untrue accusations against him."
If convicted, Torgalski and McCabe each face up to seven years in prison. The case is being prosecuted by the Erie County District Attorney's Office in Buffalo, New York. An additional hearing in the case is schedule for July 20.
Newsweek correspondent Jenni Fink contributed to this report.