We knew it was bad. But we didn't know how bad.
It was bad for New York governor Andrew Cuomo to underreport the number of nursing home deaths that happened on his watch, many of them due to his own mishandling of the coronavirus pandemic.
It was bad when his staff lied about it, too.
It was bad when Cuomo threatened New York Assemblyman Ron Kim, calling him at home to say he would "destroy" Kim for publicly questioning the Cuomo administration's handling of the nursing home crisis.
And it was bad when one, two – then three, four, five, and now six women came forward with allegations of misconduct against the governor.
But somehow, knowing all of this, Wednesday's news still managed to shock: Fox News reported that Cuomo issued an April 2020 directive requiring facilities for people with developmental disabilities to accept coronavirus patients. His directive further forbid the facilities from requiring that people be tested for COVID-19 prior to admission or readmission from the hospital. 552 people with developmental disabilities died.
As a leader, it was Cuomo's job to protect those least able protect themselves. Instead, he threw them into harm's way and worse, while making sure he himself stayed in the limelight.
This wasn't mismanagement. It was villainy.
Every day, another facet of his chicanery is revealed. The nursing home switcheroo, for instance, which held that a resident who died after being transferred to the hospital with COVID-19 counted as a hospital death, which is sort of like saying if I feed you bad fish in my restaurant but you don't vomit until you're in the parking lot, it's the parking lot's fault. There was no way to hide this evasion but with a cover-up, which is exactly what his senior staff to did, removing a reference to 9,000 deaths from a report published in June 2020.
This was just around the time that Cuomo has said he started kicking around the idea of writing a book about his stellar performance during the pandemic, seeking "formal approval from a state ethics agency to earn outside income from book sales."
Since it was unlikely any publisher would have shelled out a reported seven figures with thousands of dead bodies around, it seemed it was best to keep them out of sight. I guess there's small comfort in the fact that sales of Cuomo's American Crisis: Leadership Lessons from the COVID-19 Pandemic fell off as the allegations against Cuomo piled up; the publisher has cancelled a second printing.
What has Cuomo handled well during the pandemic? His appearances on CNN, alongside brother Chris, became a narcissistic clown-show. Meanwhile, his regular about-faces and edicts from on-high regarding COVID have derailed millions of lives, from the state's restaurant workers to its schoolchildren to, as we are learning, those who worked alongside him.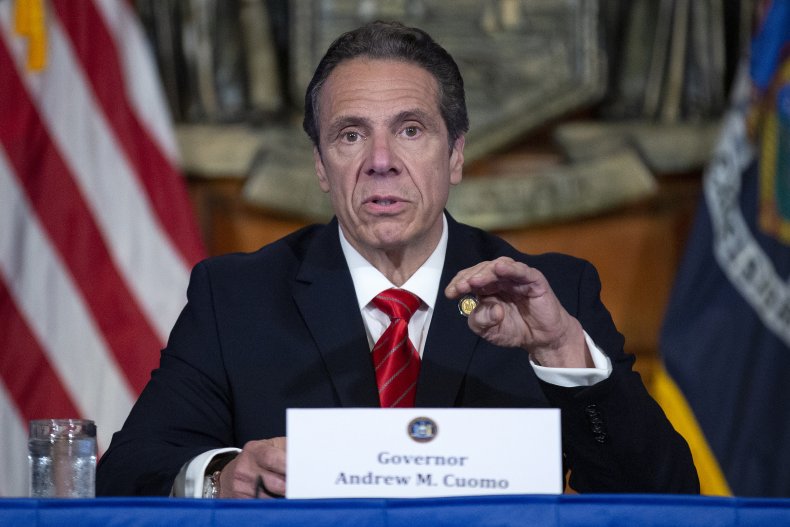 And as of this writing, six women have stepped forward to claim Cuomo touched them and kissed them and asked questions that were deeply inappropriate.
They wasn't just inappropriate; they was insulting. For instance, did Cuomo, over 60 at the time, really think 25-year-old Charlotte Bennett, executive assistant and health policy adviser in his administration, so dense that she would not infer what the governor was really asking when he allegedly asked her whether she had ever been with an older man? Did he really think she wouldn't understand that his alleged musing about loneliness and the need for hugs was not another way of saying he wanted to get in her pants? Of course she knew.
What Cuomo's oblique propositions to Bennett and others show is that things were rotten in Albany long before the pandemic hit. In fact, the coronavirus debacles and the harassment accusations are related; it is only in a toxic environment like the one Cuomo cultivated that such derelictions of moral duty can happen. Cuomo failed to protect the vulnerable women working for him as he did the vulnerable seniors and disabled New Yorkers in his care. He seems to have thought in both cases only of gratifying himself.
This is the opposite of leadership; it opportunism bordering on venality.
I will count the state as safer if Cuomo resigns—safer from a politician who's proven he's willing to shuffle the most vulnerable among us offstage to protect his image, willing to sacrifice others to stay a media darling and make some money while he's at it.
Cuomo is right about one thing, in that there's a lesson to be taken, albeit at crushing cost, from his leadership during the pandemic: While he can play a governor on TV, in real life, he is not up for the job.
Nancy Rommelmann is a journalist and author and cofounder of Paloma Media. Find her work at nancyromm.com, on Substack, on Twitter @nancyromm.
The views expressed in this article are the author's own.