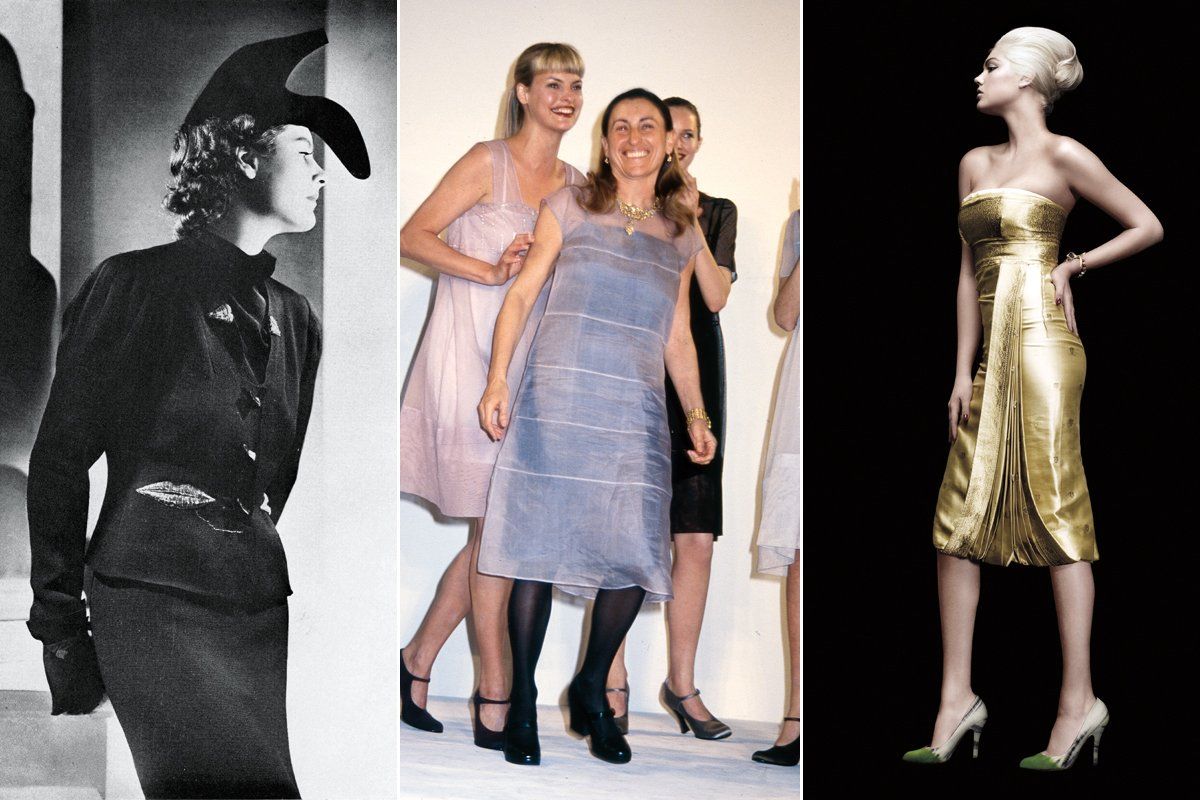 It's mid-March, about two weeks since fashion designer Miuccia Prada finished the marathon of women's fall shows. She has just returned to Milan after a vacation in the mountains, and it's her first day back to work. Dressed in a roomy, gray V-neck sweater, a white shirt with a bejeweled collar and a pair of slim-fitting trousers in an oxblood geometric print, she occasionally fiddles with the gray beret tilted at a droll angle atop her fine brown hair.
Prada takes our meeting in her austere office. The white-walled room is on the third floor of a campus of unattractive structures constructed during a particularly uninspired period of Italian architecture. As offices go—especially among designers, whose headquarters tend to be a grand homage to the brand—Prada's is spare to the point of looking unfinished. The only hint of the company's success—it raised more than $2 billion last year in an initial public offering in Hong Kong—is a three-story metal slide by the artist Carsten Holler. It swirls to the ground from a hole cut in her office floor. It's the perfect metaphor for Prada's desire to escape the constraints of fashion, tradition, and expectations.
This spring, Prada will become the latest designer to be honored at the Costume Institute at New York's Metropolitan Museum of Art, in a retrospective that pairs her with the great iconoclast Elsa Schiaparelli, who died in 1973. Prada's response to "Schiaparelli and Prada: Impossible Conversations" has been mixed, in part because the two women are quite different in personality and sensibility. "On one side, I'm very happy. On the other, it's very scary because it's someone else's interpretation," Prada says. "But I decided that of course I'm super happy."
The through line is subversiveness: both designers upended the traditional definition of female beauty for a generation of women. In the case of Prada, her lasting legacy will surely be that she made "ugly" chic.
In the early 1980s, Prada turned industrial black nylon into a symbol of luxury. She lured status seekers into spending stratospheric sums on humble backpacks bearing the triangular Prada insignia. With the launch of women's ready-to-wear in 1988, she coerced the public into casting an admiring gaze on hues of puce, pea-soup green, safety orange, and a shade of brown best described as swamp water. She made wallpaper prints, doily lace, and teddy-bear fur sophisticated and smart. And she sent models on a runway power march wearing clothes inspired by blue-collar uniforms and carrying frame handbags that spoke of grandmothers and linen hankies.
"I didn't want to be restricted to the rules [of high fashion]. I was looking at the colors and homes and other places and elements that were not part of the elitist world of my clients," Prada says. "I also struggled instinctively against the cliché of a beautiful, rich woman." She adds: "I have nothing against a beautiful, rich woman—just the cliché of it."
Prada's work reflects her own struggle with fashion, an ambivalence that many women share—particularly those in positions of power. Her style expresses a high-minded disdain for society's restrictions and a repudiation of idealized beauty. "Those were the two topics that I realized I was always working on," Prada says. "I realized my job is to define—well not to define because that's so pretentious—but to understand: What does it mean? Beauty, today, for a woman?"
It is this knowing dismissal of the rules that marks Prada's work as the height of chic and cool. Her clothes have influenced American brands such as Derek Lam and Proenza Schouler. They've spawned mass-market knockoffs and attracted celebrities from Uma Thurman to Zooey Deschanel. Even "the Devil" has worn Prada.
"Miuccia is one of the most interesting designers working today," says designer and friend Donatella Versace. "She has been able to create an unmistakable aesthetic that the whole world associates with her brand while staying always forward and always current. It is one of the most difficult and complicated tasks for a designer."
Prada is the type of woman who wears an evening gown with slippers or her husband's T-shirt, workmanlike trousers and a mink. Her jewels are real. She will sit on the floor with her legs curled underneath her at a dinner party like an innocent young girl—but at 62, with strong features, she is neither particularly young nor girlish. She is political, but her clothes are not politically correct.
"If you know her as a friend, she has a great sense of humor. She loves to laugh," says Franca Sozzani, editor of Vogue Italia. "It's completely wrong to think she's serious and only concentrated on work."
Prada is married to company CEO Patrizio Bertelli, and they have two adult sons. Her staff calls her "Mrs. Prada," a respectful but old-fashioned courtesy that would seem inappropriate for a woman whose work exudes independence and rebelliousness. But then Prada is a dissertation's worth of contradictions. Born into a genteel Milanese family, as a young woman she studied politics and theater. In her 20s, she was a feminist dressed in Yves Saint Laurent and protesting for the rights of the proletariat. When she was called into the family business, founded in 1913 by her grandfather Mario Prada, she was not happy. The company sold suitcases and leather goods to Italian nobility. From its glass-front boutique trimmed in gilded curlicues in the Galleria Vittorio Emanuele II, it was a purveyor of bourgeois comfort.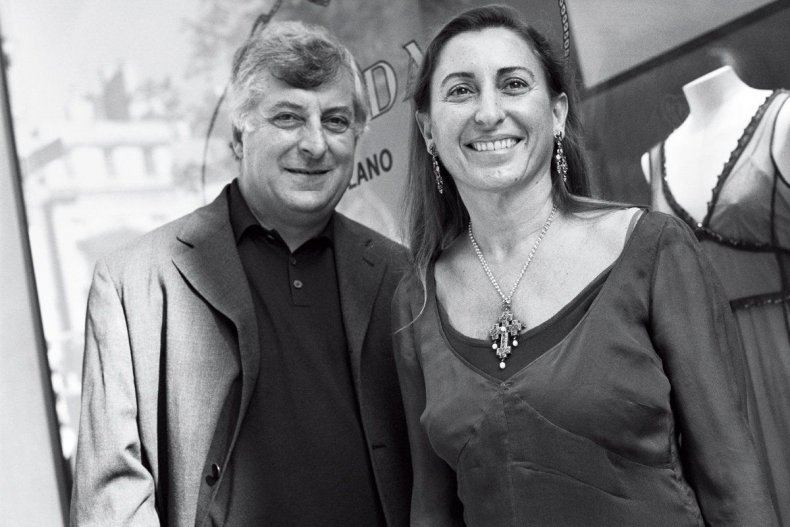 "I hated it," she says. "I was a feminist in the '60s and can you imagine? The worst I could have done was to be in fashion. It was the most uncomfortable position ... And I had problems for so many years; only recently I stopped."
"I realized that so many clever people respect fashion so much and through my job ... I have an open door to any kind of field," she says. "It's a way of investigating all the different universes: architecture, art, film."
"I also realized people respect me because I'm good in my job."
Most designers can reminisce about sketching and making paper dolls and prom dresses when they were young. Some designers, particularly male ones, pride themselves on tapping into a woman's emotional connection to clothes. Not Prada.
She isn't a technician in the tradition of Cristobal Balenciaga. She is not one to stand before a mannequin allowing the sensuality of the fabric to guide her hand. "She's not a classic designer in any sense," says Lawrence Steele, who worked for Prada in the '90s and now designs for the Italian sportswear brand Aspesi. "She doesn't use a pair of scissors or a pencil. She talks. It's nothing that has to do with the technical aspects of going to school and thinking about how fabric falls. She has ideas. She vocalizes an opinion."
In her workroom, recalls Steele, she might say something like "a princess who lives in a cave." The phrase suggests opulence and nobility, but also something rough and raw. "Suddenly you have a picture in your head. You're almost immediately in a novel or a film," Steele says. "The thing is, in a week, she might be on to something else, a different reference. But you're working that into the collection."
At the moment, Prada is fascinated by antiquity, Renaissance painting, the art-filled Villa Borghese in Rome, and the relationship between physical and spiritual beauty. She wonders if beauty is some kind of moral imperative and the desire for it, part of the human condition.
Yet despite her ever-shifting interests, each collection retains the essence of Prada. She designs for herself, both physically and intellectually. She has a familiar body type: slender legs and a womanly torso. It's one that doesn't look good in a clingy gown, so that silhouette is not part of her vocabulary. But sometimes her designs are so connected to her interior world that they ignore the physical.
"I do clothes in theory. I tend not to try the things on the models. Deep down, I'm not interested if they look good on the body or not. Not even myself," she says.
This approach helps to explain the often-startling reality of her runway clothes. The richly textured sweaters can be scratchy. The shapely skirts can be stiff and unyielding. (A kinder fabric is used for the retail versions.)
"Ugly" isn't the intent. It's the end result of a design philosophy that treats fashion like other aesthetic pursuits such as art and film. A painting doesn't have to elicit joy. A captivating movie can also be disturbing. "I think probably people confuse fashion with being beautiful or being sexy or attractive," Prada says. "Very often people use it as a [tool], not as pleasure."
"I always say sexy dressing is fantastic if it's a choice ... If you want to go out naked, I like it. But if you do it because you want to get a rich husband, no, I hate it."
Prada sees herself as having more in common with an artist like Cindy Sherman, whom she admires, than a fashion fairy godmother giving women makeovers. Like the photographer, Prada explores the connection between the many identities a woman puts on publicly and the complicated personality behind those masks.
When she selects her models, Prada typically looks at the face, not the body. She looks for personality and eccentricity, though not always racial diversity. She has used jolie-laide models like Sasha Pivovarova and shown well-known beauties without the benefit of glamorous makeup or glossy hair.
"The same model would be in Versace and the press would say, 'Oh [Gianni Versace] uses the most beautiful models.' And me? They were exactly the same. The same fantastic women are in my show, and they say they're not beautiful," Prada observes. "Of course, I tend to dress them more modestly."
Prada's work could be defined as avant-garde. But it's different from the accomplishments of a designer as outré as Rei Kawakubo of Comme des Garçons, whose deconstruction of fashion is so complete that a shirt doesn't require armholes.
If one were to list the touchstones of Prada's work—conservative skirts, classic sweaters, mannish shirts, clunky heels—one could easily be describing the wardrobe of the stereotypical Capitol Hill wonk. But where the policy nerd seems confused by her own femininity and a fashion failure, Prada succeeds with irony and the confidence born of social currency.w
Consider her women's collection for fall 2012. The trousers are resplendent with baubles. Her tailored jackets are belted high on the waist. Fuchsia and tangerine collide in the form of a tunic and trousers. Geometric prints induce vertigo. The sharp silhouettes suggest authority. The decorations are exuberant female frippery. The colors and patterns are wholly rebellious. It's pure Prada: contradictory, confident, womanly.
After more than 30 years as a designer, Prada has made peace with her role in the fashion industry. Accomplished and business savvy, she can easily talk trends. But Prada steadfastly refuses to answer the more existential question: "What should I wear?" By her estimation, every woman already knows.