What to Watch on TV This Week: 'Scandal,' 'Curb Your Enthusiasm' and More Show Premieres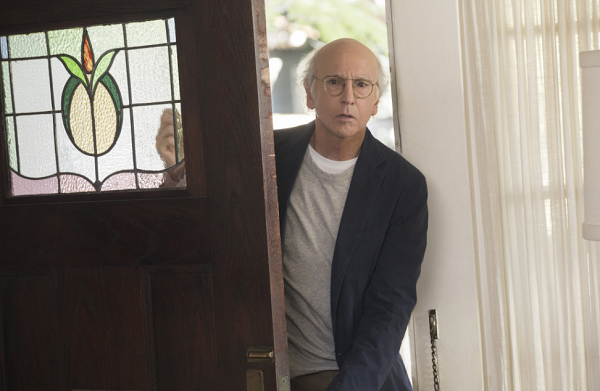 Just like that, September is over. Winter is on the way, and soon, 2017 will be over. But there's a least a slither of goodness that's coming your way as the days continue to pass on by—More TV premieres.
Added bonus: T.G.I.T. is back in full swing on ABC this week with the return of the beloved Scandal.
Check out the full list of everything that's premiering this week below:
Sunday:
Curb Your Enthusiasm- After taking a six year hiatus, Larry David is back on HBO with new ventures, misfortunes and, of course, arguments. Even in the very first episode of the ninth season, David will be stirring up trouble and causing strife for Jeff Garlin when David offends Garlin's barber. The show kicks off at 10 p.m. ET.
Wisdom of the Crowd- What happens when a tech innovator obsessing over his daughter's murder creates a crowd sourcing app in an attempt to find the killer? Watch the new CBS show when it premieres at 8 p.m. ET and you'll find out.
NCIS: Los Angeles- There's always some kind of danger looming in the sunny streets of Southern California, and Special Agent "G" Callen (Chris O'Donnell) is back to keep the city safe. The ninth season will premiere at 9 p.m. ET.
Bob's Burgers- Premiering at 8 p.m. ET on Fox, Bob and his quirky family are back to cook up a whole new season of laughs.
The Simpsons- One can only imagine the chaos Bart will cause when the Fox series returns at 8:30 p.m. ET, but the reality of it all is no matter how much trouble Springfield sees in season 29, it's all bound to be hilarious.
Ghosted- If you want to see Craig Robinson and Adam Scott go from regular Joes to badass alien-catchers, then this new Fox series is for you. The premiere starts at 8:30 p.m. ET.
Family Guy- Yay! Stewie's back! The 15th season of the Fox series starts at 9 p.m.
The Last Man on Earth- Tandy Miller (Phil Forte) is probably going to need a bigger boat when he and his small community of survivors make their way down to Mexico, especially now that the last remaining group on earth will soon find yet another person who didn't die in the nuclear apocalypse. The fourth season starts at 9:30 p.m.
The Toy Box- The competitive series returns with a whole new set of designers who will have the hard job of creating new toys, which are critiqued by the toughest crew of judges ABC has ever seen: Children. The show premieres at 7 p.m. ET.
Shark Tank- Mark Cuban will be obliterating wannabe inventors yet again, and actually offering deals to a few lucky folks that can impress him with their products. Don't miss the season nine premiere on ABC at 8 p.m.
Ten Days in the Valley- Kyra Sedgwick's role as a mother desperately trying to find her missing child may make you want to hold on to yours a little bit tighter. The new ABC series starts at 10 p.m.
Keeping up With the Kardashians- More Kim, Kourtney, Khloe, Kendall and Kylie for the 10th year in a row. E! reality series starts at 9 p.m.
Monday:
9JKL- If you've ever wondered what it would feel like to fail as an actor and be forced to move back home with your parents, the new CBS series aims to show you just that. Don't miss the premiere at 8:30 p.m. ET.
Lucifer- The devil is back and he's worse than ever on the third season of the Fox series. It starts at 8 p.m. ET.
The Gifted- Mutants. Can't live with them, can't live without them. The new Fox series, which is not about the X-Men but a few mutants we haven't seen before, starts at 9 p.m. ET.
TRL- After being off air for over a decade, MTV is finally reviving its iconic music video countdown series. No, Carson Daly isn't the host anymore, but the new gang of VJay's are sure to bring just as many thrilling and exciting music moments as the original TRL crew did so many years ago. The show, which will air Monday through Friday, starts at 3:30 p.m. ET.
Tuesday:
The Middle- It's the final season for the Heck Family. Don't miss the season nine premiere at 8 p.m. on ABC.
Fresh Off the Boat- Little Eddie and his Asian family will continue to figure out their place in their new suburban Orlando neighborhood, and while they'll face their fair share of ups and downs in season four, fans should expect plenty of laughs and learning lessons along the way. The new season airs at 8:30 p.m. on ABC.
Black-ish- Andre (Anthony Anderson), Bow (Tracee Ellis Ross) and the gang are all back bringing awareness and humor to all the social issues that many Americans are facing in this day and age. The first episode is said to tap on issues regarding slavery and the abolishment of the confederate institution, but in the funny way that only Black-ish can pull off. The fourth season starts at 9 p.m.
The Mayor- Have you ever heard of a struggling rapper trying to launch his music career by running for office? Us either. But that's what we'll see when the new ABC series premieres at 9:30 p.m.
Queen Sugar- There's so much drama in the second season of the OWN series that they had to make the premiere two nights long. The series will start at 10 p.m. ET on both Tuesday and Wednesday.
Thursday:
Scandal- Who will wear the white hat in the final season of the ABC series? Will Olivia (Kerry Washington) and Fitz (Tony Goldwyn) finally get their Vermont jam? So many questions that hopefully will finally be answered when season seven premieres at 9 p.m.
Friday:
Once Upon a Time- Another hero. Another villain. Another fairy tale. Show starts at 8 p.m. ET.