'Curb Your Enthusiasm' Season 10 Release Date, Cast, Trailer: Everything You Need to Know About the New Season
After two years away from HBO, Larry David's Curb Your Enthusiasm is back for Season 10 of cringes, calamities and an impressive cast of guest stars. In the new season, Jon Hamm, Vince Vaughan and Mila Kunis are among the names making an appearance, in a series of plots that "get back to a more classic Curb." In December, a trailer was released that gave fans their first glimpse of some of the latest series of awkward situations Larry has found himself in.
When is Curb Your Enthusiasm Season 10 out on HBO?
The new season of Curb will debut on Sunday, January 19, with the first episode, titled "Happy New Year," due to air at 10.30 p.m. ET. Season 10 has 10 episodes, bringing the episode total to 100.
For fans who want to watch those previous 90 episodes, HBO subscribers can see all nine seasons on HBO Go and HBO Now. Amazon Prime Video, meanwhile, has the first eight seasons of the show, with the ninth available on the online store's HBO Now plug-in. DirecTV subscribers can also watch all the seasons so far on the cable provider's website and app.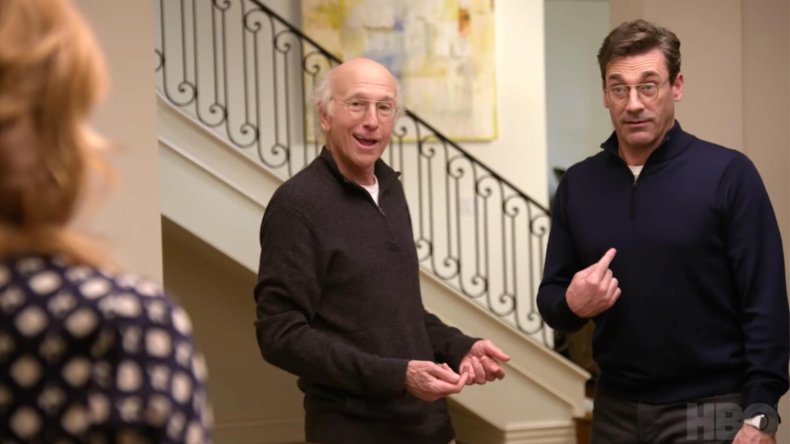 Who is in the cast of Curb Your Enthusiasm Season 10?
All of the regular faces from Curb are back, including Larry David, Cheryl Hines as his ex-wife Cheryl, Jeff Garlin as his manager Jeff Greene, Susie Essman as Jeff's wife Susie, JB Smoove as Leon, plus Richard Lewis and Ted Danson as themselves. Returning from previous seasons, meanwhile, is Gotham's Richard Kind as Larry's cousin Andy and It's Always Sunny in Philadelphia's Kaitlin Olson as Becky, the sister of Cheryl.
Of course, it would not be Curb Your Enthusiasm without a cast of celebrity cameos, and Season 10 includes Fred Armisen, Ed Begley Jr., Laverne Cox, Isla Fisher, Jon Hamm, Abby Jacobson, Jane Krakowski, Mila Kunis, Timothy Olyphant and Vince Vaughn. Although not all of the characters they are playing have been revealed, the trailer did reveal that Hamm is playing a version of himself weirdly reminiscent of Larry David himself and Armisen is playing a man in a zimmer frame who Larry finds himself caught behind in a narrow corridor. We do not yet know who Isla Fisher is playing, but she does land a pretty hard slap on Larry in the promo.
What will happen on Curb Your Enthusiasm Season 10?
Executive producer Jeff Schaffer told Jewish Journal that while last season "had a very big story arc, with the fatwa and the musical, this season we wanted to get back to a more classic Curb. But I can assure you that Larry has learned nothing. Like there are certain strains of bacteria that are resistant to medicine, Larry is resistant to learning. It's a really funny season. We're really happy with it."
More concrete details, however, have not been revealed, save for a GQ profile with David mentioning there will be a #MeToo-themed episode. In that same profile, Schaffer said that the writer prefers to not reveal details of upcoming episodes, saying: "Larry wants every show to be like a pimple. You have no idea it's coming; just wake up in the morning and it's there."
Curb Your Enthusiasm Season 10 starts Sunday, January 19, on HBO.