Curfews Imposed in 42 Cities Across 24 States as Protesters Clash With Police
More than 40 U.S. cities across 24 states have imposed curfews as peaceful protests erupted into rioting that led to thousands of arrests and injuries.
The demonstrations were in response to the death of George Floyd, 46, who died in police custody a week ago in Minneapolis.
Since Floyd's death, local and federal investigations have been launched, and Derek Chauvin faces charges of murder and manslaughter after a video showed the former officer kneeling on Floyd's neck during the arrest. Three other officers, who along with Chauvin were fired from the Minneapolis Police Department, could also face criminal charges.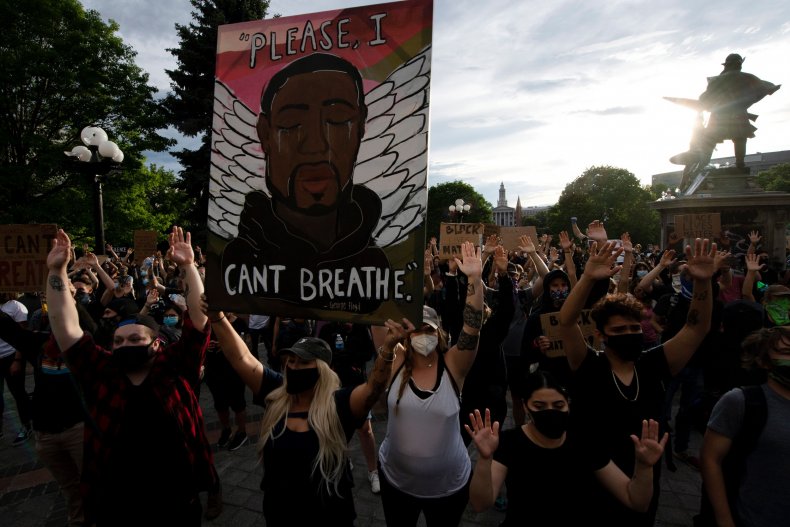 Governors in 15 states have activated the National Guard to help local and state police quell the rioting, with at least 2,000 National Guard troops poised for activation, according to CNN.
So far, three states—Texas, Arizona and Virginia—have issued state disaster declarations in response to the violence and destruction. The declarations give the states special law enforcement powers to keep the peace.
In Arizona, a weeklong order was issued statewide. The District of Columbia was also under a curfew. A 9 p.m. to 6 a.m. curfew was in place in the twin cities of Minneapolis and St. Paul, which also closed major highways after violent demonstrations erupted last week.
Among the 42 cities with curfews, mayors in Denver, Philadelphia, Dallas and Cleveland issued the orders to quell violent protests and keep those not involved in the demonstrations safely at home.
This past weekend, President Donald Trump and former Vice President Joe Biden condemned the rioting and called for an end to the destruction, Fox News reported.
"The memory of Floyd is being dishonored by rioters, looters and anarchists," Trump said, blaming "Antifa and other radical left-wing groups for terrorizing the innocent, destroying jobs, hurting businesses and burning down buildings." During Friday's protests outside the White House, the Secret Service ushered Trump into an emergency bunker.
The White House did not respond to requests from Newsweek for additional comment before publication.
The last weekend in May was filled with civil unrest as violent protests broke out in a number of U.S. cities. In New York and Houston, protesters were seen vandalizing police vehicles as they marched along city streets.
"It's inappropriate for protesters to surround a police vehicle and threaten officers," New York Mayor Bill de Blasio said Saturday night, according to NBC News. "The video was upsetting, and I wish the officers hadn't done that, but they had to get out of that situation."
In Nevada, deputies with the Washoe Sheriff's Department arrested 23 protesters on Saturday on various charges, ranging from criminal trespass to resisting arrest.
"Of the 23 people taken into custody, 16 are residents of Reno, four are from Sparks, the others are from Fallon, Truckee and Anderson, California," a statement from the sheriff's office read.
On Sunday, California Governor Gavin Newsom declared a state of emergency for Los Angeles County, according to Fox News.
"Right now is a moment of deep soul-searching for our community," St. Paul Mayor Melvin Carter said, according to a KSTP report.
Chauvin, who was arrested this past Friday, will make his first court appearance on Monday.