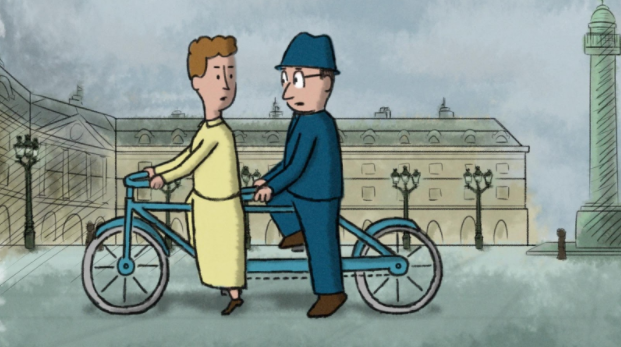 We all think we know Curious George, the rambunctious primate who's been entertaining children since his first book was published in 1941. He's been in television shows, blockbuster movies and video games, shaping the lives of countless children. Now a new documentary, Monkey Business, tells the story of the iconic children's character on film for the first time.
The minds behind Curious George, H.A. (Hans) and Margret Rey, had a fantastical life filled with "adventure" (that's what Hans called it). They both grew up as Jews in early-20th-century Germany, eventually parting ways before meeting again and marrying in Brazil in 1935. They took a four-year honeymoon to Paris only to escape the Nazi invasion by days, thanks to Hans' ingenuity and makeshift bicycles. After pedaling for miles, they made it to the South of France, where they took a train to Portugal and then a boat to Brazil. They managed to secure visas and make it to the United States, where they finally sold the original Curious George manuscript, along with three other stories, for $1,000. Hans passed away in 1977, leaving Margret to handle the Curious George franchise until her death in 1996.
Monkey Business, directed by Ema Ryan Yamazaki and narrated by Sam Waterston, tells the full story of the Reys, using animation, photographs and interviews with the people who knew them. Newsweek had the chance to talk to the two at a Rooftop Films screening about the fascinating story behind the people who made Curious George.
Do you think if the Reys hadn't gone through all that turmoil, we'd even have Curious George?
Ema Ryan Yamazaki: Yes. George wasn't made because of that one experience. Before the escape, they had already spent time globe-trotting: They lived in Brazil and spent their honeymoon in Paris for four years; they were meant to go on these adventures. They actually wrote the first George book before they fled.
Sam Waterston: You could call them the curious Reys: They would have been curious regardless of the circumstances of their lives. They were also perfectly happy to live in Waterville, New Hampshire, for a very long time, relatively quietly. Only relatively, because they were inquisitive and actively engaged with people and children.
How did Sam Waterston become part of the project?
ERY: Sam's sister, Birdy, lived in Waterville for a long time and knew the Reys really well. Sam never met them, but he knows all sorts of stories about Margret and Hans. It was a tranquil, sleepy town, where the Reys stood out because they kept their lives interesting no matter where they went. Hans was clearly the artist, but if Margret hadn't shown up in Brazil and been like 'Do something with your life,' he would've been perfectly happy for himself drawing on the beaches of Rio. It really took Margret as producer, manager and ass-whupper to expand George from the pages to what we've seen today.
Can you describe Waterville as it was in that era?
SW: It's pretty when you get into the valley itself. It's kind of flat; there's a golf course, a river and a little plain. It lives off being a ski area that's kind of close to Boston that my brother-in-law, Tom, and my sister took over and built up. It's always been kind of quiet and off the beaten path, except for skiers, golfers and hikers. It's very beautiful, very green, and it's a real community.
ERY: The old-timers will talk about how it's changed, but for an outsider you can feel that it's stayed relatively the same. It was the only place that I went to where the Reys lived that I could feel their presence. When I visited, I just set up camp and asked anyone who knew the Reys to come and talk. Even though it's been years, they all had a sense of who they were, a snippet of a memory that's been frozen in time.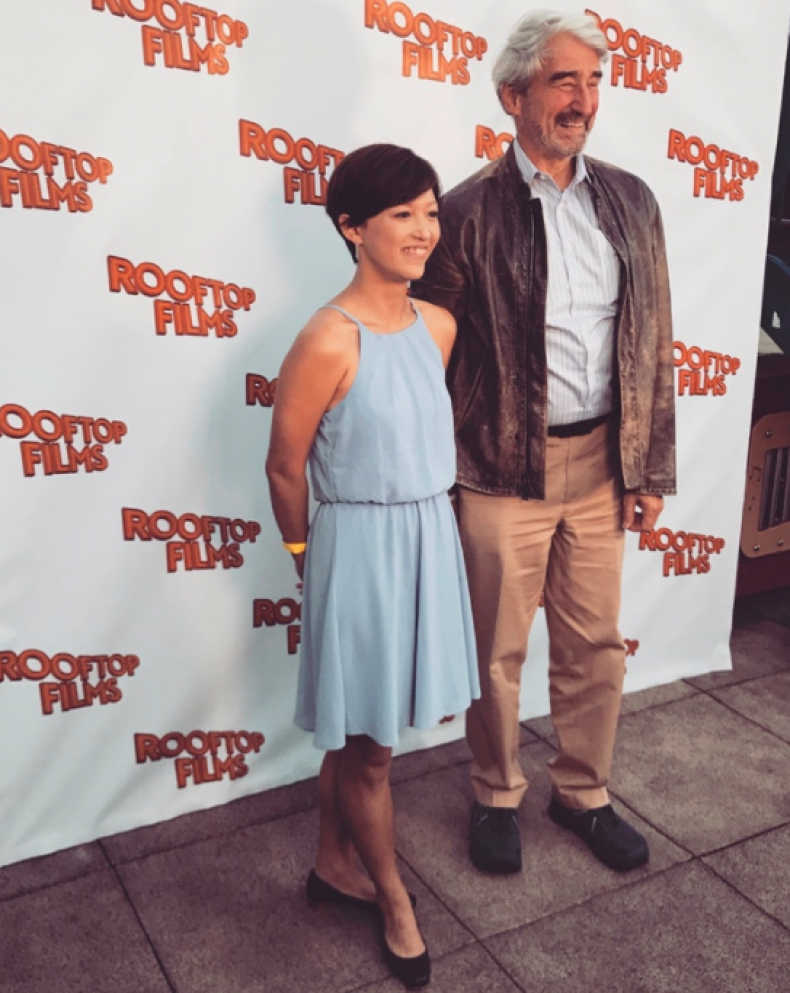 Was the story of the Reys family told to this level of detail before this documentary?
ERY: No, and that's what's so shocking for me. There's a book called The Journey That Saved Curious George that talks about the escape. It's a picture book made for 12-year-olds, and the author is a part of my film. She did a lot of research and put together their lives before this movie. But there was nothing else—I Googled eight times to find a film about the Reys and their experience and found nothing.
It's someone else's life story that you're taking into your own hands, that's a pretty heavy responsibility.
ERY: We know some of the stories about the creators of the stuff around us, but we still don't get to ask them questions. "Who wrote these great children's books?" You assume that their story isn't that interesting or it's already been told. There have to be more interesting stories and people out there, and as a filmmaker it's great to just to be able to dive into their lives.
In the film, you show Margret as a loud, no-nonsense woman who even yelled at the judge who granted their American visas for taking so long. Would Margret have approved of how you portrayed her in the film?
ERY: I don't know if Margret was that self-aware. If you told her "You're so rude," I'm not sure she would have been offended. Hans never lost his sense of childhood, and Margret was kind of a child. It's not trying to be nasty—she just wasn't afraid to get stuff done, which may have rubbed people the wrong way. Everyone who got to know her, deeper than a few interactions, really don't have anything bad to say about her. I'm so sure that I didn't cause an error in her character, because when you talk to 100 people and they all give you the same or similar anecdotes, you know that's who she was.
Do you think the Reys would like the story you've told?
ERY: I obviously never got to meet Hans or Margret, but sometimes I kind of feel them. As I saw the animations, I'd apologize to Margret and say to her, "I'm sorry, this is how people say you were." We had a screening in Cambridge, and a room filled with people who knew them said I got them right.
You can watch Monkey Business online and on-demand.