Currency Traders Favoring Long Positions Over Short in Crypto by 70%-30%, Report Says
The IG Client Sentiment Report said 70.78% of traders held long positions while 29.22% were short. A long position is a bet on future price appreciation while those going short see a price decline.
Bitcoin climbed above $50,000 in early trading Wednesday after dropping about 25% from its high as major institutions continued to support the cryptocurrency and investor sentiment turned bullish.
Bitcoin opened Wednesday at $47,462.83, rose to $52,636.22 and recently changed hands at $51,184.60, CoinDesk reported.
The cryptocurrency crossed $50,000 for the first time February 16 and fell as low as $45,041 February 23. The all-time high is $58,332.36 reached on February 21.
"Fifty thousand dollars is an important psychological level for investors," Jason Deane, Bitcoin analyst at Quantum Economics in London, told Newsweek.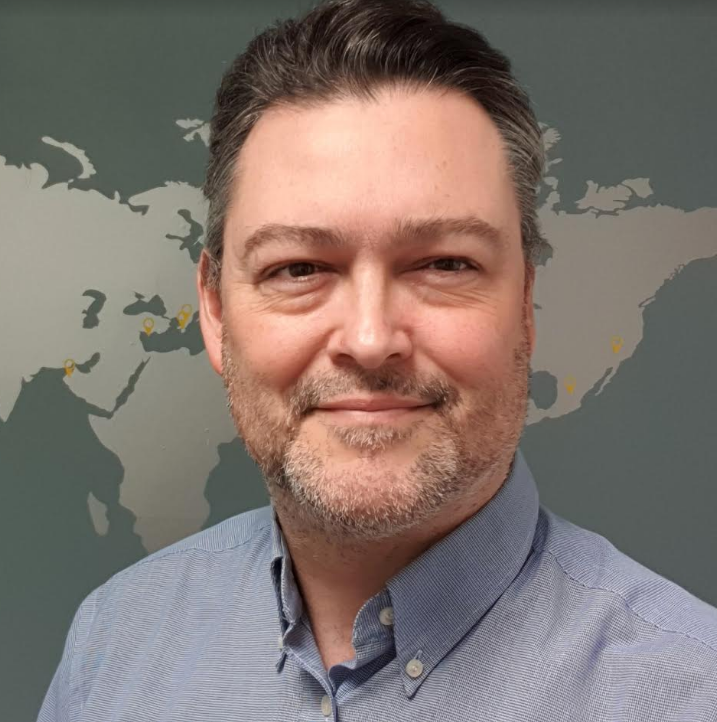 Jason Deane, Bitcoin Analyst, Quantum Economics, London (Photo Provided)
Photo Provided
"Both buy and sell orders are set according to individual decisions and sentiments of each trader, which means it quickly becomes strong support or strong resistance depending on which side of the line the market is priced," he said. "This usually means that strong momentum is required to power through the barrier in either direction."
Microstrategy's recent announcement that it had expanded its Bitcoin holdings boosted the cryptcurrency's price, he said.
"Generally speaking, the longer an important psychological level like this remains intact, the stronger the support resistance, but equally once those stronger levels are breached, the markets can move extremely quickly in the direction," Deane said.
He noted that there may be some volatility ahead, but said that "corrections are healthy in active markets."
"Right now, the Relative Strength Indicator is showing a 'neutral' rating of 57.69," Deane said, "and even though the Fear & Greed Index is showing a high reading of 78 signaling overbought, it is considerably lower than the 94 it recently recorded. In our view, the most likely outcome is more of the same for the short term."
Bulls take heart in the growing acceptance of Bitcoin as an asset, and some believe this may have played a part in the latest rally.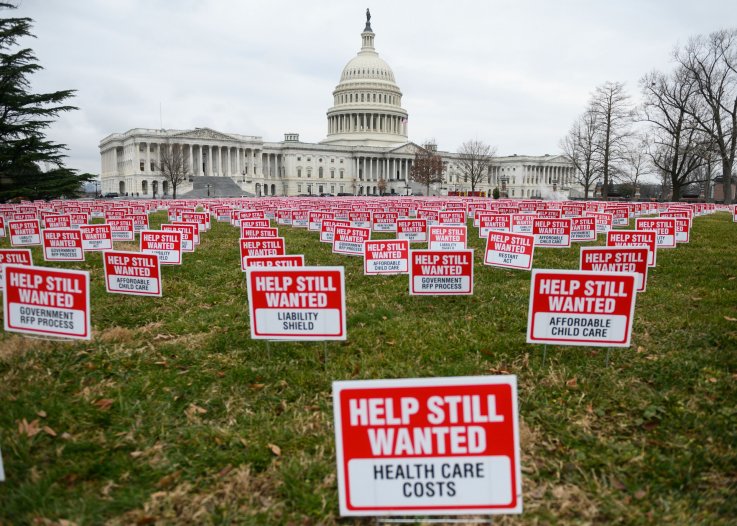 Signs calling for more relief, a second Paycheck Protection Program and support from elected officials are setup as part of a campaign by Goldman Sachs near the US Capitol in Washington, DC on January 5, 2021.
Photo by ANDREW CABALLERO-REYNOLDS/AFP via Getty Images
New York investment bank Goldman Sachs plans to offer Bitcoin futures by the middle of March. Citi's Global Perspectives & Solutions said the cryptocurrency could become the "currency of choice for international trade" despite an array of challenges.
Tesla invested $1.5 billion in Bitcoin and an analyst believes the electric carmaker has made about $1 billion on the bet.
Many major investors see Bitcoin as a long-term hedge against inflation and therefore don't fret about short-term price fluctuations, including a sharp drop.
Bank of New York Mellon, the nation's oldest bank, said it would create Bitcoin custody accounts for major Wall Street clients and treat the cryptocurrency like other financial assets.
However, growing interest in Bitcoin has led to increased calls for regulation.
Questioned during his Senate confirmation hearing Tuesday, Gary Gensler, President Joe Biden's nominee to head the Securities and Exchange Commission (SEC), said he'd create investor protections while backing the cryptocurrency and the technology that supports it.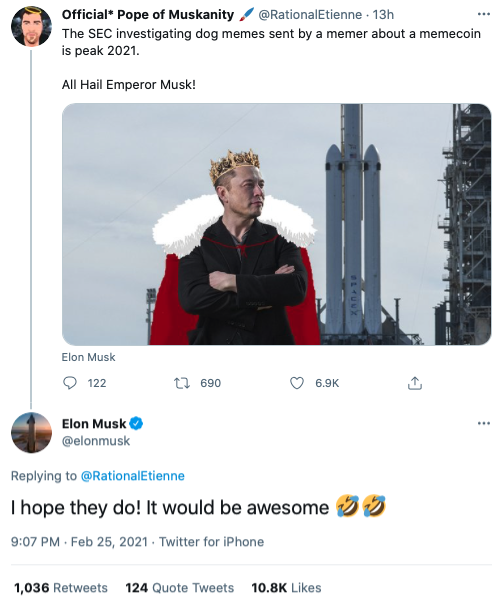 Elon Musk referenced a potential SEC investigation on his personal Twitter account.
Twitter/Screenshot
"It's important for the SEC to provide guidance and clarity," Gensler told committee members. "Sometimes that's a clarity that will be a thumbs up, but even if it's thumbs down, it's important to provide that."
Proponents say Bitcoin is a decentralized asset created by its users and is therefore probably exempt from current securities law. But at a 2018 conference, Gensler said there's a "strong case" that digital currencies created and issued by companies to raise funds violate current law, Reuters reported.
Gensler taught a class on cryptocurrencies at the Massachusetts Institute of Technology and, supporters believe, would bring knowledge of the field to his job at the SEC, if confirmed as expected.
Market Pulse
U.S. stocks were mixed in early trading Wednesday as investors continued to fret about rising bond yields and inflation sparked by the $1.9 trillion stimulus package now pending in Congress.
The U.S. Federal Reserve, the nation's central bank, could raise interest rates in the next few years to combat inflation. That would increase the cost of borrowing and consumer credit card debt, perhaps slowing the economy and eroding earnings for publicly traded companies.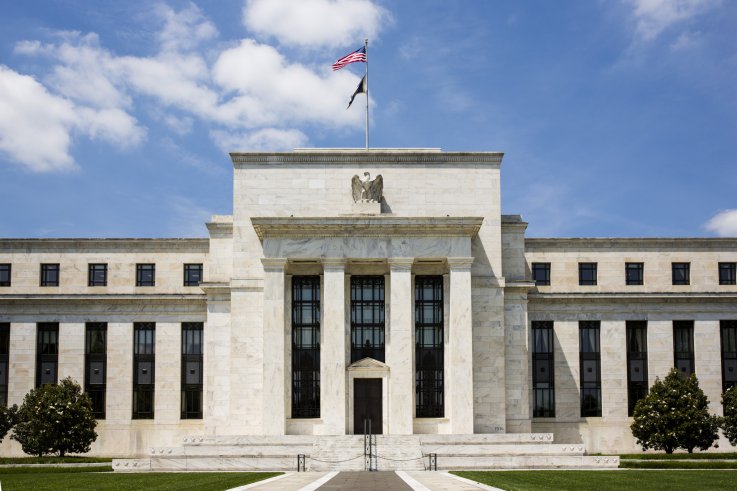 Federal Reserve building in Washington, D.C.
Brooks Kraft/Getty Images
The Fed slashed rates to 0% - 0.25% during the slowdown following the COVID-19 lockdown to boost investment and consumer spending, which represents about two-thirds of the U.S. economy.
The yield on 10-year U.S. Treasury bonds edged up to 1.462% from 1.413% Tuesday. Last month, the bond hit 1.513%. Bond yields climb as prices fall.