With just over three months until the Heisman Trophy is awarded, betting lines and odds continue to change as weeks go by.
Action Network's Darren Rovell pointed out on Twitter how drastically the odds for the award have changed since the start of the season. At the start of the season, LSU quarterback Joe Burrow was given 200 to 1 odds to win, while Alabama QB Tua Tagovailoa was the favorite to win at 5 to 2 odds.
Following his four-touchdown, 327-yard game on Saturday against Mississippi State, Burrow has moved ahead as the favorite to win the Heisman. Tagovailoa's ankle injury, which forced him to leave the Crimson Tide's game against Tennessee in the second quarter, helped Burrow's odds improve.
The odds for Oklahoma quarterback Jalen Hurts has also improved following his three-touchdown, 316-yard performance against West Virginia.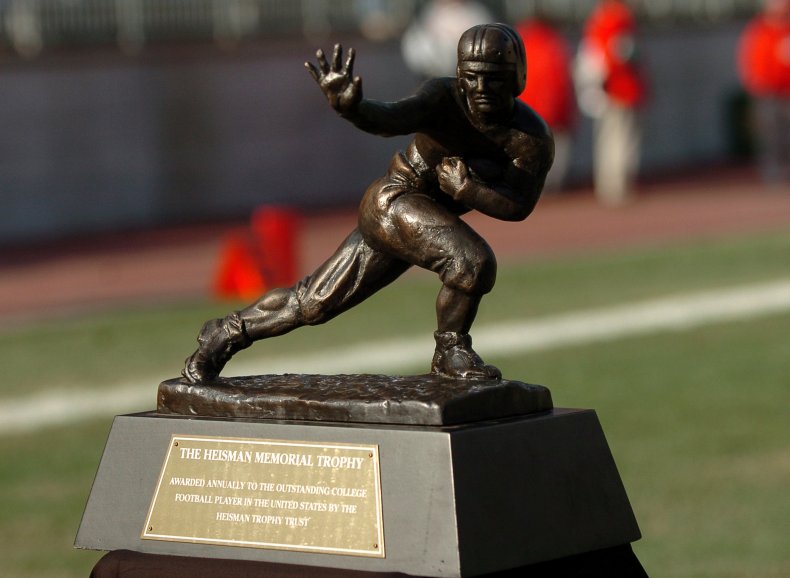 Bovada sports book currently has Burrow as the favorite to win the award at +125. Hurts is second at +190 and Tagovailoa is third listed at +400. The beginning of the year favorite for many, Clemson quarterback Trevor Lawrence, is listed at +9000. Lawrence's two interceptions on Saturday against Louisville may have had an impact on his Heisman Trophy hopes.
Burrow is again the favorite listed at +170, according to Fanduel sports book. Hurts is in second at +185 and Tagovailoa at +360 in third. Following these three are Justin Fields of Ohio State, Wisconsin running back Jonathan Taylor and Alabama wide receiver Jerry Jeudy. They are listed at +1000, +1900 and +6000, respectively. Fanduel also has Lawrence listed as a long shot at +9500.
Draftkings' odds are a little different with Burrow and Tagovailoa tied at +150. Hurts comes in as the third favorite at +220 followed by Justin Fields (+1000) and Jonathan Taylor (+2000). Draftkings also has Lawrence listed at +10000.
According to Brody Miller of The Athletic, a man who placed a bet for Burrow to win the Heisman at the start of the season is being offered an early buyout by his book. The man placed the bet at the start of the season at 200/1 odds, with a bet of $50 to win $10,000.
As Burrow has continued to impress, the book has followed by offering higher buyout amounts. If the bettor was to accept the buyout he would be given $4,000 regardless of the Heisman outcome. If he decides to wait until the award is given, he has the chance of winning $10,000.
Out of the three, Burrow leads in yards and touchdowns. The LSU quarterback currently has a total of 2,484 yards compared to Tagovailoa with 2,166 and Hurts with 2,074. He also has 29 touchdowns while Hurts and Tagovailoa have 20 and 27 respectively.
Each of the three has an undefeated record, but Tagovailoa is ahead in interceptions. Through seven games, Tua has two interceptions while Hurts and Burrow each have three.
Tagovailoa is currently ruled out for the Crimson Tide's week 9 matchup against Arkansas, but Alabama head coach Nick Saban expects a "speedy recovery" for the quarterback.
Hurts and company head to Kansas State for their week 9 matchup against the Wildcats. The Sooner's game against an unranked opponent could potentially help Hurts' Heisman hopes.
Burrow and the LSU Tigers have the toughest game out of the three where they will face the No. 9 ranked Auburn Tigers. Although LSU has the home-field advantage in Death Valley, they will have to face a 6-1 Auburn team led by true-freshman quarterback, Bo Nix.
The stakes will get even higher for LSU and Alabama when the two frontrunners for the Southeastern Conference's West Division title meet in Tuscaloosa on Nov. 9. CBS announced Monday that it will air the game at 3:30 p.m. ET.
Uncommon Knowledge
Newsweek is committed to challenging conventional wisdom and finding connections in the search for common ground.
Newsweek is committed to challenging conventional wisdom and finding connections in the search for common ground.
About the writer
Matthew Impelli is a Newsweek staff writer based in New York. His focus is reporting social issues and crime. In January 2023, Matthew traveled to Moscow, Idaho where he reported on the quadruple murders and arrest of Bryan Kohberger. Matthew joined Newsweek in 2019 after graduating from Syracuse University. He also received his master's degree from St. John's University in 2021. You can get in touch with Matthew by emailing m.impelli@newsweek.com. Languages: English.