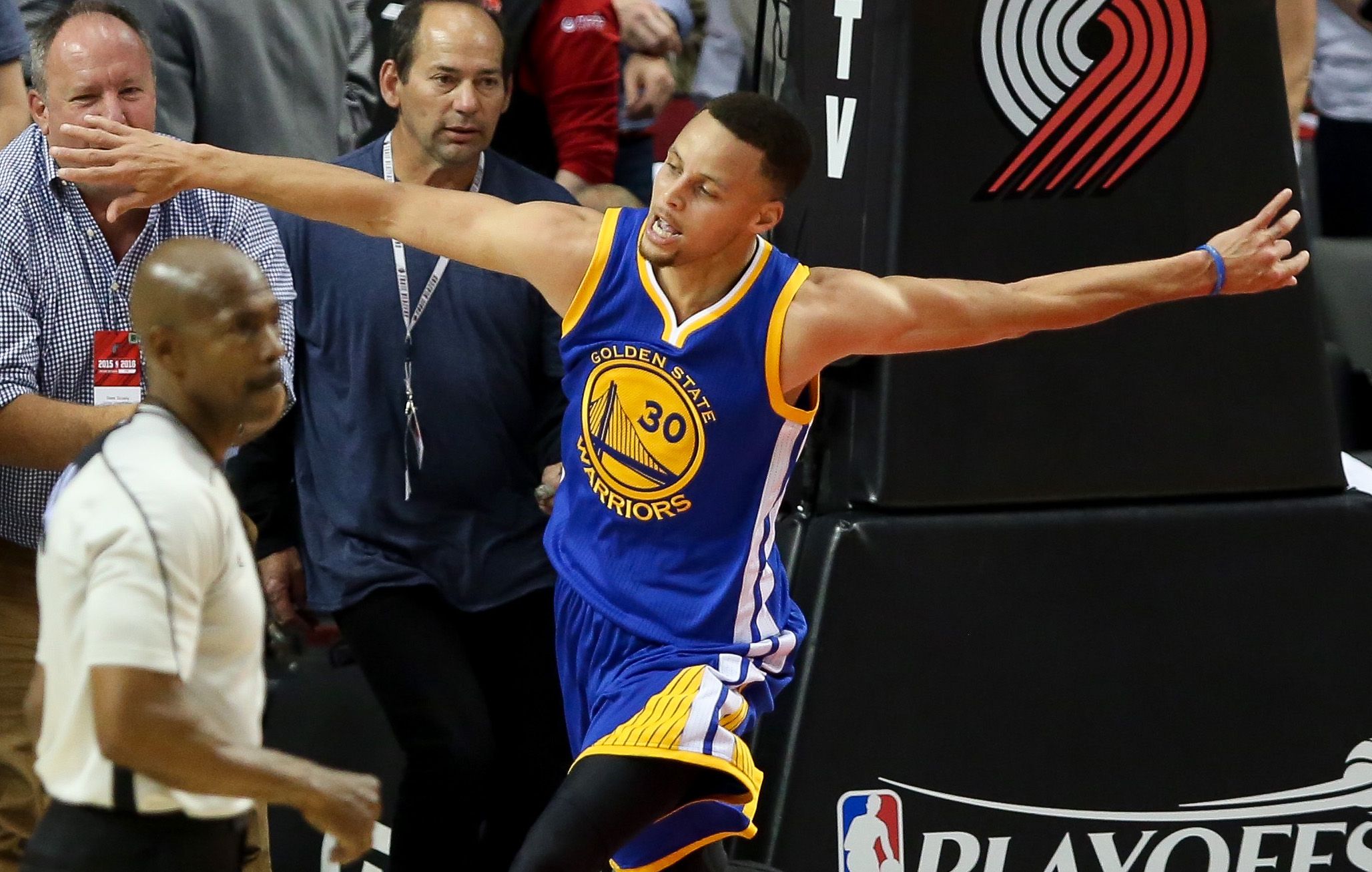 The NBA Most Valuable Player balloting was finished long before Stephen Curry exploded for an NBA-overtime record 17 points in Golden State's 132-125 Game 4 victory in Portland, Oregon, late Monday night. Watching his latest display of wizardry, in terms of the MVP voting, was akin to waiting for Hawaiian precincts to report during a landslide presidential election.
Hours after proclaiming "I'm back!" to dismayed Trail Blazer fans on Monday evening, Curry was named the league's MVP for the second year in a row Tuesday. He is the first unanimous winner since the award was introduced in 1956. Less than 24 hours after he returned from two-plus weeks in injury exile to score 40 points in the Warriors' come-from-behind victory, Curry deservedly garnered all 131 first-place votes cast. The seventh-year pro led the NBA in scoring (30.1 points per game) and steals (2.14 per game) this season while leading Golden State to the best regular season record (73-9) in league history. The Davidson College product did all of this while finishing 26th in minutes played (34.2 per game).
There had never been a unanimous NBA MVP selection, but Curry's transcendent play—he crushed his own NBA record for three-pointers in a season by 41 percent, leaping from 286 made to 402—at last corralled every last voter. Shaquille O'Neal (2000) and LeBron James (2013) both came up one vote shy in the past, and Michael Jordan, when he led the Chicago Bulls to the best season in history (72-10 in 1995-96) finished two votes short of a clean sweep.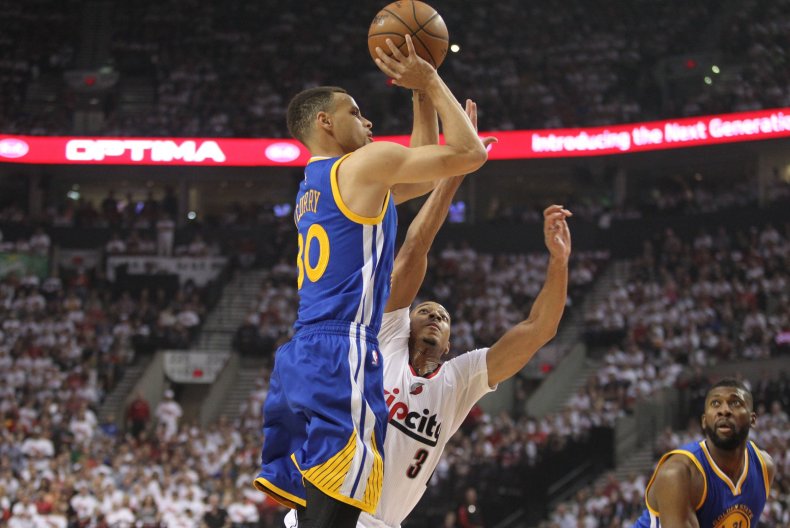 At 6 feet three inches and 190 pounds, Curry becomes only the second repeat winner of what is formally known as the Maurice Podoloff Trophy who is smaller than Jordan. The other was former Phoenix Suns guard Steve Nash. Curry, Nash and Curry's coach, Steve Kerr, are the only three players in NBA history to complete a season in which they shot at least 90 percent from the free throw line, 50 percent from the field and 45 percent from beyond the arc. Curry's percentages this season: 90.8, 50.4 and 45.4.
Ballots were due one day after the end of the regular season, or nearly a month ago. Other players worthy of mention included Kawhi Leonard of the San Antonio Spurs, who recently repeated as the league's Defensive Player of the Year and finished second; the Cleveland Cavaliers' James, a four-time MVP who averaged 25.3 points per game while leading the Cavs to the best record in the Eastern Conference and finished third; and Russell Westbrook, the dynamic guard for the Oklahoma City Thunder whose 18 triple doubles were the most anyone had recorded since Wilt Chamberlain in 1967-68.
All three were worthy runners-up, but to argue that any of them improved upon Curry's charismatic campaign would be folly. Beyond the statistics and a gentlemanly assassin aura that captivates even people who don't follow the NBA, Curry is at the vanguard of the three-point shot becoming a team's primary option. He has made at least one three in 153 consecutive contests, yet another NBA record, and regularly displays drone-strike range.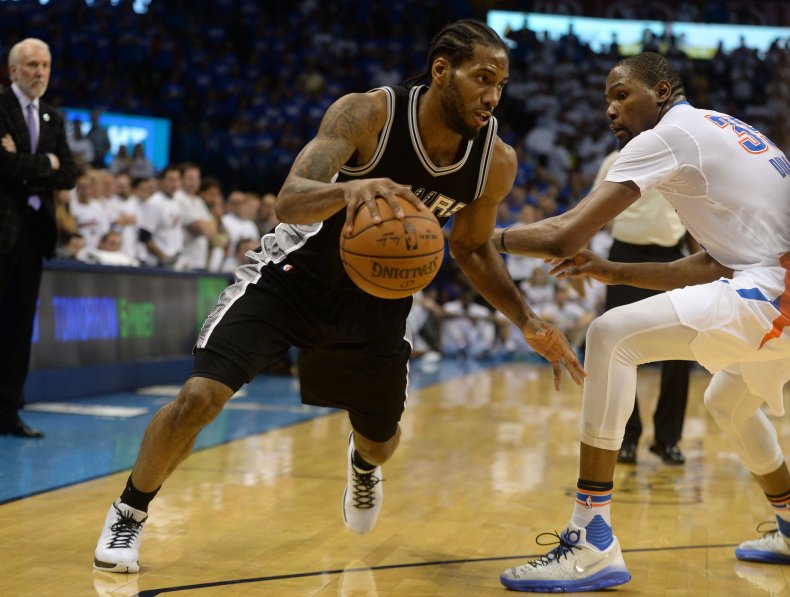 LeBron's Cavs, who lost to Golden State in last spring's NBA Finals (the Cavs were without their second- and third-best players, Kyrie Irving and Kevin Love, due to injuries), have morphed into a three-point shooting squad in an attempt to emulate the Warriors' ways. (Curry may have torched the Trail Blazers on Monday night, but he is the league's true trail blazer.) Cleveland leads all teams this postseason, Golden State included, in made three-pointers per game, with 16.8 per game (the Dubs are second at 12.0 per contest). Not coincidentally, the Cavs are 8-0 in the playoffs.
The two-time league MVP earned $11.4 million this season. That makes him the NBA's 54th highest-paid player, just nine spots below Ricky Rubio of the Minnesota Timberwolves and eight below Robin Lopez of the New York Knicks, according to ESPN.com. He is also the fifth-highest paid player on the Warriors, although he just extended a lucrative deal with Under Armour through 2024. Those figures will change after next season, when Curry, 28, becomes a free agent. By then, he may be a three-time MVP.
About the writer
John Walters is a writer and author, primarily of sports. He worked at Sports Illustrated for 15 years, and also at NBC Sports where he won two Sports Emmys for his on-air writing at the Athens and Beijing Olympics. He has also worked at AOL Fanhouse and The Daily, as well as waited at a popular Manhattan steakhouse. Walters is the author of The Same River Twice: A Season With Geno Auriemma and the Connecticut Huskies. He is the founder of mediumhappy.com, a pop culture blog that he updates daily. He holds a B.A. from the University of Notre Dame, where he studied pre-med and rowed crew.