ESPN 'Detail' Curse: Steph Curry and the Warriors the Latest Victims of Kobe's Series
The Houston Rockets have tied the Western Conference Finals to 2-2—and they might have Kobe Bryant to thank for that.
The Rockets won 95-92 in Oakland against the Golden State Warriors on Tuesday night, with James Harden and Chris Paul combining for 57 points as the Warriors' record of 16 straight playoffs wins on home court came to an end.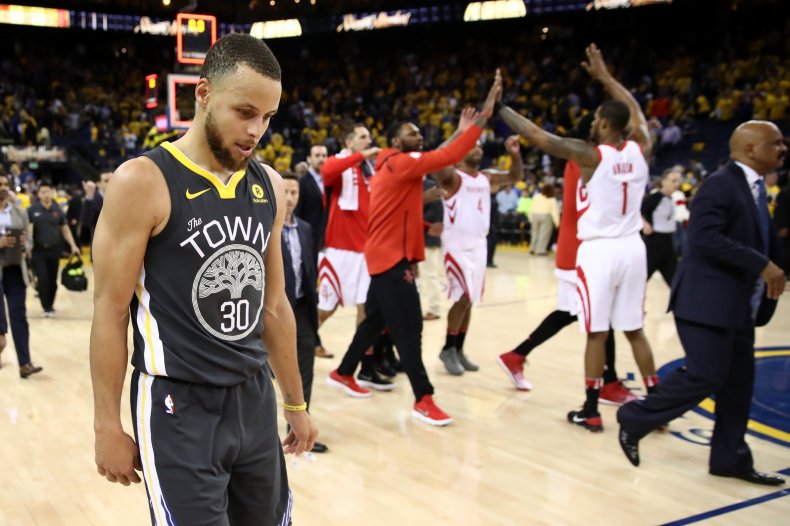 Stephen Curry scored 17 of his 28 points in the third quarter as the defending champions opened a 10-point lead but he shot just 1 for 8 in the final quarter, as the Warriors made just three field goals in the period.
The two-time MVP had featured on Detail, the ESPN series in which Bryant analyzes games and players throughout this postseason. The likes of Donovan Mitchell and Jayson Tatum have praised the series but the show appears to have developed an unfortunate pattern, which could soon rival the Sports Illustrated cover jinx and the Madden Curse.
Curry was the latest player to lose a game immediately after featuring on Detail and, so far, all the players who have featured on the show have either lost the ensuing game or have seen their teams eliminated after their episode aired.
After the series launched on April 12 with Kobe analyzing Game Six of the 2009 Western Conference Finals between the Lakers and the Denver Nuggets, DeMar DeRozan was the first of the current crop of NBA players to feature on the show.
DeRozan and the Raptors won Game Two of their match-up against the Wizards, which played after the episode aired, and made it to the Eastern Conference Finals—only to be swept by Cleveland. Similarly, Donovan Mitchell and the Utah Jazz won Game Two of their first-round series against the Rockets but lost the series 4-1.
In the following episode, Bryant examined Jrue Holiday's performance in Game Three of the Western Conference semifinals, which the New Orleans Pelican won against the Warriors. However, Golden State won the following two games to clinch the series 4-1. On an episode five of the show, meanwhile, Bryant focused on LeBron James ahead of the Eastern Conference Finals, only for the Cavs to lose their first two games against Boston.
Cleveland, however, has since leveled the series to 2-2, ironically after the Celtics' Jayson Tatum featured on the show before Game Three.
So far, all of the players who have been on Detail have also been on the losing side of a playoff series in this postseason, although one between LeBron and Tatum will buck the trend.